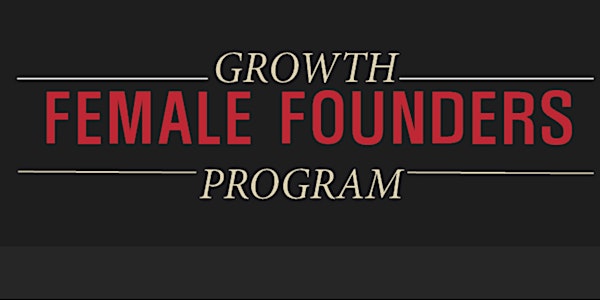 Female Founders Growth Launch (2 Day Workshops/Investment Panel & Drinks)
Location
EC2A 4HB
Clifton Street
London
EC2A 4HB
United Kingdom
A series of 1hr workshops tailored to offer real-life commercial, practical take home advice & networking drinks. Investment Panels inc
About this event
Full timetable and expert speakers are listed here
The program is in place to support , advise and scale businesses with at least one dynamic female founder. This will offer real life drafting, advice and know-how - no coaching or theory but tax structuring ; business plans and pitch decks ; funders feedback ; legal documents and branding/PR direction to cashflow and valuations; banking and so much more. Ultimately , the funders will work with us to get you ready for and secure investment and then the partners will support your growth going forward. We will help you create an infrastructure ; manage cashflow ; have concise legal protection ; help you go global , succeed in clinical trials or launch your product.
This conference will showcase the partners willing to dedicate their time and expereince to help your business grow. They will highlight areas they can support you in and how they will do this. The workshops themselves will give you information ; options ; advice and a consolidated plan of how to start , progress and hit the ground running. They will interactive so channeling your specific issues and questions.
The conference will be broken up into 1hr workshops you can book one day or both. All day passes include all workshops and the drinks reception with the partners ; supporters and funders on 27th July 2022. If you book 1 day tickets this includes the drinks reception 27th July and 2 day discounted tickets are available.
We will have service providers ; investment panels and inspirational female founders:
As the time table is finalised you will see updated details here
R & D tax credits , grants , government support , Patent Box
Debt finance , forecasting , valuation and currency exchanges .
Angel - Family Office - EIS and fund investor panels.
Pitch Deck and Business plans
All about how you look and sell yourself!
IP and Patent protection , branding , PR and marketing . Sales and distribution
All about survival and Growth
Pitch deck & pitching with confidence whilst running the business
Working with the right professionals and getting support - infrastructure
Commercial advice on sales - recruitment - opportunities and resources
Negoiations - getting that deal
Contract legal negoiations - intergrating tech into a larger company
ESG requirements and being prepared
Tax structuring - valuation , EIS and being prepared
Much much more