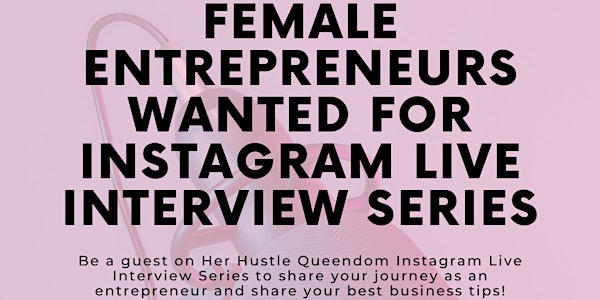 Female Entrepreneurs Wanted For Interview Series
Brooke Nicole & Her Hustle Queendom is looking for female entrepreneurs to interview on our Her Hustle Queendom Instagram Live Series.
About this event
Are you a female entrepreneur looking to collaborate with other brands and share your knowledge on business?
This is a free opportunity to collaborate with Brooke Nicole and Her Hustle Queendom and share your business tips, products, and service with a new audience.
In this series of interviews, female entrepreneurs offer their insights and advice on a variety of topics related to starting and running a business. From tips on how to get started to advice on how to grow your business, these interviews should provide valuable information for anyone looking to start or grow their own business.
Benefits of being a guest on our interview series:
Potentially reach new customers
Potentially gain new followers
Increase your brand awareness
Boost your engagement
Engage with a new audience
Interviews typically last 30 minutes. Once you register for a date, our team will contact you within 48 hours to get more information from you to prepare for the interview. This Instagram live interview will be converted to a series within our podcast that is set to launch in 2023.
If you have questions, please email interviews@brookenicoleofficial.com.