Description
We are excited to announce the first edition of our brand new Women in Business Networking and Presentation Series!
This London Fashion Week, London Designers Collective (LDC) is hosting a networking event for female empowerers and entrepreneurs to unite, network and engage across one evening within its 5 day long concept store in the heart of Covent Garden.
Welcoming all entrepreneurs, founders, women in business, lovers of independent emerging labels, or those who are simply curious! (Men and women, of course!)
Join us on Monday 19th February from 6pm, for presentations by:
The event will run within the concept store, therefore you will have ample time to explore, browse, meet the designers and shop from our wonderful emerging brands with exclusive one night only discounts.
Expect:
- Presentations and panel discussions from inspirational empowering women in business
- Networking with fellow women in business from a range of industries, with a particular focus on females in fashion
- Learn more about LDC and our goal to empower emerging designers in the fashion industry, and the stories behind our design partners
- Discover the best in up-and-coming fashion, accessories & lifestyle brands, with an exclusive 20% discount on selected products for the evening
The Schedule:
6.00pm - Doors open: enjoy a drink on us!
7.00pm - Presentations from our four wonderful speakers.
7.30pm - 5 minute interlude.
8.00pm - Mingling, networking, Meet and chat with designers, drinks.
9.00pm - Close


Special Thanks To Our Supporters
Drinks Sponsored by Dannoff vodka and Karma Cola
Supported by womens' networking organisations: Driven Woman, Women of Wearables, Natwest Business and Women in Business Network.
Our Event Partner: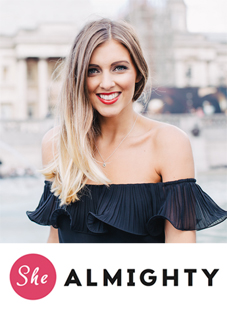 Mikaela Jackson, Founder of She Almighty
Mikaela is a professionally trained performance coach, full-time freedompreneur and the founder of She Almighty which provides life, career and business coaching services for women.
The She Almighty mission is women self-empowering to be the best version of themselves and to create a career and a life they love with positive impact.
The Concept Store
This event will take place in our London Fashion Week Concept Store located in the heart of covent garden.
Key Details:
Dates:
16 - 20 February 2018
Address:
3 Slingsby Place, Covent Garden WC2E 9AB
Opening Hours:

10am - 7pm Daily (Until 9pm on Event Evenings)