A pioneering craft beer festival like no other in South FL, highlighting #womeninbeer. 30+ beer,mead,wine vendors - outdoors - pet friendly
About this event
FemAle Brew Fest is taking over The Kimpton Goodland Hotel - Fort Lauderdale Beach!!! Craft the perfect day out in Fort Lauderdale with some of your favorite brewsters. A craft beer festival like no other in South Florida, celebrating and highlighting women in the brewing industry. **This is an OUTDOOR - FRESH AIR FESTIVAL.
We've got 30+ confirmed Local & National Beer, Mead and Wine Vendors!  (Vendors listed below) The festival is a platform that will host female beer experts and brewsters to give an insight into the beer industry. For this upcoming event, attendees will have the opportunity to choose your festival experience:
Package 1- Sensory Course x Beer Off-Flavor
Package 2- Sensory Course x Hop Analysis
Package 3- Fermentation Diversity
Package 4- Exclusive book signing & reading with Author, Tara Nurin
Package 5- Beer + Yoga
 ALL beer lovers are welcome to attend – MEN INCLUDED. FemAle Brew Fest® will present everyone with an opportunity to both taste and educate themselves on female brewers' contributions.    
LIMITED TICKETS AVAILABLE!!!    
1PM Entry for WORKSHOP/PACKAGE Ticket Holders
2PM Entry for GENERAL ADMISSION Ticket Holders
This is a 21+ event.                             
Attendance is limited... to give everyone the best beer tasting experience.
Ticket holders will have exclusive tasting of all beers.
MORE:+DJ and LIVE MUSIC – A mix of music will be the backdrop for sampling.  +AIR CONDITIONED Restrooms +PET FRIENDLY EVENT **pets must be on a leash** +Event will occur RAIN or SHINE. NO REFUNDS.
 ***For information on VENDOR / SPONSORSHIP opportunities, please DM or email femalebrewfest@gmail.com  |  www.femalebrewfest.com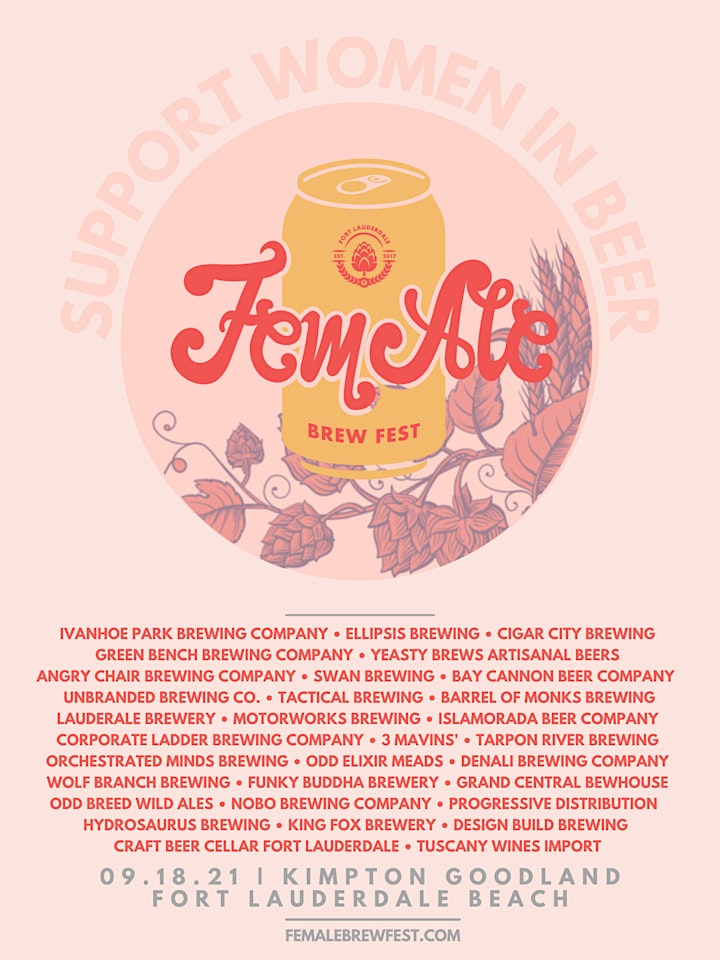 Organizer of FemAle Brew Fest 2021
Produced by the Fem Collective, FEMALE BREW FEST® is a craft beer festival for ALL 
beer lovers (men included) ...the festival is not just about serving delicious beers. FEMALE BREW FEST® is a platform highlighting and featuring female beer experts and brewsters in the beer industry. The festival offers an opportunity for attendees to learn about and taste the different types of beers brewed by these amazing women. 
**Fem Collective is a community of female entrepreneurs whose goal is to advocate, educate and connect aspiring and accomplished women. We provide the tools, the network and the resources to help blooming female founders grow and invest in each other's success.

Our events are designed for authentic conversation. Our mission is to draw out the stories and voices of women in business in a ...way where they feel seen, heard, and empowered.