About this Event
First grab a brew or a glass of wine and take a guided tour of the Felt Mansion. Then listen to the incredible sounds of the Backseat Drivers:
Sock Rockin'. Juke Jumpin'. The king of swingin' good times! James Reeser and the Backseat Drivers focuses on a variety of styles in first generation electric blues, keeping it new while maintaining a traditional feel. A Quahog clam takes 20 years to make a pearl. James' gritty harp and vocals took just as long. Class is in session! What's Dan Mish teaching today? Dynamics! Minister Charles Johnson, bass so divine you'd have thought you were in church! Marcus Giddings traded four out of five senses for a guitar. His style now? Tasty.
This four piece will make you jump, jive, and dive in for more!
Join us Friday, December 13, for an amazing night at the Felt! Hors d'oeuvres from Adeline Leigh, drinks from New Holland Brewing and Fenn Valley Vineyards, a guided tour by director Patty Meyer, and a concert included in your ticket price.
(see FAQs below for more information)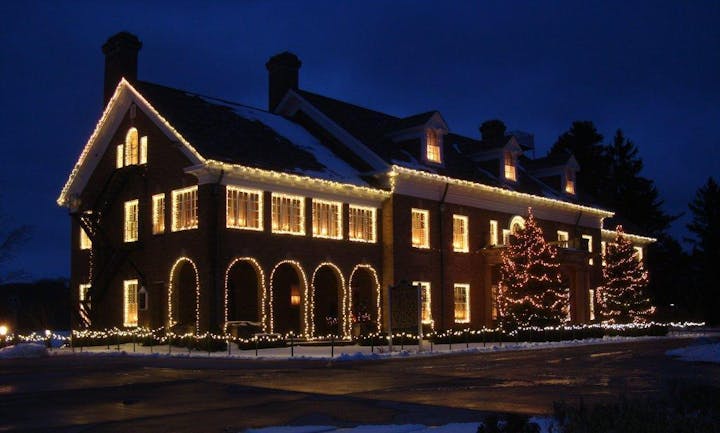 See the Felt Mansion during the Holiday Season, featuring 25 themed Christmas trees and over 5,000 lights - Join us!
FAQs
1. What is included in the ticket price? Hors d'oeurves from Adeline Leigh, alcoholic drinks (and non-alcoholic punch), a guided tour, and a concert are all included in the ticket price.
2. May children attend? Children are welcome to attend, but guests must be 21 years of age to drink alcohol.
3. How long is the guided tour? The guided tour lasts one hour from 6-7 p.m. and includes the first floor (but the remainder of the house is open for a self-guided tour).
4. When does the concert start? At 7:00 p.m. in the parlor.
5. When do the doors open? At 5:45 p.m. The guided tour begins at 6:05 in the foyer.
6. What should we wear? Most people wear business casual, but dressy jeans are fine as well.
7. What beverages are featured? We feature a red and a white wine from Fenn Valley Vineyards, and Mad Hatter and Poet from New Holland Brewing Company. This is not a tasting. You will receive a full serving size.
8. Will the mansion be decorated for the holidays? YES! We feature over 25 themed trees, and 5000 lights on the exterior.
9. May we use our free passes for this event? No, sorry. This is a special event. Free passes may be used for any other self-guided or guided holiday tour - but not for this special event.
Contact organizer Patty Meyer at patty@feltmansion.org for more information.