Sales Have Ended
Registrations are closed
Thank you for signing up for the event! Looking forward to seeing you soon.
Sales Have Ended
Registrations are closed
Thank you for signing up for the event! Looking forward to seeing you soon.
Start the semester off right at our FELLOWS FEST & GU Politics Kickoff!
About this event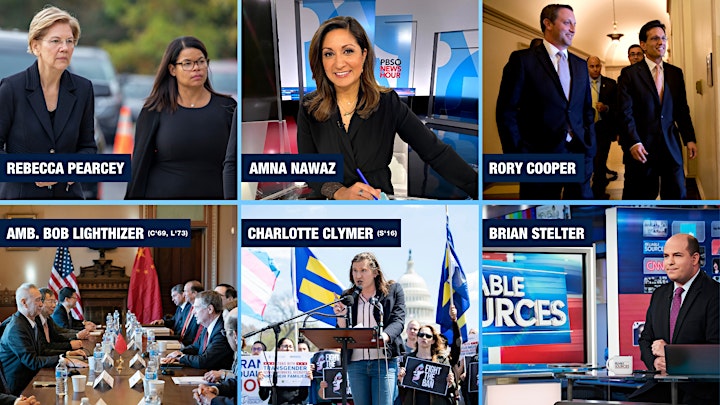 Meet our Fall 2021 Fellows class in person and catch up with other students passionate about transforming politics for the better.
Charlotte Clymer (S' 16): Former Press Secretary for Rapid Response, The Human Rights Campaign; Transgender activist and military veteran
Rory Cooper: Republican Strategist; Communications Director to former House Majority Leader Eric Cantor (R-VA); Senior Staff in the White House Office for Homeland Security, Bush Administration
Ambassador Bob Lighthizer (C'69, L'73): US Trade Representative, Trump Administration
Amna Nawaz: Chief Correspondent, PBS NewsHour
Rebecca Pearcey: Political Director and Senior Advisor, Elizabeth Warren for President
Brian Stelter: Chief Media Correspondent & Host of "Reliable Sources," CNN
Fellows Panel: Be the first to meet our Fellows and hear directly from them about why they decided to go back to school to figure out how to do politics better.
Want to get more involved at the Institute? The Kickoff features an opportunities fair to showcase our many organizations and activities. GU Politics student leaders will share how they've made the most of all we offer and share how you can get engaged.
Meet Hoyas and make new friends: GU Politics is the hub of political activity on campus. Meet Hoyas who share your interests, grab a snack, and have fun getting to know the people fired up about politics at Georgetown.
Join the party from 4:00-5:30pm on Thursday, September 9th, at Georgetown's main campus.
LEARN MORE ABOUT OUR FELLOWS
The GU Politics Fellows Program brings the biggest names in politics back to campus. We believe in the power of connecting students with practitioners to have a conversation that flows two ways— where students learn from leaders in the arena, and leaders learn from students about how to do politics better. This group of Fellows can't wait to get to campus, host their weekly discussion groups, and meet with YOU during their office hours.
It's our first post-virtual semester, and we've found a class of Fellows that matches the energy students are bringing back to the Hilltop. Get ready for dynamic discussions about the successful and failing strategies reformers are using "fix" a broken DC, the looming threat of China and U.S. competitiveness in the 21st century, how to design a national security apparatus for the modern era and actually get it passed through Congress, the power and backlash generated by increased representation in the newsroom, how to curb rampant disinformation online and address biases in our media, the impact of electoral winners and losers on social and political policies, and so much more. You'll be challenged, informed, and inspired through this rare peek behind the curtain at the way Washington works. Learn more about the Fellows program.
Organizer of FELLOWS FEST & GU Politics Kickoff