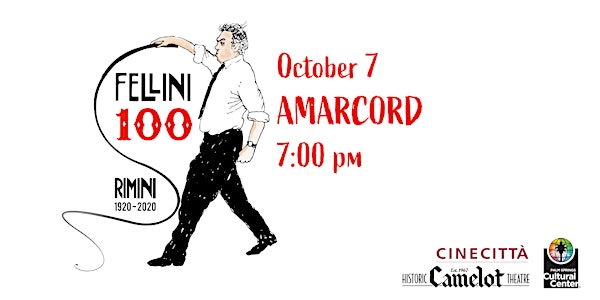 Fellini Retrospective: AMARCORD
The FELLINI 100 TOUR comes to Palm Springs: See Fellini's AMARCORD in the Historic Camelot Theatre!
When and where
Location
Camelot Theatres 2300 East Baristo Road Palm Springs, CA 92262
Refund Policy
Contact the organizer to request a refund.
About this event
Celebrate more than 100 years of Federico Fellini at the Historic Camelot Theatre! The Palm Springs Cultural Center's Fellini Retrospective is the latest stop of Fellini 100 Tour, a worldwide tribute to Fellini's centennial featuring exhibitions by major museums and film institutes, coordinated by Luce Cinecittà.
One of the most influential directors of the 20th century, Fellini's films are known for their surreal, dream-like imagery and eccentric characters, often combining a playful carnival-like atmosphere with biting social critique. Fellini's body of work has inspired several generations of directors including Martin Scorsese, David Lynch, Sofia Coppola and Pedro Almodóvar.
Come early and mingle while enjoying Italian food and Drink Specials starting at 5:00 pm. Film Screens at 7:00 pm.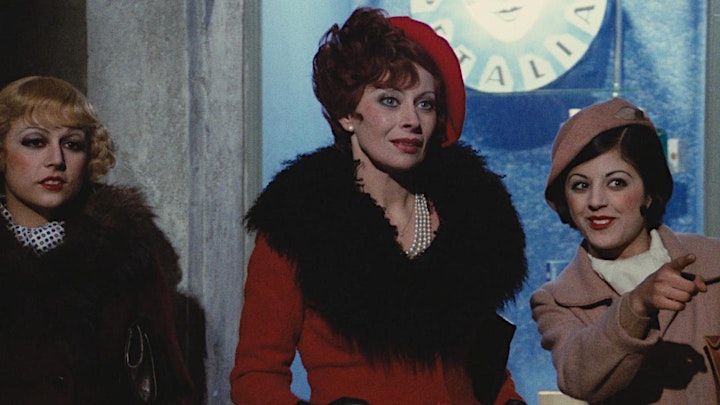 AMARCORD (1973)
Federico Fellini returned to the provincial landscape of his childhood with this carnivalesque reminiscence, recreating his hometown of Rimini in Cinecittà's studios and rendering its daily life as a circus of social rituals, adolescent desires, male fantasies, and political subterfuge. Sketching a gallery of warmly observed comic caricatures, Fellini affectionately evokes a vanished world haloed with the glow of memory, even as he sends up authority figures representing church and state, satirizing a country stultified by Fascism. Winner of Fellini's fourth Academy Award for best foreign-language film, Amarcord remains one of the director's best-loved creations, beautifully weaving together Giuseppe Rottuno's colorful cinematography, Danilo Donati's extravagant costumes and sets, and Nino Rota's nostalgia-tinged score.