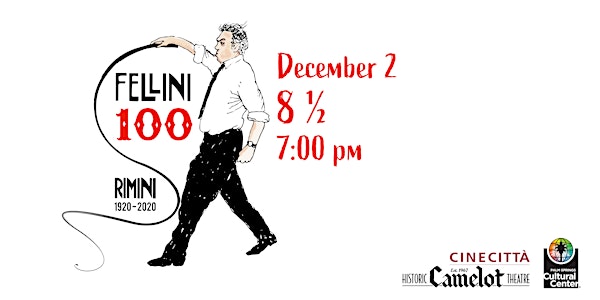 Fellini Retrospective: 8 ½
The FELLINI 100 TOUR comes to Palm Springs: See Fellini's 8½ in the Historic Camelot Theatre!
When and where
Location
Camelot Theatres 2300 East Baristo Road Palm Springs, CA 92262
Refund Policy
Contact the organizer to request a refund.
About this event
Celebrate more than 100 years of Federico Fellini at the Historic Camelot Theatre! The Palm Springs Cultural Center's Fellini Retrospective is the latest stop of Fellini 100 Tour, a worldwide tribute to Fellini's centennial featuring exhibitions by major museums and film institutes, coordinated by Luce Cinecittà.
One of the most influential directors of the 20th century, Fellini's films are known for their surreal, dream-like imagery and eccentric characters, often combining a playful carnival-like atmosphere with biting social critique. Fellini's body of work has inspired several generations of directors including Martin Scorsese, David Lynch, Sofia Coppola and Pedro Almodóvar.
Come early and mingle while enjoying Italian food and Drink Specials starting at 5:00 pm. Film Screens at 7:00 pm.
8 ½ (1963)
One of the greatest films about film ever made, Federico Fellini's 8½ marks the moment when the director's always-personal approach to filmmaking fully embraced self-reflexivity, pioneering a stream-of-consciousness style that darts exuberantly among flashbacks, dream sequences, and carnivalesque reality, and turning one man's artistic crisis into a grand epic of the cinema. Marcello Mastroianni plays Guido Anselmi, a director whose new project is collapsing around him, along with his life, as he struggles against creative block and helplessly juggles the women in his life—including Anouk Aimée, Sandra Milo, and Claudia Cardinale. An early working title for 8½ was The Beautiful Confusion, and Fellini's masterpiece is exactly that: a shimmering dream, a circus, and a magic act.