Description
YUKSEL PRESENTS ( https://www.facebook.com/yukselpresents/ )
invites you to SF's Newest Nightclub LOVE + PROPAGANDA
FELIX CARTAL Joins us for No Tell Motel at Love + Propaganda on December 16TH.

For tables, call 415 684-5045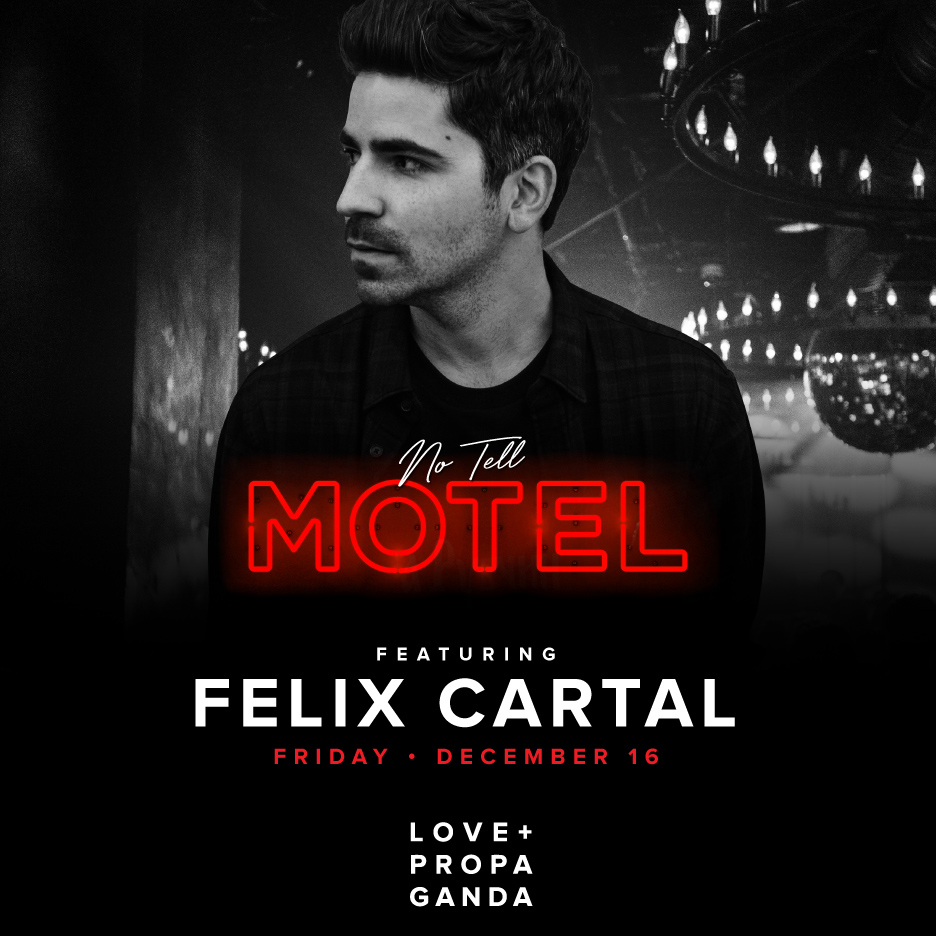 Felix Cartal was born with a passion for hard hitting electronic music. With influences ranging from the heavy hitting distortion of The Bloody Beetroots and Boys Noize, to the techno influences of Vitalic, Felix has created an amalgamation of electronic genres which results in a unique listening experience for home and live audiences alike. His distinctive method of incorporating abrasive distortion, intense instrumental build-ups and unique frequency variations in his songs gives Felix a sense of versatility within the electronic scene. This versatility has led Cartal to become one of the leaders of heavy-house – a genre known for its relentless intensity and bass and distortion heavy melodies. Cartal has created a zealous following through his emergence in the international blog scene, with hard hitting original tracks such as "Moss vs. Trees" and "Parisienne" as well as remixes of pop sensation Ashlee Simpson, MSTRKRFT, electronic rock act Dragonette, and Scottish producer-turned-DJ Alan Hostage. With many commissioned remixes (such as the upcoming Moving Units single) waiting in the wings, Cartal continues to write and produce original and remix material with a professional touch which colleagues and fans regard with great admiration and respect. Consequently, his music has become a staple in the sets of artists such as Tommie Sunshine, Steve Aoki, and many others. As well, he has earned the backing of many prominent artists, including East York powerhouse duo MSTRKRFT.
LOVE + PROPAGANDA
LOVE + PROPAGANDA is a social club that brings together art, fashion, Music, and culture at night in San Francisco.
Welcome to the brand new, LOVE + PROPAGANDA located at 85 Campton, in the heart of San Francisco's, Union Square. LOVE + PROPAGANDA is fully equipped with one-of-a-kind visual stimulation and a state of the art Funktion One sound system.
LOVE + PROPAGANDA
85 Campton Place
San Francisco
21+