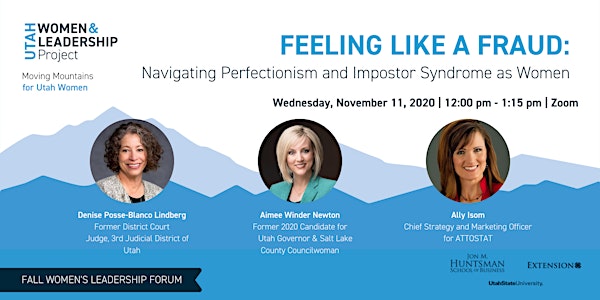 Feeling Like a Fraud: Navigating Perfectionism & Impostor Syndrome as Women
Join us for an engaging panel discussion about how to navigate perfectionism and the impostor syndrome as women.
About this event
The Utah Women & Leadership Project invites you to join us for our fourth Fall Women's Leadership Forum.
"Feeling like a fraud" is an issue that many women grapple with. In fact, research confirms that most women experience impostor syndrome in one or more areas of their lives. Impostor syndrome is a phenomenon that causes women to doubt their accomplishments or talents and have a persistent fear of being exposed as unqualified, even when there is ample evidence that they are competent. Perfectionism is one of the primary factors underlying this common experience, and it can negatively impact a woman's confidence as well. Bringing in research findings, Dr. Susan R. Madsen will moderate a lively and engaging panel of Utah women leaders to discuss what causes impostor syndrome and perfectionism, why these challenges are so common among women specifically, and how we can more effectively navigate these experiences. By learning how to mitigate the negative effects of perfectionism and impostor syndrome, women can increase feelings of self-worth and confidence, strengthen aspirations and ambitions to lead, and become inspired to more fully engage in the community (locally, nationally, globally) as a support to other women and girls.
Sponsors: Jon M Huntsman School of Business, Utah State University & the Utah Education Network (UEN)
Panelists
Aimee Winder Newton is a former 2020 candidate for Utah Governor and currently serves on the Salt Lake County Council. She was the first female elected as chair of the council. Since her election in 2014, Aimee has focused on breaking the cycle of intergenerational poverty, increasing government transparency, improving the criminal justice system, advocating for mental health resources, and pushing for greater budget accountability. Aimee has been a small business owner since 2003. She has been involved in the community for over 25 years, serving as a planning commissioner, school community council member, and city communications director. She received her bachelor's degree in communications from the University of Utah.Aimee and her husband, Matt, have been married for 26 years and have four children ages 24, 22, 18 and 16. They just got their first pet… a mini goldendoodle puppy. In her spare time Aimee loves to play the piano, travel with her family, and help more women get involved in government.
Ally Isom is the Chief Strategy and Marketing Officer for ATTOSTAT, a nanotechnology firm offering cutting-edge solutions that safely and effectively improve lives and global communities. She is a leader passionate about helping humans live their best lives. Ally's professional path included overseeing enterprise brand strategy and messaging for The Church of Jesus Christ of Latter-day Saints, and serving as Governor Gary Herbert's Deputy Chief of Staff, Communications Director and spokesperson. Earlier, Ally spent several years in state agency leadership and has extensive experience as a political, legislative, and campaign consultant. Ally is a community leader and strategist where brand, policy, communication, and public engagement intersect. With an inclusive and affirming leadership style, she is uniquely skilled at fostering gender intelligent teams and building capacity in future leaders. She also frequently speaks and teaches about envisioning the future--for individuals, teams, and organizations--in a way that aligns with authentic values and guiding principles. Ally received her Bachelor of Arts from Brigham Young University. She and her husband, Eric, have four children, one grandchild, and one not entirely bright labrador. When she finds time, she relishes historical fiction and biographies, preferably on a beach, and mole poblano, pretty much anywhere.
Denise Lindberg is a former judge of the Third District Court of Utah. Born in Havana, Cuba, Dr. Lindberg attended Brigham Young University at age 15 and obtained her BA degree in Communications in 1970. Following graduation, she worked for the Utah State Division of Rehabilitation Services and the State Division of Alcohol and Drugs. Concurrently, she pursued graduate studies at the University of Utah, earning a MS in Ed. Psych. (1973), a Master of Social Work (1979) and a Ph.D. in Health Science (1980). During her doctoral studies, she also taught for the University of Utah's College of Health. Dr. Lindberg worked for the State Office of Education before returning to BYU to study law at the J. Reuben Clark Law School in 1985. After graduating, she clerked for Judge Monroe G. McKay at the U.S. Court of Appeals for the Tenth Circuit, and for Associate Justice Sandra Day O'Connor at the Supreme Court of the United States. Following her clerkships, Dr. Lindberg worked in Washington DC as an appellate and healthcare lawyer. In 1995, she returned to Utah as General Counsel for a healthcare company. In 1998, Dr. Lindberg was appointed to the Third District Court bench by then-Governor Michael O. Leavitt. In 2015, Judge Lindberg stepped down from full-time judicial service but remained an active Senior Judge until 2018. Judge Lindberg and her husband Neil are both Senior Fellows with BYU's International Center for Law and Religion Studies. Judge Lindberg has been a frequent speaker on topics of religious freedom, human dignity, and international human rights law at academic and legal conferences across Latin America. The Lindbergs are parents of two sons and grandparents of 11 children (ages 8-21).
This event is eligible for AICP CM credit through the American Planning Association Utah Chapter (APAUT).