30 minute zoom call for parents with licensed therapist Roya Dedeaux
About this event
This is a 30 minute parenting workshop designed to help you help your kids when they are struggling with their BIG FEELINGS.
If you have ever
Felt helpless when your kid was feeling ALL the feels
Been unsure about whether to just listen or to find a fix
Realized their feelings were triggering your feelings
Then this zoom call is for you!
I am a parenting therapist and author of Connect with Courage. I will be providing resources and reassurance for parents of kids of all ages to help you navigate the world behind the screens!
Registration is donation based, and all registrants will receive a recording of the presentation afterwards.
Registration is required! Donations are appreciated but absolute not required.
Everyone who registers will get access to the recording afterwards at whatever price you initially registered for, whether or not you attended.
If you can attend during the call, you will also have time afterwards for questions! Those will not be recorded.
------------------------
If you'd like to know more about me - Here is my full bio!
Roya Dedeaux is a Licensed Marriage and Family Therapist with a focus on parenting and play. She has a Bachelor's degree in Recreation and a Master's degree in Counseling from California State University, Long Beach where she now teaches in the Recreation and Leisure Studies department.
This experience has led her to both a private therapy practice and career in business training. She believes strongly in the importance and power of play for all ages, and has spent the majority of her personal and professional life inspiring others to become more playful. She has been a featured or keynote speaker at over 60 conferences, speaking about the importance of supporting kids' interests and using play with purpose to improve relationships, learning, mental health, and overall well-being.
As a grown homeschooler, she conducted the largest study related to mental health and homeschooling in the United States. Her first book Connect with Courage: practical ways to work through fear and find joy in the places your kids take you is now available at all major book retailers.
Roya specializes in using art in her therapy practice, and as her own creative outlet, she creates handmade jewelry out of clay and crochet at Royaboya Handmade. She uses her event management and recreation background with her love of supporting mom owned businesses to host a regular multi-vendor virtual Bazaar for small businesses. She recently launched a youth-entrepreneur sponsorship program which supports kids and teens who are interested in learning how to run small businesses. She also loves to play with her wonderful children, husband, and animals where they live and homeschool in Southern California.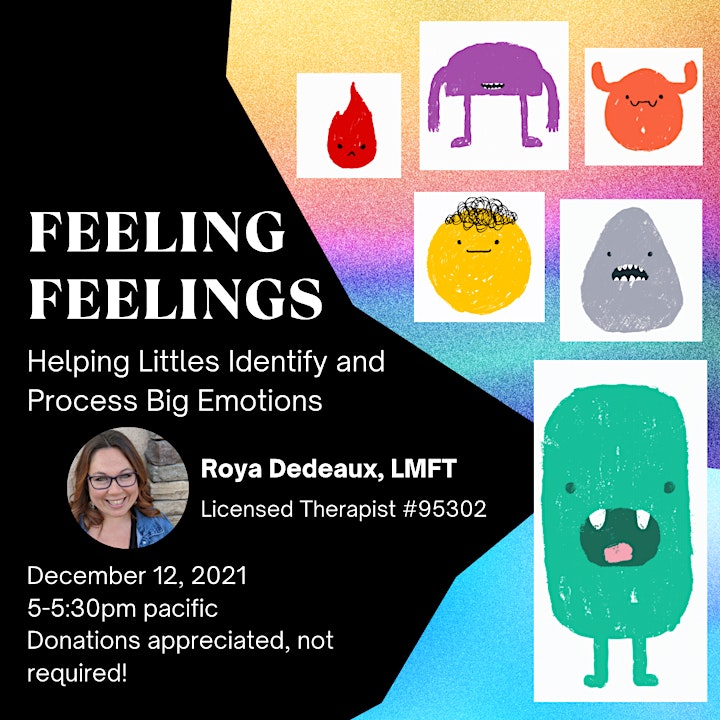 Date and time
Location
Refund policy
Organizer of Feeling Feelings - Helping Littles Identify and Process Big Emotions