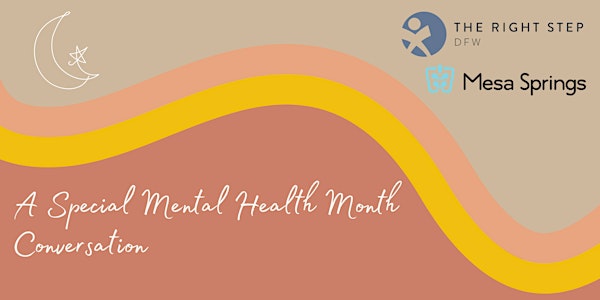 Feeling Exhausted? Compassion Fatigue in a World of Change
Tom Collins and David Nix talk to us about resiliency and compassion, why those traits sometimes leave us, and how to bring your spirit back
About this event
While this event is SOLD OUT, we live be streaming it LIVE to Facebook! Join us here at 12PM CST: www.facebook.com/PromisesBehavioralHealth/
What is the difference between Burnout and Compassion Fatigue?
Tom and David are long-time presenters on that very question and have helped so many people understand where and why downfalls can occur from that misinterpretation. Become more resilient, enhance your self-care skills, and leave the Zoom feeling refreshed & connected.
About Tom Collins & David Nix
Tom Collins, M.Ed, is a Licensed Professional Counselor (LPC), Certified Employee Assistance Professional (CEAP) and Employee Assistance and Work-Life Advisor with Chevron. Tom enjoys sharing his knowledge, experience, and expertise as we all grow through the challenges and wonders that life can bring our way.
Dave Nix manages the ConocoPhillips Employee Assistance Program (EAP) and has been with the company for the past 9 years. He has over 20 years of experience in mental health and EAP. Dave has a Masters in Clinical Psychology and is a Licensed Professional Counselor (LPC), Masters Addiction Counselor (MAC) and Certified Employee Assistance Professional (CEAP). Dave recently finished a term as the Chair of the EACC, the commissioning body for the CEAP credential.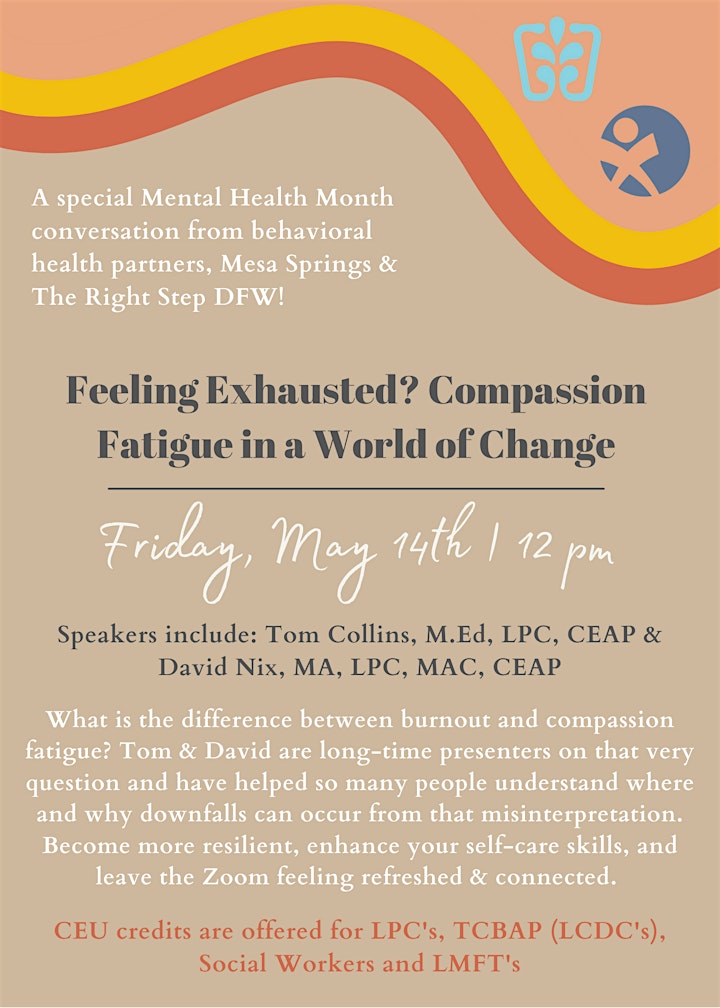 About The Right Step DFW
The Right Step DFW is a drug and alcohol rehab program in Euless, TX between Fort Worth and Dallas. TRS DFW prides itself on the highly skilled treatment team that includes a board-certified addictionologist, psychiatrists, physicians, therapists, advanced nurse practitioners, and other addiction specialists. Our clinicians combine years of experience and evidence-based approaches to offer exceptional drug and alcohol treatment. In addition to DFW, there are sister locations in both Houston and Wimberley.
The Right Step DFW is a Texan's choice for quality, affordable treatment.
About Mesa Springs
Mesa Springs provides evidence-based, transformational care for a broad range of mental health and addiction concerns in a compassionate, comfortable environment. The treatment team serves as compassionate healers for those suffering from mental illness and/or addiction. In addition to quality care, Mesa Springs puts a focus on education and providing resources to the families in our communities to create more conversations about healing and recovery.
Where there's hope, there's help.