Description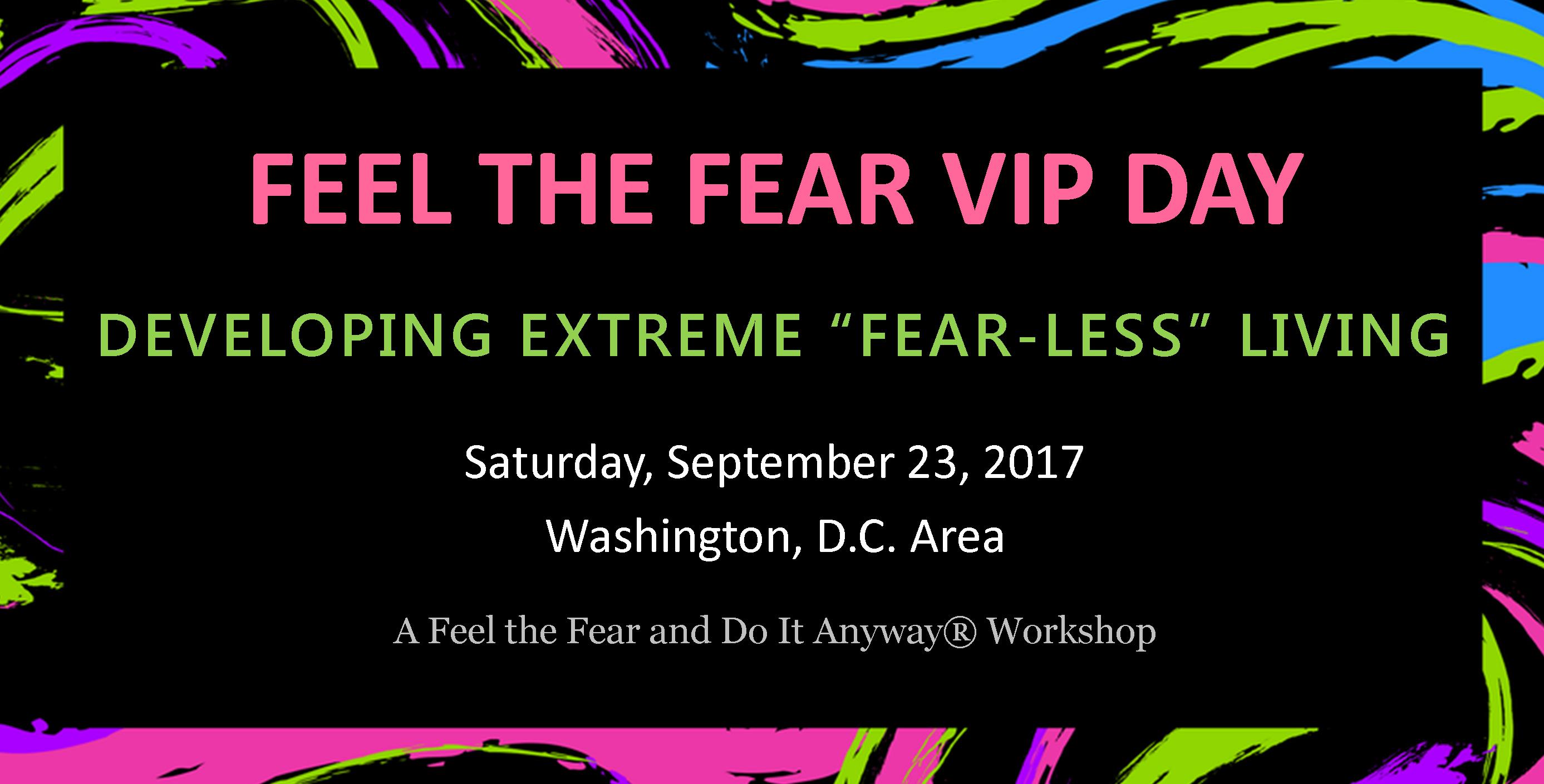 EARLY-BIRD REGISTRATION HAS BEEN EXTENDED TO AUGUST 19, 2017
If you are ready to make a commitment to yourself and your future… If you have read the books, tried the exercises, and are now ready to do the work… If you are finally ready to take control of your life… If you want to stop letting fear paralyze you from doing, being, and growing… If you want to once and for all – acknowledge your fears, accept the reality of fear itself, and take action to FEEL THE FEAR AND DO IT ANYWAY®, this opportunity is for YOU!
What Are You Afraid Of And Why? We will dig deeper into the many fears we experience as we look at the levels, types, and causes of fear. Susan Jeffers says, "All you have to do to diminish your fear is to develop more trust in your ability to handle whatever comes your way."
The Five Truths About Fear. Are you waiting for the fear to go away? Learning and understanding the five truths about fear will give you the confidence to stretch and push through your fears.
Transition From Pain To Power. Some hold fear from a position of pain and they stay stuck. Some hold fear from a position of power and they "do it anyway." When you learn the secret to moving yourself from pain to power, the fact that you have the fear then becomes irrelevant.
Taking Responsibility For Your Life. There is really only one person in this world who can make you happy and that's yourself. Are you a "victim" or are you taking responsibility for your life? Once you learn the concepts to course correct from the victim mentality, you will better understand the dynamics of handling fear.
What Role Does Positive Thinking Play? Positive thinking is one of the most difficult of all concepts for many to grasp. Why? Because you can't explain the "how" or "why" it works. We will demonstrate the power of thought and words.
Weigh In On Your Circle Of Influence. Your support system plays a vital role in the way you handle fear. As you grow, your relationships might change. It is amazingly empowering to have the support of a strong, motivated, and inspirational group of people in your circle.
Making No-Lose Decisions. Susan Jeffers says, "Which path in life will make you grow? That is the path to take." One of the biggest fears that keeps us from moving ahead with our lives is our difficulty in making decisions. Learn the steps to take before making a decision and after the decision is made.
How Whole Is Your "Whole Life"? Many of us short-circuit our lives by choosing the path that is the most comfortable. You will examine your grid of life and ask yourself, "What would I be doing if I were really important in all areas of my life?"
Nod Your Head And Say "Yes". Experiment with the power of saying "yes" even when anticipating the worst. Learn how this antidote will help you deal with day-to-day challenges, disappointments, rejections, things you can't control, and even your deepest, darkest fears.
How much does it cost to attend?
Although you can't really place a price tag on changing your life for the better, your investment to attend this one-of-a-kind event is only $247. If you register before Christina R. Ferguson's birthday, May 31, 2017, we are extending a Christina's Birthday Special Rate of only $147.
Register before midnight on May 31, 2017 for $147.00 (or until sold out)
Register before midnight on July 31, 2017 for $197.00 (or until sold out)
Register after August 1, 2017 for $247.00 (or until sold out)
What do I get for my registration cost?
Full-Day Feel the Fear Workshop
Feel the Fear Training Workbook and Materials

Create your Personal "Fear-Less" Power Plan

One-on-One "Fear-Less" Power Plan Review

Breakfast and Lunch Included

Free Parking at Venue
Where is the event being held?
The event is being held in the Washington, D.C. area. Venue to be announced.
Why is space limited for this event?
The number of attendees is kept to a minimum to ensure that each participant receives a unique experience and leaves feeling like Rose did. Rose drove from Kentucky to Washington, D.C. to attend a Feel the Fear VIP Day and she says, "I had to go. It was a beautiful experience. If I had missed out on that, I would have missed out on a big part of my life. I'm so grateful that I went. It helped me so much." Time will be allocated for each participant to spend one-on-one time with the presenter to review their "Fear-Less" Power Plan. This alone is valued at more than the registration cost.
Event Presenters
Dora Carpenter blends her years of experience working with hundreds of families in the death care industry and her personal experiences with loss and grief to offer an empathetic, hope-filled approach to partnering with individuals through life transitions, grief, and fear. She is a certified life coach, certified grief coach, certified consumer's funeral consultant, founder of The ANIYA Group, and Program Director of From Grief to Gratitude Coach Certification Program. Dora Carpenter is honored to be one of a select group personally licensed by internationally known best-selling author and motivational speaker, the late Susan Jeffers, Ph.D., to teach Feel the Fear and Do It Anyway® training in the United States. The National Association of Distinguished Professionals has recognized Dora Carpenter as a professional in her field and she has been featured in Women of Distinction Magazine. A magnetic speaker, trainer, and author, she has appeared as a guest on various media outlets.
Christina says, "Life does not come with an instruction manual; it is simply a day-to-day experience." One usually has a mental picture of how life is supposed to unfold, but it doesn't always go as planned. What happens then? After having gone through several traumatic events including miscarriage, separation, and reconciliation that ultimately led to divorce, Christina Ferguson founded the annual Infidelity Hurts Awareness Day in 2015. She knew she was not alone in her experiences and wanted others in similar situations to unite and overcome their personal tragedies. She leads "Losing a Love… Finding a Life" Feel the Fear workshops. Christina has a master's degree in psychology and is currently pursuing her doctoral degree. She is a Certified Professional Coach and the Executive Director of The ANIYA Group in Washington, D.C. She is a licensed Feel the Fear and Do It Anyway® trainer and she maintains memberships in the American Psychological Association, Learning Disabilities Association of America, and National Association of Self-Esteem.
Feel the Fear and Do It Anyway is a registered trademark of Susan Jeffers, Ph.D. and is being used with her express permission. This course is licensed & based on the teaching of Susan Jeffers, Ph.D. as contained in her international best seller Feel the Fear… and Do It Anyway. Find out more about Susan Jeffers, Ph.D. and Feel the Fear training here.