Interact with our relationship coaches so that you can finally feel seen and heard even if you've never felt at peace in your love life.
About this event
Our virtual zoom workshop allows you to interact with our relationship coaches so that you can finally feel seen and heard by communicating effectively with your partner.
Workshop Description:
Arguments will come up in ANY relationship that you have - it's how you deal with them that is important
It is proven that relationship quarrels can become emotionally harmful. Low self-esteem, insecurities can simmer, boil and then explode ruining family life, romantic lives, friendships and marriages.
Emotional residue can be transferred from one conflict into all other areas of life.
Communication can be suppressed, causing even larger issues than just omitted information or habitual lying, but also stress-related illness, mental instability and even dis-ease.
In essence, ineffective communication and conflict can negatively influence not only your attitude or mood, but it can impact your entire life.
It is a critical life skill to learn to communicate effectively, especially with your partner.
With conscious awareness you can create exactly the relationship that you wish to have just by increasing your ability to listen and perceive situations in an expansive way.
This workshop in Heart-Opening Couple Communication provides and environment in which you will be exposed to the most powerful awareness practices, customized conflict resolution skills for your unique type of circumstances that you are facing right now. You will experience a variety of communication scenarios so that you can immediately practice what you are learning, and become fluent in the language of the Heart.
Subjects:
The Origin of Conflict
Understanding Your Partner
Different Approaches to Difficult Topics
Communication Styles
Interpersonal Skills
Confrontation v. People-pleasing
De-escalating Conflict
Feeling Seen and Heard
Internal & External Projections
How You Will Benefit:
Learn to Consciously Co-create a relationship that you love with ease
See disagreements as an opportunity and learn to treat them as such
Acquire new perspectives about who you are being in your communication and how that makes the difference.
Feel ready to walk into any situation knowing that you could handle it
Elevate your mindset when it comes to deeply connecting with your Partner (or anyone).
Witness your growth in understanding yourself and your partner in real-time.
How do we know this works?
Because we are living proof. The journey is not all sunshine and rainbows, however we have improved upon ourselves in a very simple and specific way, which we want to share with you.
The best part is that we started building our conscious relationship practice from scratch.
We didn't use cookie-cutter methodologies to communicate and we did learn by making a lot of mistakes.
And as we came closer and closer to each other through profound breakthroughs, our process evolved and our relationship became more and more refined so that we could get out of our heads and into our hearts with ease.
Hey There:
We are Kaí (pronounced ky-ee) and Dell, cat-loving, unicorn-riding, Spirit-led life coaches, and we've been co-creating our relationship together for almost 6 years.
After breaking up, getting back together, and then living a part for months at a time, we came to realize that we don't "need" each other... and we have a strong desire to be together. It's a formula for absolute freedom and unlimited growth in our lives and now we are obsessed with helping other ready and willing couples do the same.
Our superpowers include authenticity, vulnerability, having fun doing anything and helping you to thrive in becoming more aware of how you are showing up in your relationship and in your life.
Community:
Following this workshop, we will provide you with access to our Private Facebook Community where you can continue to conversation and accountability with like-hearted couples and individuals.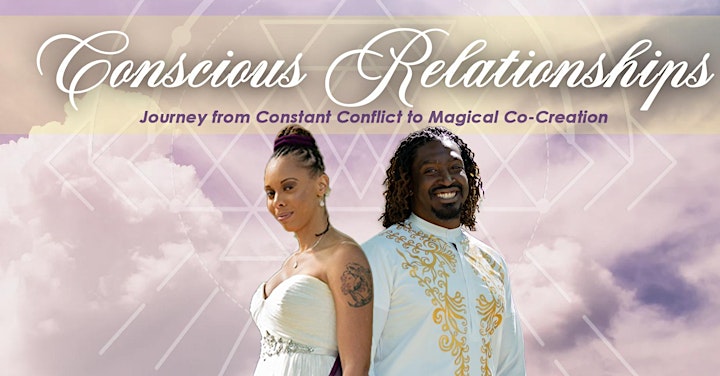 Date and time
Location
Refund policy
Organizer of Feel Seen & Heard - Heart-Opening Communication for Couples
OUR DAILY MAGIC | Be the magic you wish to see in the world!
Our Daily Magic nurtures a community that embraces the exploration of all things related to living life from the inside out. Every week we gather a loving community on the radio to discuss the MAGIC that we make in our lives through Healing, Heart & Holistic Wellness. How do we transform to become the MAGIC that we want to see in the world? What discoveries are we making along the journey? Our Daily Magic assists with daily rituals for our miraculous way of Being.