Feel for Lumps - Save Your Bumps | A Breast Cancer Awareness Event
Join us for an inspiring & interactive afternoon of food, fun & fitness!
About this event
Our featured speaker Nikia Hammonds-Blakely will share her journey as a survivor after a life-altering bout with Breast Cancer at age 16 years old. She is an author, singer, songwriter and motivational speaker who focuses her message on receiving physical and emotional healing with the help of God and family.
We will Jam out together with an interactive fitness session of low-impact hip-hop dance led by one of the dynamic Jam Box instructors. Active wear with a touch of pink is appropriate and encouraged!
The event is family friendly with a focus on bringing a greater awareness to self-care, advocacy for survivors, and support for their caretakers as well as insights from the medical professionals who provide treatment.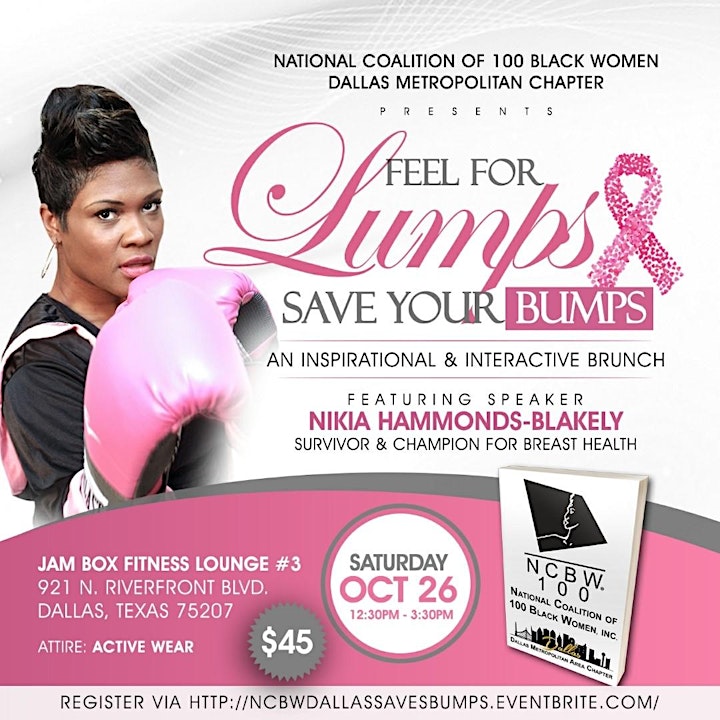 Organizer of Feel for Lumps - Save Your Bumps | A Breast Cancer Awareness Event
NC100BW Dallas Metropolitan Chapter serves as an advocacy organization focused on the empowerment of Black Women and Girls through programs that meet their diverse needs. Our members are dedicated to education, health, political awareness, civic engagement, and leadership development.
The newly established Dallas Metropolitan Chapter will work diligently to foster initiatives that will directly impact our communities. Our vision is to see Black Women and Girls live in a world where socio-economic inequity does not exist.
The Dallas Metropolitan Chapter also collaborates with other organizations to develop programs that benefit the community. We are passionate about our mission to advocate on behalf of Black Women and Girls to promote leadership development and gender equity in the areas of health, education, and economic empowerment.
The Dallas Metropolitan Chapter is a 501c3 tax-exempt organization, receiving support from local corporations, foundations, federal agencies, and other organizations. In addition, a substantial portion of the annual budget is received from membership dues and fundraising efforts.