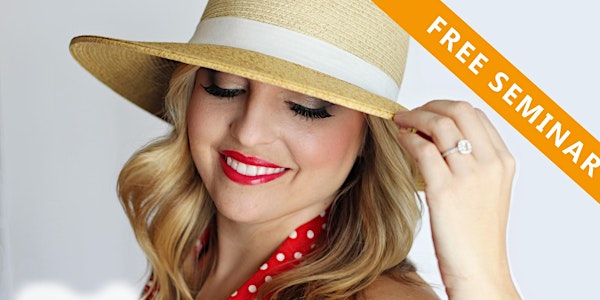 Feel Energetic, Sexy and Vibrant Through Menopause and Beyond
Feel Energetic! Sexy! Vibrant! Through Menopause and Beyond
When and where
Location
Harmony Yoga Studio 1100 High Ridge Road Stamford, CT 06905
About this event
Stamford, CT - FREE Seminar - Thursday, November, 7 @7:00 PM
Low energy?
Weight gain?
Trouble sleeping?
Irritability?
Low sex drive?
Foggy thinking?
What all these symptoms have in common?
Hormone Imbalance!
Menopause can throw physical and emotional challenges at you like nothing you've experienced before in your life. And when need help and go to your doctor, all you often hear is: "What do you expect? It's menopause!" or "It's your age. Just learn to deal with it!"
But what if someone told you there was a safe and time-tested solution that's helping thousands upon thousands of women going through menopause right now? Would you want to know what it is and why your doctor keeps mum about it?
To get the answers, COME JOIN THIS FREE SEMINAR!
Come join Menopause Specialist and Hormone Expert, Dr. Tatiana Fleischman MD at this free interactive seminar where she'll discuss safe and effective methods of restoring hormonal balance and feeling great again.
Some of the topics she'll cover:
Why hormone deficiency in menopause is more than just an inconvenience and can lead to serious health problems
Safe and natural solutions to heal your symptoms and feel great again
How you can improve your quality of life, slow down aging and decrease risk of osteoporosis, heart disease and Alzheimer's
A hormone therapy method that gives almost immediate results
And more!
Come hear real patient stories and bring your questions for Dr. Fleischman.
About Dr. Fleischman:
• Board Certified in Internal Medicine
• Extensive training in anti-aging provided by the fellowship in Anti-Aging and Regenerative Medicine
• Extensive training in functional medicine provided by the Institute for Functional Medicine (IFM)
• Member of the American Academy for Anti-Aging Medicine
• Member of the Institute for Functional Medicine
• Member of the Academy of Preventive and Innovative Medicine
Attendance is FREE, but seating is limited and filling fast. Please register as soon as you can!