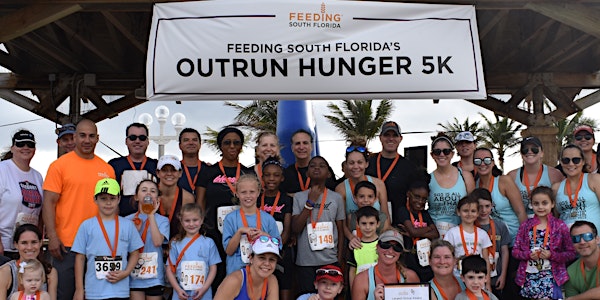 Feeding South Florida's VIRTUAL 10th Annual Outrun Hunger 5K
Feeding South Florida's VIRTUAL 10th Annual Outrun Hunger 5K
About this event
Feeding South Florida's 10th Annual Outrun Hunger 5K presented by JM Family Enterprises, originally scheduled for March 21, 2020, is now rescheduled to be a VIRTUAL race on Saturday, September 26, 2020 during Hunger Action Month. 
While we can't be together in person for our tenth year, we can still come together to Outrun Hunger.
The COVID-19 pandemic put a spotlight on food insecurity in our community. Since March, Feeding South Florida has organized over 580 drive-thru food distributions serving an average of 1,000 people each.
The 10th Annual Feeding South Florida Outrun Hunger 5K presented by JM Family Enterprises is a way to make a difference in the lives of more than 1 in 5 adults and 1 in 4 children in our community who are food insecure.
DATE AND LOCATION
This is a VIRTUAL event! Participants are encouraged to run/walk your favorite 5K route, socially distanced in your community. Send us your photos and use the hashtag #FeedingSouthFlorida to be featured in our social media channels.
REGISTRATION (includes t-shirt and finisher medal):
General Ticket: $30
Student Ticket: $20 (Must provide proof of school enrollment; please contact mfernandez@feedingsouthflorida.org for a discount code) 
TAKE THE NEXT STEP
Create an online fundraising page to spread the word to family, friends, and colleagues that you are helping to "outrun hunger" in South Florida!
For every $1 donated to us, Feeding South Florida can provide 9 meals.
WATCH THE OPENING CEREMONY!
On Saturday, September 26 at 8:30 a.m., we'll kick-off the race day! Tune into the opening ceremony, which will be streamed on www.facebook.com/FeedingSouthFlorida
After the opening ceremony, run/walk your favorite 5K route! Email photos and videos to mfernandez@feedingsouthflorida.org to be included in Feeding South Florida social media channels, or tag us at #FeedingSouthFlorida and #OutrunHunger5K
PACKET PICK-UP
Plan to pick-up your swag bag, which includes your dri-fit T-Shirt, race medal, and sponsor goodies during the following days:
Thursday, 9/17 from noon – 5:00 p.m. (Drive-thru pick-up)
Friday, 9/18 from 3:30 p.m. – 6:30 p.m. (Call 954.243.2962 upon arrival for curbside delivery)
Saturday, 9/26 from 8:00 a.m. – 11 a.m. (Drive-thru pick-up)
Address for packet pick-up: 2501 SW 32 Terrace, Pembroke Park, FL 33023
*Shipped t-shirts available for select registration types.
ABOUT FEEDING SOUTH FLORIDA
As the sole Feeding America® food bank serving South Florida, Feeding South Florida® has the largest service area in the state of Florida, serving 25% of the state's food insecure population throughout Palm Beach, Broward, Miami-Dade, and Monroe counties.
Feeding South Florida distributes 119.2 million pounds of food (99.3 million meals) through direct service programs and a network of over 300 nonprofit partner agencies.
QUESTIONS
We are here to help! Please contact mfernandez@feedingsouthflorida.org or 954.518.1818 x1863.
SPONSORSHIP OPPORTUNITIES AVAILABLE
Please contact Michele Fernandez at mfernandez@feedingsouthflorida.org or 954.518.1818 x 1863 to learn more about sponsorship opportunities.