Feeding Hope: Living Democracy

Thursday, September 22, 2011 from 7:00 PM to 9:00 PM (EDT)
Event Details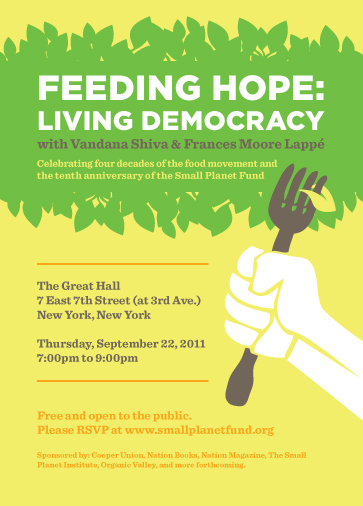 Feeding Hope: Living Democracy
with Vandana Shiva and Frances Moore Lappé
along with Anna Lappé (Small Planet Fund), Atossa Soltani (Amazon Watch), and Anim Steel (Real Food Challenge)
Thursday, September 22nd, 2011, 7:00-9:00pm
Cooper Union's Great Hall
7 East 7th Street (at Third Avenue)
New York, NY 10003
Join two of the planet's most fearless and tireless advocates for food as a human right, restoring the earth, and building peace through living democracy as they come together on the occasion of the 10th  anniversary of the Small Planet Fund and 40th anniversary of Diet for a Small Planet by Frances Moore Lappé
This is a free event but pre-registration is strongly recommended.
Co-Sponsors: The Cleaver Co., The Cooper Union, James Beard Foundation, Nation Books, Nation Magazine, Organic Valley, Stonyfield Farm, A Well Fed World, Bon Apetit Management Company, Small Planet Institute
Co-Hosts: Added Value, Brighter Green, Brooklyn Food Coalition, Climate Week NYC, Community/Farmworker Alliance, Corporate Accountability International, East New York Farms, Funders Collaborative on Youth Organizing, Green Guerillas, GreenThumb, Haymarket Books, NY Open Center, Queens County Farm Museum, Restaurant Opportunities Center of New York (ROC-NY), WhyHunger
Host Committee
Hilary Baum & Richard Stein
Jessica Walker Beaumont & Sidney Beaumont
Cinde Boutwell Meade
Jen Chapin (WhyHunger)
Mary Cleaver (The Cleaver Co.)
Jaimie Cloud (Cloud Institute for Sustainability Education)
Gita Drury (ImpactAssets)
Cathy Erway (author, NotEatingOutNY.com)
Catherine Gund (filmmaker What's On Your Plate?)
Brian Halweil (Edible Manhattan/Edible Brooklyn)
Diane Hatz (The Glynwood Institute for Sustainable Food and Farming)
Tate & Shawna Hausman
Lisa Jobson (iEARN)
Destin Joy Layne (GRACE/Sustainable Table)
Anna Lappé & John Marshall
Anthony & Clarice Lappé
David Levine (American Sustainable Business Council)
Mia MacDonald (Brighter Green)
Frances Moore Lappé & Richard Rowe (Open Learning Exchange)
Heather Reddick (Avaaz) & Han Shan (Amazon Watch)
Chris Talbott (Cause Effect Agency)
Latham Thomas (Tender Shoots Wellness) 
When & Where

Cooper Union's Great Hall
7 East 7th Street (at Third Avenue)
New York, NY 10003


Thursday, September 22, 2011 from 7:00 PM to 9:00 PM (EDT)
Add to my calendar
Organizer
We started the Fund in 2001 to support courageous movements bringing to life citizen-led solutions to hunger, poverty, and environmental devastation around the world. Every year, we fund core grantees and make emergency grants to additional groups throughout the world for whom a relatively small infusion of resources can make a world of difference.
Since we launched the Fund, two of our core grantees who have been honored with the Nobel Peace Prize: Muhammad Yunus and colleagues at the Grameen Bank and Wangari Maathai and the Green Belt Movement.