Fed Supernova is a virtual-first conference highlighting defense innovation in Texas.
About this event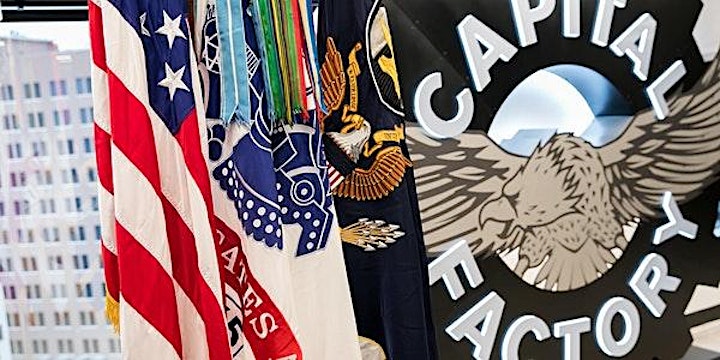 This first-of-its-kind interactive experience will draw national attention and connect leading entrepreneurs, investors, thought leaders, corporations, and decision makers from around the world.
Fed Supernova is the synergy of combining Capital Factory's Texas Startup Manifesto with the massive defense industry momentum in Texas from Army Futures Command, AFWERX, Defense Innovation Unit, the National Geospatial-Intelligence Agency, Texas Military Department, and many others.
The event will culminate in the $100,000 Human Performance Investment Challenge focused on startups whose technologies leverage hardware and/or software solutions to enhance physical or cognitive capabilities. The challenge will include five technology startup finalists that will be judged by a panel of successful entrepreneurs, defense industry leaders and venture capitalists. One will walk away with a $100,000 investment! Startups, submit your application today!
What Can I Expect?
Keynotes and panels from visionary innovators
Epic Office Hours - Consider it speed dating with entrepreneurs. Some of the most successful entrepreneurs, top figures and investors will be here for lightning round mentor sessions with YOU! Submit Your Application Here!
Government representatives from Army Futures Command, AFWERX, Texas National Guard, DIU, NGA, and more!
Corporate representatives from Amazon Web Services, BAE Systems, Booz Allen Hamilton, Deloitte, Microsoft, Northrop Grumman and more!
AFC Innovation Combine and 2-year birthday
Texas Military Department launch of TMDX
Capital Factory's $100,000 Investment Challenge
Why Should I Attend?
Startups - Not headquartered in Texas? No worries! Startups from all over the world can join. Fed Supernova will be full with hungry investors, curious corporations and future-proof founders all vying for the next big startup. Learn how to work with the government and unlock an entirely new funding frontier. Meet your first customer, co-founder, investor, or employee!
Investors - Get inspired by hot new trends in several tech spaces while scouting fresh tech and intriguing startups. Fed Supernova represents a can't-miss learning opportunity to become better equipped to make smarter investments.
Corporates - Want to see and experience something bleeding edge? Talk to our start-up founders and network with other innovative corporations, academia, military and investors to re-calibrate your view of what's possible
Military - Join your DoD colleagues and Corporations while scouting cutting edge tech and prime talent, all while traversing a virtual landscape with opportunities to learn, grow and network. Learn how to properly work with startups!
Virtually Important Person (VIP) - Start with a personal concierge interview where we will build your perfect agenda. Get access to the exclusive VIP networking room in our Virtual Center for Defense Innovation and connect with other VIPs where we will make one-on-one introductions. Attend a special VIP-only Ask-Me-Anything with Capital Factory leadership. And of course, the ultimate VIP swag bag!
Tracks
COVID Innovations
Operational Data Science (presented by Deloitte)
Cloud to Edge (presented by AWS)
Cybersecurity Ecosystem (presented by Accenture)
Human Performance
TMDx Launch
Have a question?
We have an answer! Check out our Fed Supernova FAQ here.
All tickets are non-refundable.
Speakers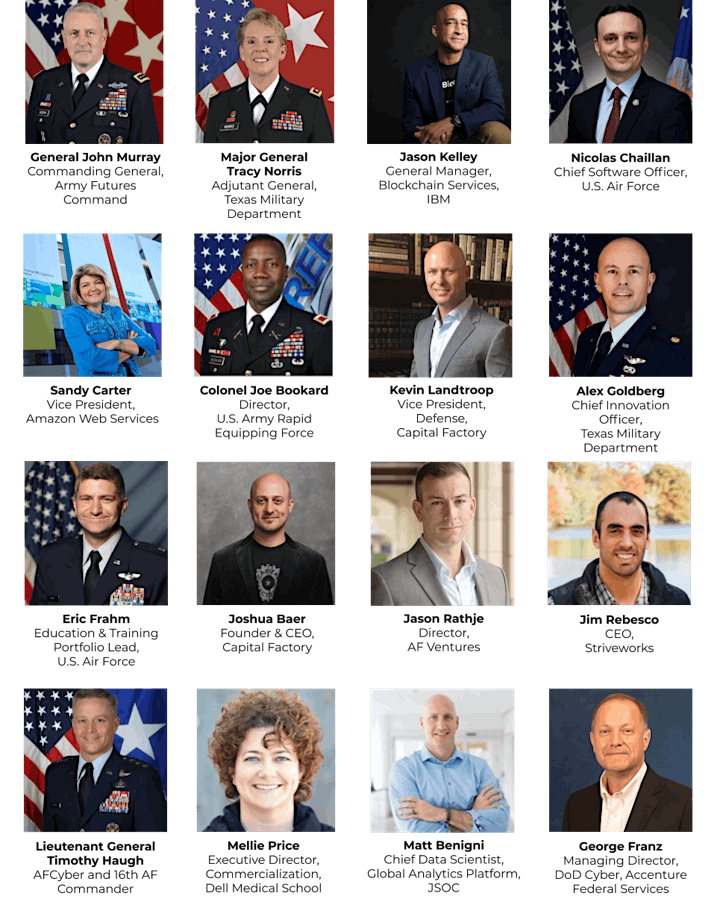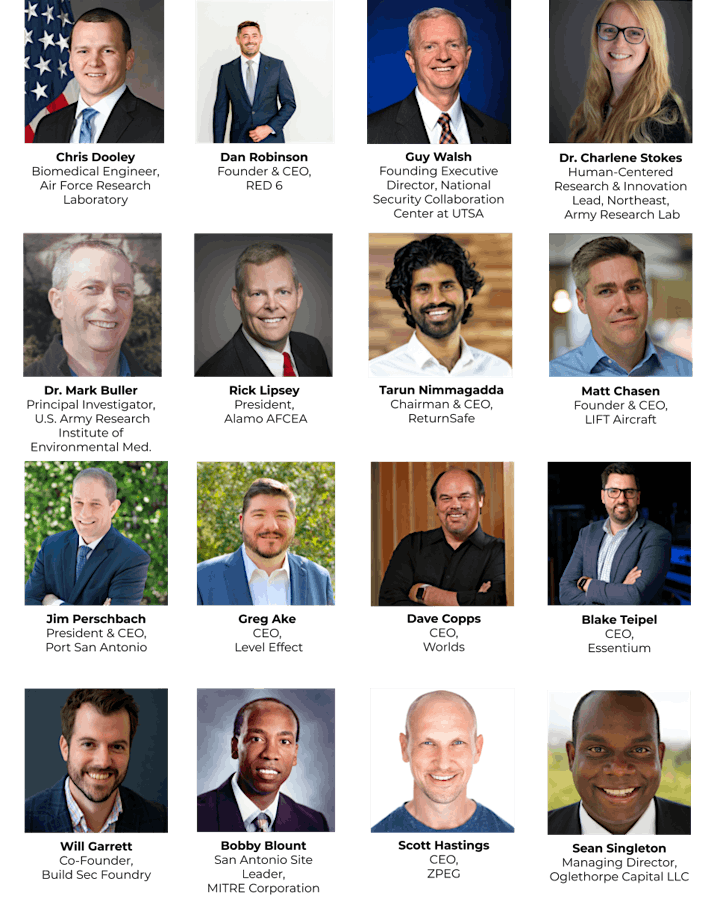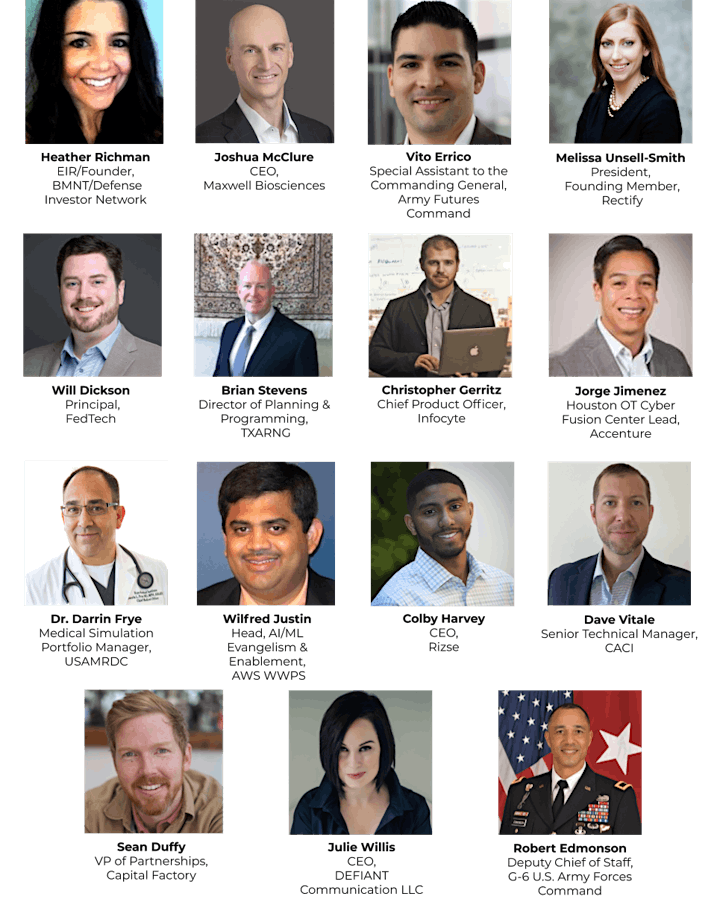 Special thanks to...
Organizer of Fed Supernova presented by Deloitte
Capital Factory is the center of gravity for entrepreneurs in Texas, the number one state for startups in the U.S. Thousands of entrepreneurs, programmers and designers gather day and night, in-person and online for meetups, classes and coworking. With boots on the ground in Austin, Dallas, Houston, and San Antonio, we meet the best entrepreneurs in Texas and introduce them to investors, employees, mentors and customers. According to Pitchbook, Capital Factory has been the most active, early-stage investor in Texas since 2010.