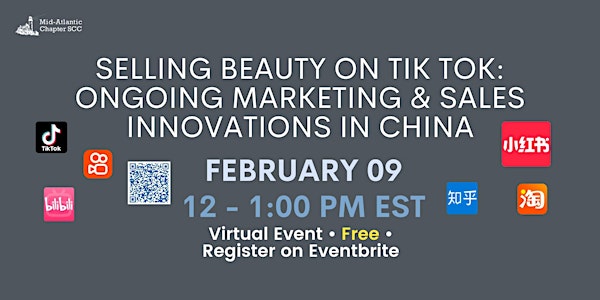 February TechTalk - Marketing Innovation via Social Media in China
Join us for our first virtual event of the year: Our February TechTalk with our MASCC Secretary Zhi Li
About this event
Abstract:
Selling Beauty on Tik Tok: Ongoing Marketing & Sales Innovations in China
Zhi Li, PhD
The commerce of cosmetics evolves alongside innovations in marketing & sales practices. Entrepreneurs in our industry have long been exploring emerging communication technologies of their generations to create new markets and reach fresh demographics. Examples include the first newspaper advertisements for cosmetics (1750s), arising department stores (1850s), mail orders (late 19th century), large-scale direct sales (late 19th century), national advertising via radio broadcasting (early 20th century), promotions in major fashion magazines (1920s), mass TV campaigns (1950s), and TV shopping channels (1980s).
With the rise of the digital economy, China's mobile platforms (e-commerce and social) are increasingly influential in delivering targeted marketing content and impacting consumer purchases. For improved sales conversion, beauty brands in China nowadays are heavily relying on coverage tools on mobile platforms, including Key Opinion Leader (KOL) recommendations, celebrity posting, live-streaming, short videos, etc. Alongside this mobile transformation, new players have entered China's beauty ecosystem and value chain, including digital content creators, live-streaming sales hosts, Multi-Channel Networks (MCNs), and big data analysts. Understanding China's ongoing M&S innovations on mobile platforms is essential for an American player to comprehend the current Chinese beauty market and to renovate its China business strategy.
In this Tech Talk, we will focus on live-streaming sales, the most rapidly growing sales channel that accounted for ~20% of China's online beauty products sales in 2022. Hosted by beauty influencers, internet celebrities, and/or movie stars, live-streaming sales events on mobile platforms have greatly shaped the shopping behaviors of Chinese Millennials and Gen Z, broadened beauty products' marketing strategies, and improved beauty brands' penetration rate. Particularly, we will analyze major live-streaming platforms (Taobao, Tik Tok, and Kuaishou), knowledge-sharing platforms (e.g. LittleRedBook), and mega hosts (e.g., Austin Li, DanDan). The current ecosystem around live-streaming sales will be discussed. Regulation framework and past controversies will also be covered.
Speaker bio:
A materials scientist by training, Dr. Zhi Li started his personal care industry career in 2006, after his PhD in chemistry from Northwestern University and postdoctoral work at MIT. Zhi worked on various beauty care applications and gained broad industry experience from both the supplier side (Croda and Dow) and the finished goods manufacturer side (Living Proof and L'Oréal). Recently, Zhi has been focusing on helping bridge cosmetic industries between China and USA. Zhi is currently the Vice President of Chinese American Cosmetic Professional Association (CACPA), a nonprofit promoting networking and knowledge sharing among Chinese American cosmetic professionals