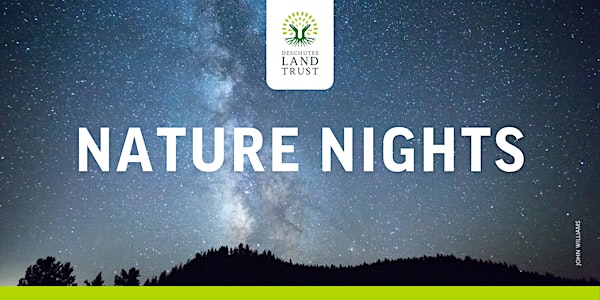 February Nature Night: A History of Trees
Join the Land Trust for our February Nature Night on A History of Trees—Fire, Old-Growth, and Forest Restoration in Central Oregon.
When and where
Date and time
Tuesday, February 21 · 7 - 8:30pm PST
Location
Tower Theatre 835 Northwest Wall Street Bend, OR 97701
About this event
A History of Trees—Fire, Old-Growth, and Forest Restoration in Central Oregon
The magnificent ponderosa pine and mixed conifer forests of Central Oregon provide wildlife habitat, clean water, and outstanding outdoor experiences for many people. But these forests are changing rapidly and may not provide the same benefits in the years to come. Join the Deschutes Land Trust, Dr. James Johnston, and Dr. Andrew Merschel of Oregon State University as they share the results of ongoing tree ring research that describes 500 years of change in forests of Central Oregon. They'll show how they look at old-growth trees as living time capsules that document fire, insect attacks, and birth and death. Learn about the future of Central Oregon's old-growth forests as they face the challenges of climate change and fire.
*An ASL interpreter will be provided for this Nature Night.*
James Johnston is an Assistant Professor at OSU College of Forestry. He holds a Bachelor's degree in History from the University of Oregon and a Master's and Ph.D. in Forest Science from Oregon State University. His research interests include fire ecology, dendroecology, restoration forestry, environmental law and policy, and collaborative governance.
Andrew Merschel is a dendroecologist working for the USFS PNW Research Station and Oregon State University. Andrew uses tree rings to develop a shared understanding of how different forest ecosystems function over time. Andrew is particularly interested in how disturbances (mostly fire) and forest management have shaped and will continue to shape the forests of the Pacific Northwest. Andrew lives with his family (Vanessa, Aldo, and Sawyer) in Corvallis and they enjoy a mixture of fishing, hiking, wildlife ecology, and chainsaw repair in their spare time.
Looking to register for the virtual livestream event? Register here!