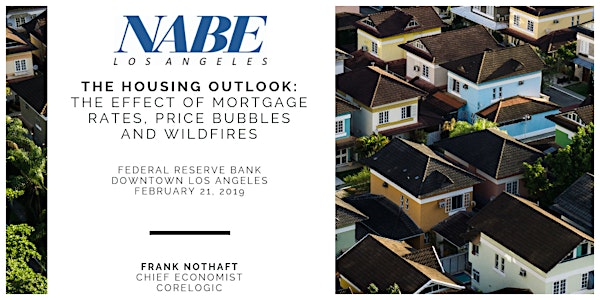 February Luncheon at the Fed
When and where
Location
Federal Reserve Bank of San Francisco - Los Angeles Branch 950 S. Grand Ave. Los Angeles, CA 90015
Description
Dr. Frank Nothaft is senior vice president and chief economist for CoreLogic, America's largest provider of advanced property and ownership information, analytics and data-enabled services. He leads the economics team responsible for analysis, commentary and forecasting trends in global real estate, insurance and mortgage markets.
Before joining CoreLogic Frank served in a variety of leadership positions with increasing responsibility at Freddie Mac. Most recently, he was vice president and chief economist responsible for forecasts, research and analysis of the macro economy, housing and mortgage markets. Prior to Freddie Mac, Frank was an economist with the Board of Governors of the Federal Reserve System, where he served in the mortgage and consumer finance section and as assistant to Governor Henry C. Wallich.
Frank frequently appears on local and national radio and television programs and has been widely quoted in The Wall Street Journal, New York Times and many industry trade publications such as National Mortgage News and HousingWire. He has been a regular guest on cable news channels such as CNBC, Bloomberg and Fox Business News.
Frank has served as president of the American Real Estate and Urban Economics Association, Board member of the Financial Management Association, Advisory Board member of the Real Estate Research Institute, Chair of the Real Estate Roundtable for the National Association for Business Economics, and as Editorial Board member of the Journal of Real Estate Finance and Economics. Frank graduated from New York University with a bachelor of arts in mathematics and computer science and he holds a Ph.D. in economics from Columbia University.
Parking: free of charge; however, per Federal Reserve Police guidelines, attendees must provide a vehicle description. You will be asked to provide this information on the registration form. If you do not wish to park in the Fed lot, please write "N/A" on the form.
The address of the Fed building is 950 S.Grand Ave., Los Angeles. However, please note that the entrance to the parking structure is at 951 S. Olive Street. The cross street for both is Olympic. To download parking instructions, please visit www.lanabe.org/events or email nabeinla@gmail.com.
Student Registrants: must be a full-time student and can only be working part-time. A valid student ID is required.