Description
Join Montgomery County Planning staff for this month's webinar: GBe Creative! Art, Placemaking and Funding.
Here are a few tips for accessing the building:
Directions from Silver Spring Metro:

Walk or bike from the Silver Spring Metro Station (there's Capital Bikeshare stations both on Colesville Road near the Metro and directly in front of the Planning department's building).
1. Head northeast on Colesville Road from the Metro Station.
2. Cross Colesville Road to the north side (if you didn't exit on that side of the station) at Second Avenue.
3. Walk along Second Avenue and make a right at Cameron Street.
4. Cross Georgia Avenue, and turn left, walking northbound on Geogia Avenue.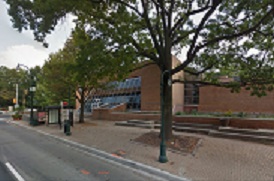 5. Walk approximately two blocks (past the Sheraton/Starbucks) to reach 8787 Georgia Avenue. If you used a Capital Bikeshare bike, park it at the station in front of the building at the corner of Georgia Ave and Spring Street. Then head down the steps to the parking lot and enter via the main entrance. The auditorium will be immediately in front of you. You will not be able to access the building via the Spring Street entrance.

(Distance: .5 miles, approximately 10 min walk)
Bus
The J5, Q1, Q2, Q4, Y2, Y7, and Y8 WMATA bus routes all stop directly in front of the Montgomery County Planning Office (northbound) and on the opposite corner in front of Woodside Park (southbound).
Parking:
Paid visitor parking is available in the surface parking lot, accessible via Spring Street. There is also metered on-street parking on Sping Street and Georgia Avenue.
Katie Mencarini: 301.495.4549 katherine.mencarini@montgomeryplanning.org