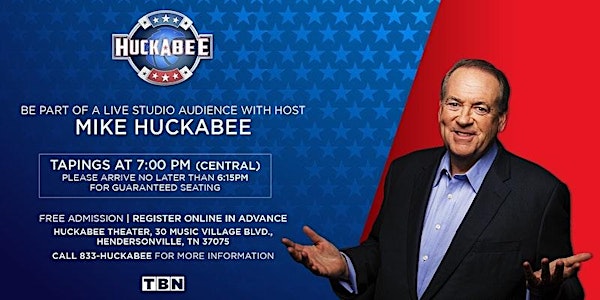 February 24th, 2023 - Huckabee Taping "Live" Studio Audience
BE PART OF A LIVE STUDIO AUDIENCE AT HUCKABEE! TAPING WEEKLY 15 MINUTES NORTH OF NASHVILLE, TN!
When and where
Location
Trinity Music City (Huckabee Theater) 30 Music Village Blvd. Hendersonville, TN 37075
About this event
OUR ON AIR GUESTS ARE MAGICIAN, MERVANT VERA; AUTHOR, DR. JASON CORMIER; MUSICAL GUESTS (SINGER/SONGWRITERS), CLIFF AND SUSAN PROWSE, WITH WARM UP COMEDIAN, MIKE JAMES. GUESTS ARE SUBJECT TO CHANGE WITHOUT NOTICE.
We look forward to having you! Here are the quick bullets for entry.
Any questions should be emailed to huckabeetix@tbn.tv.
You must be at least 16 years of age to attend a taping.
You will go through a security check, so don't bring in sharp objects or weapons of any kind. (pocket knives, clippers, tweezers, etc.)
Do not bring in large purses. You may bring in a small clutch.
Check in opens at 5:30pm. Security shuts down at 6:30pm. Entry is not allowed after this time for any reason.
Our address is 1 Music Village Blvd., Hendersonville, TN 37075.
We are just a production facility here and cannot receive gifts for the Governor. Go to www.mikehuckabee.com for direction on this.
No food or beverages inside the building. Water is provided.
Taping duration is approximately 1.5 hours, once it begins.
If you cannot climb a few stairs with a rail, provide the reason why in your reservation and we will do our best to accommodate your request.
If you are not able to print out your ticket or do not have a smartphone to display your ticket on, simply provide us the name your reservation is under upon arrival at check in, and we will look you up.
Bring proper photo I.D. for entry and proof of age.
Be advised that you may be included on-camera during taping of the HUCKABEE show. Your e-ticket and attendance constitute your permission for the show's producers to use your likeness in any way.
Dress code is smart casual.
Smoking is not permitted in any of our buildings. A smoking area is provided across the street from entry. If you leave the taping, you will not be offered re-entry after 6:30pm.
HUCKABEE is taped on private property. We reserve the right to remove anyone whose behavior is deemed a threat to the comfort or safety of our audience, 'on air' guests, cast, or staff.
Thanks for your interest and enthusiasm! We look forward to your participation in the HUCKABEE show experience!