February 20th Outside the Box Cheese & Beverage Pairing Night

Saturday, February 20, 2016 from 7:30 PM to 10:00 PM (PST)
Event Details
Andrew's Outside the Box Cheese and Beverage Pairing Night
We realize that some of you would like an event at Andrew's that is not Grilled Cheese and Beer (although we can't imagine why).
Andrew does not like to do the normal, pedestrian, boring wine and cheese pairings, so he decided to do a more creative, assorted beverage type of pairing event instead (yes, there will be lots of wine).
We will be offering seven (that's right, SEVEN) pairings, and two cheeses per pairing. 
Among the items being offered will be the following and more (every event will be different):
Accompaniments



Cheese

Chocolate

Marcona Almonds

Membrillo

Sliced figs in honey

Baguette

Crackers



Beverages
Mead

Port

Sauternes

Red Wine

White Wine

Sparkling Wine

Cider

Beer

Rosè Wine



Organizer
Andrew's Cheese Shop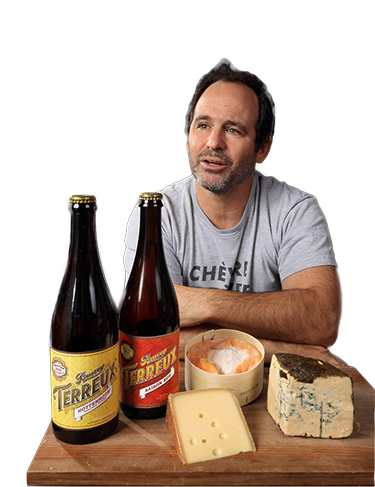 Andrew Steiner first fell madly and passionately in love with cheese while working as a waiter at Joachim Splichal's legendary restaurant Patina.  An enthusiastic, quick-learning cheese lover, Steiner was soon promoted to the full-time position of Maitre d'Fromage, instituting the beloved cheese menu and cheese cart for which the restaurant became famous.  After 24 years working in restaurants, the veteran cheese expert left the industry to start Andrew's Cheese Shop, which opened August 2008 in Santa Monica, CA.
     "Working in restaurants was a whole lesson in hospitality," Steiner says.  "I love talking to people and getting to know them.  With my own business, I have an opportunity to do the same—and blab on about cheese at the same time. This shop is a dream come true for me."
    Steiner has an affinity for creating relationships with customers, and he wants to be able to share his profound knowledge with people who love cheese and—perhaps more importantly—those who know nothing about it.  Winning cheese converts one by one is what sets Steiner apart from the rest.
     One of the city's most notable and personable cheese authorities, Steiner was a featured speaker at this year's Los Angeles Magazine "The Food Event," and has shared his expertise on KCRW's "Good Food" with Evan Kleiman and 97.1 FM's "Food and Wine with Chef Jamie Gwen."  He has also appeared in such publications as the Los Angeles Times, Angeleno and Food & Wine.
February 20th Outside the Box Cheese & Beverage Pairing Night