February 2020 Luncheon: The Evolution of Chicago's Union Station
Description
The Evolution of Chicago's Union Station: Keeping the Vision on Track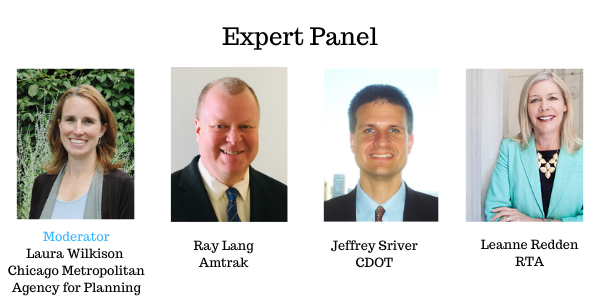 Chicago's Union Station is the third-busiest railroad terminal in the United States, with a level of passenger traffic that ranks it busier than Midway Airport, serving approximately 120,000 trips daily. The 2012 Union Station Master Plan Study, led by the Chicago Department of Transportation (CDOT), in collaboration with Amtrak (station owners), Metra (station's primary tenant), Regional Transportation Authority (RTA), and other organizations called for increasing the station's capacity and quality of service. Since the completion of that study, we have seen the opening of a new bus terminal, the remodel of the Great Hall, and demolition of the parking garage. Current plans call for developing the real estate in and around the station, and we cannot deny the importance of this hub to downtown's success. When it comes to Big Shoulders and Big Ideas, few projects have this level of complexity and importance to our region. Join our expert panelists to learn how Union Station has evolved and where it's headed.
Registration ends February 13.
This is a terrific opportunity to BRING A GUEST so they can make connections and discover the great value of LAI Ely Chapter membership. **Remember, the chapter now requires prospective members to attend 2 events minimum to be eligible for nomination. Now is the time to think about 2020 new member nominations, which are due by February 7.** (Click here to learn more about 2020 nominations)
---
About the Panelists:
(Moderator) Laura Wilkison joined the Chicago Metropolitan Agency for Planning (CMAP) in 2020 as Deputy Executive Director of Plan Implementation and Federal Affairs. She brings more than two decades of experience in legislative strategy, policy development, and coalition building to advance the region's plan and other CMAP priorities. Prior to CMAP, Wilkison served as vice president of Metro Strategies for 14 years. There she managed numerous policy, advocacy, and public engagement initiatives for the firm's clients, including numerous regional transportation service providers, counties, and municipalities as well as the Chicago Region Environmental and Transportation Efficiency Program. She has a master's degree in public services management and a bachelor's degree in political science from DePaul University.
Ray Lang serves as Senior Director of State and Local Government Affairs for Amtrak. Lang directs government affairs staff in five offices across the country and is responsible for the Amtrak relationships with individual governors, state legislators, mayors, and other elected officials. Lang began his career at Amtrak in the government affairs headquarters office in Washington, D.C. in 1994 and has held positions of increasing responsibility within the railroad. Lang is a native of suburban Chicago and a graduate of the University of Illinois at Chicago. He attended graduate school at the Hebrew University of Jerusalem, where he studied Hebrew and International Relations.
Jeffrey Sriver joined the Chicago Department of Transportation in 2009 and currently serves as its Director of Transportation Planning and Programming. His section is responsible for CDOT's short-, medium-, and long-range planning, analysis and research activities encompassing all transportation modes, facilities, users, systems, and networks serving the City, as well as grants management and programming of CDOT's federal, state, and local project funding. In cooperation with numerous public and private sector partners, CDOT's projects and plans encompass: all city streets and highways; sidewalks, bike lanes, and trails; bus and rail public transit and passenger transportation infrastructure; and truck and freight rail facilities. Jeff has a Bachelor's Degree in Civil Engineering from Purdue University and a Masters in Transportation from MIT.
Leanne Redden is Executive Director of the Regional Transportation Authority (RTA). The agency manages an annual regional transit operating budget of approximately $3 billion with assets of approximately $160 billion and a more than $8.3 billion five-year capital program. Under Redden's leadership, the RTA created Invest in Transit, the regional transit strategic plan covering 2018-2023 that makes the case for the region's capital funding needs. Redden was pivotal in regional advocacy efforts that culminated with the 2019 passage of Rebuild Illinois, the largest capital bill in Illinois history. Before joining the RTA, Redden was Chief of Planning for the Illinois Tollway and Director of Transportation for the Village of Schaumburg. She was a key player in the Illinois' 2008 Transit Funding and Governance Reform Legislation. Redden was named 2015 "Woman of the Year" by the Chicago chapter of Women in Transportation and is a Conference of Minority Transportation Officials 2016 "Woman Who Moves the Nation."
---
***Please bring your Eventbrite Receipt to the Luncheon***
Please note that refunds are not available for cancellations.
---