| | |
| --- | --- |
| Feb 8 '12 Webinar: Content Marketing by Rebecca Lieb, Altimeter Group | |
Event Details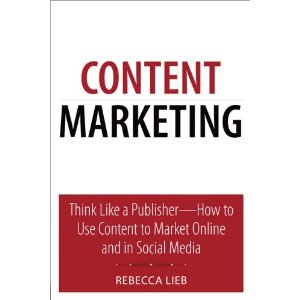 Learn how to use Content to Market Online and in Social Media by joining Rebecca Lieb, Altimeter Digital Advertising/Media Analyst, for a 1 hour Webinar. 
**Bonus - Each registrant receives a special webinar discount code saving 30% on Rebecca's Content Marketing book or ebook.

Join us in an informal chat and Q&A with Rebecca Lieb, Altimeter Group analyst and author of the recently published book, Content Marketing, and a new research report on how enterprises are adapting to the challenges of becoming publishers - not just advertisers [report link will be sent to all Webinar attendees when it publishes soon]. 
We'll explore why content marketing matters so much now - particularly in digital channels. (Hint: social media plays an enormous role). We'll discuss how advertisers are beginning to kiss the media buy bye-bye and instead leverage content to inform, educate, entertain and win over customers and prospects. Social media, online video, blogs, user reviews, even apps are content that can be just as effective, if not more so, than traditional advertising. 

Some points Rebecca will cover include:
The difference between content marketing and content strategy

The four types of content marketing

How organizations are rebalancing from paid media to roll-your-own media

Why even the most unlikely companies can excel in content marketing (hint: one organization publishes 67 blogs - 67! - on soldering supplies)

More information about Rebecca is here:
Rebecca was VP and editor-in-chief of The ClickZ Network for over seven years.  For a portion of that time, Rebecca also ran Search Engine Watch.  She consults on content strategy for a variety of brands and professional trade organizations. 
Earlier,  Rebecca held executive marketing and communications positions at strategic e-services consultancies, including Siegel+Gale, and has worked in the same capacity for global entertainment and media companies including Universal Television & Networks Group (formerly USA Networks International) and Bertelsmann's RTL Television.  As a journalist, she's written on media for numerous publications, including The New York Times and The Wall Street Journal.  She spent five years as Variety's Berlin-based German/Eastern European bureau chief.  Until recently,  Rebecca taught at New York University's Center for Publishing,  where she also served on the Electronic Publishing Advisory Group. 
Her book, The Truth About Search Engine Optimization, published by FT Press in 2009, instantly became a best-seller on Amazon.com. It remains a top-10 title in several Internet marketing categories. Her most recent book is Content Marketing, published October 2011. 




* Eventbrite Confirmation Email includes your 30% discount code on Content Marketing book or ebook.
* Webinar url will be sent to all attendees 1 week before the event. 
* Follow us on Twitter @GreenStarSol and Like us on Facebook to join the discussion and keep updated on the latest news and updates!  
* Use our Twitter hashtag to submit questions #greenstardigital