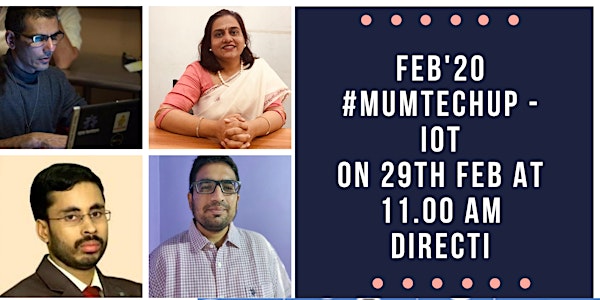 Feb 2020 #mumtechup - IoT @Directi
When and where
Location
Directiplex Mumbai, MH 400069 India
Description
Agenda [please read till the end for full details] :
IMP: Registration does not guarantee a ticket. All tickets will be confirmed on Friday evening before the event.
Welcome to the second #mumtechup of 2020 and the theme is IoT, organized by Mumbai's largest OSS community fb.com/hackmum as part of the longest running tech meetup in Mumbai [over 8 years] fb.com/mumtechup .
===========================================================================
#mumtechup sessions
===========================================================================
Talk #1
Time : 11.00 am - 12.00 pm
1. Title: Hardware Design Primer
There's been a lot of buzz in recent years about IoT. How it will impact our lives, homes, environment, travel, shopping, battlefields, and everything else from A to Z? This talk will walk you through the basics of IoT from the Hardware Design perspective. What constitutes a IoT HW device? How can you prototype a device to build a proof of concept? What considerations you need to keep in mind when designing an IoT device? What are the communications, messaging and data visualisation protocols available?

2. Speaker: Anool Mahidaria
3. Bio: Anool is an Electrical Engineer, working in the field of Test & Measurement at Lumetronics since 1990. When not working at his day job, he likes to Tinker, Hack, Cycle and do Origami, and when possible, tries out amateur Astronomy and Photography.
He is one of the founder duo of WyoLum Emergents – a global group of Open Hardware enthusiasts founded in 2009, where he manages to create original Open Source circuit boards and projects. As a master of hardware design, Anool is the driving force behind WyoLum projects.
He helped co-found Makers' Asylum – India's first community driven Maker Space, and has been a Mentor at the Asylum since 2014.
As contributing writer for the technology blog Hackaday, he finds time to write blog posts reporting on what Engineers, Hackers and Makers around the world are working on. As part of the core Hackaday team, he has also been on the panel of Judges for the Hackaday Prize for 2017, 2018 and 2019.
Most recently, he has helped setup Armstrong Robotics, a startup in France working towards bringing a low cost, open source robotic arm add on for wheel chairs, to help people suffering from Duchenne's Muscular Dystrophy - a debilitating, degenerative disease.
At various times in his career, Anool has also worked on Semi-Conductors, DIN41494 19" rack systems, Industrial Ink Jet Machines, H.263/H.264 Video Conferencing hardware and Video Telepresence Robots.
4. Target Audience: SW and HW engineers wanting a overview of IoT hardware
Anyone wanting some clarity of how to go about building IoT proof of concept or prototype devices.

==================================================
Talk #2
Time: 12.00 pm - 1.00 pm
1. Title: "UCI (Universal Configuration Interface) for IoT Device Management and Configuration"
In this session we will be addressing the three major challenges in IoT segment- Remote Configuration, Monitoring & Update and how to manage these by UCI approach. The approach will be explained using OpenWRT UCI Project (https://openwrt.org/docs/guide-user/base-system/uci) and NetJson (http://netjson.org/)

2. Speakers: Siji Sunny
3. Bio: An Entrepreneur, Researcher and Open-source Enthusiast - Has over 16 years of experience in
managing enterprise Research Projects, Software Technologies, Product Conceptualizations and development in various sectors such as Wireless & IoT, Network Security, Embedded Systems, Operating Systems & System Programming.

4. Target Audience: Beginners with basic Linux & sound programming expertise, specially in IoT segment
===========================================================================
Talk #3
Time: 1.30 pm - 2.30 pm
1. Title: "Node-RED: A visual tool for wiring the Internet of Things."
A visual tool for wiring the Internet of Things.
We will experience Node-RED, how to get started on laptop and if possible on Raspberry Pi.
2. Speakers: Avitus Pereira
3. Bio: Avitus is software engineer with over 11 years of experience in managing, designing and working on various software technologies in various sectors such as Wireless and IoT, Stock Market and Online Casino Gaming.
4. Target Audience: beginner level on Node-RED.
===========================================================================
Talk #4
Time: 2.30 pm - 3.30 pm
1. Title: "Security Challenges in Internet of Things"
Implementation and enabling IoT should take care of aspects such as trust, security, and privacy. In this session we will address the need of security in IoT based systems, the different types of attacks on IoT and ways to deal with them using hardware and software based solutions.
2. Speakers: Sanchali Kshirsagar
3. Bio: Sanchali is an Electronics and Telecommunication engineer with corporate experience in embedded system and tools development using eclipse platform as well as a 10+ years teaching experience. Her area of interests is Embedded system, IoT, system programming, real time operating system and Eclipse platform and its tools.
4. Target Audience: Beginners with basic knowledge of IoT.
Self Code Sessions: freeCodeCamp & ProtoSchool
===========================================================================
===========================================================================
Important notes:
1. The meetup is free and open to all technology enthusiasts ONLY. Recruiters and entrepreneurs who are looking to hire, please excuse, this is a purely technical event. Ours is a community run meetup.
2. Its mandatory for all those who are attending to get the tickets for the sessions they intend to attend.[Soft copy is preferrable...a QR code + 2 barcode will be generated for you when you buy a ticket]
3. DO NOT issue tickets if you are not sure of attending. If you get tickets issued and do NOT attend, you go into our blacklist which will be to your disadvantage for ALL our future meetups
4. Please watch out for changes in schedule. We will communicate with you on the email provided during registeration.
5. Right of admissions reserved. Since we have limited seats, we want to ensure the correct audience partakes in the individual sessions. Hence its vital you fill up the relevant boxes on various technologies while registering.
6. There is a break but we do not serve food. Its more of a biobreak and coffee time. Why? See last statement of point 1 above :-)
Sanchali Kshirsagar

Usha Mittal Institute of Technology Asst Professor

Anool Mahidharia

WyoLum Emergents Co-Founder

Avitus Pereira

MELabs Director

Siji Sunny

Ants Wireless Director