Feb 19: THE QUEST FOR HAPPINESS and the INDIVIDUATION PROCESS in The Blue Bird with Linda van Dyck

Sunday, February 19, 2012 from 11:00 AM to 3:30 PM (EST)
Event Details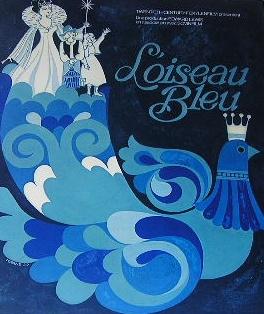 February 19, 2012
Sunday, 11 am–3:30 pm (Sign in 10:30am)
The Riverside Hotel, Ft. Lauderdale
Register above
THE QUEST FOR HAPPINESS and
the INDIVIDUATION PROCESS in The Blue Bird
with Linda van Dyck, Ph.D., Jungian Analyst
The Blue Bird is a Russian Fairy Tale made into a film by the United States and the Soviet Union. A poor brother, Tyltyl, and his sister, Mytyl, are sent on a journey by the Queen of Light, played by Elizabeth Taylor. The Queen is a mother figure as well as a witch, and she represents the complexities of maternal love. The children leave home in search of the Blue Bird of Happiness, and are intent on bringing it home. They must choose their path, and the Queen gives them a hat with a magic Diamond that allows them to call forth souls of all things on their journey into their imaginations. In the process, they are accompanied by helpful companions, including their Dog (George Cole) and their Cat (Cicely Tyson), both of whom can communicate to the children by speaking. They encounter inanimate energies including Water, Sugar, Bread, Light, Fire, and the Oak (Harry Andrews). They look in various mysterious places, including the Kingdoms of the Past and the Future (Father Time, Robert Morley), and the Queendoms of Luxury (Ava Gardner) and the Night (or the unconscious, Jane Fonda). Along the way they experience increasing wisdom. However, just when they think they have found the Blue Bird, it eludes them. In much the same spirit as Dorothy in the Wizard of Oz, the children eventually discover that the meaningfulness that they have been seeking has been in their own backyard all along.
This is an enchanting story that suggests the individuation process of developing wisdom and finding meaning for ourselves and for our lives. (3 CEUs)
Learning Objectives: Following the completion of this program, participants will be able to:
Deepen their understanding of Jung's definition of individuation particularly as it relates to the play of imagination;

Demonstrate familiarity with the complexities of archetypal energies confronted on the path towards individuation, including maternal love, time, day and night, and a variety of other animate and inanimate images; and

Appreciate the relation between happpiness and the wholeness of the individuation process for everyone, including clinicians and their clients.
Linda van Dyck, M.Div., Ph.D., a graduate of the C.G. Jung Institute in Zurich. After completing a Master's in Divinity in psychology and counseling from Yale University Divinity School, she studied and worked in Switzerland for ten years. She is a member of IAAP and is a senior training analyst with the Inter-Regional Society of Jungian Analysts and is an Advisor to the CJSSF Board. Her private practice is in Palm Beach.
Brunch, Film & Discussion: $60;(Add $9 for 3 CEUs); Student $45
Brunch is 11am-12pm; Movie 12-2pm; Presentation & Discussion 2-3:30pm
Please register above with a credit card before Wednesday, February 15th so we can let the Riverside know how many will be attending. If seating is available, prices increase at the door for those not pre-registered. 
Register above or mail this form (save PayPal fees) with your check made payable to CJSSF to: Patrick Parham, P.O. Box 669, Hallandale, FL 33008
For more information, visit our website: JungCenterSouthFlorida.org
OR call our Message Phone at 954-525-4682 and someone will return your call.
Directions to The Riverside Hotel, 602 E. las Olas Blvd, Ft. Lauderdale, FL 33301:
Take I-95 to Broward Blvd. Exit, go EAST past Federal Highway for a half block to SE 8th Avenue, turn RIGHT and go one block past Las Olas Blvd., then turn RIGHT on SE 4th Street to back entrance to The Riverside where valet parking is $8 per day. We will be in the 8th Floor in the Tower.
When & Where

The Riverside Hotel
620 East Las Olas Blvd.
Fort Lauderdale, FL 33301


Sunday, February 19, 2012 from 11:00 AM to 3:30 PM (EST)
Add to my calendar
Organizer
Center for Jungian Studies of South Florida
The Center for Jungian Studies of South Florida, Inc. is a non-profit educational association that serves licensed mental health professionals and the greater community by fostering the study of the psychology of Carl G. Jung. The Center presents educational services including lectures, seminars, discussions and workshops to address the psychological, social and spiritual issues of our time while providing a forum for personal reflection and development. For more information: Call the Center's Message Phone:954-525-4682 http://www.jungcentersouthflorida.org
Feb 19: THE QUEST FOR HAPPINESS and the INDIVIDUATION PROCESS in The Blue Bird with Linda van Dyck