| | |
| --- | --- |
| Feature Doc to Viceland Series & 5 Ways to a Sustainable Filmmaking Career | |
Event Details
*** Please note this month's meeting will be on a THURSDAY! ***
Get your new year off to a great start at LAPPG's January meeting! Below we've included a complimentary worksheet to help you get started on connecting to your goals and dreams for the new year. Come get inspired with two outstanding presentations, network with others in the industry and launch yourself into a successful and fulfilling 2019!
FEATURE DOCUMENTARY TO DOCUMENTARY SERIES FOR VICELAND


Join us for a  case study of the award winning feature documentary American Relapse that inspired Viceland's 10 episode series of Dopesick Nation with Director and Showrunner Pat McGee of Pat McGee Pictures. 
Q and A following presentation with the PMP team:
Adam Linkenhelt (Co-Director of American Relapse, and supervising producer of Dopesick Nation)
Michael Goodman and Greg Taylor (DP's of Dopesick Nation)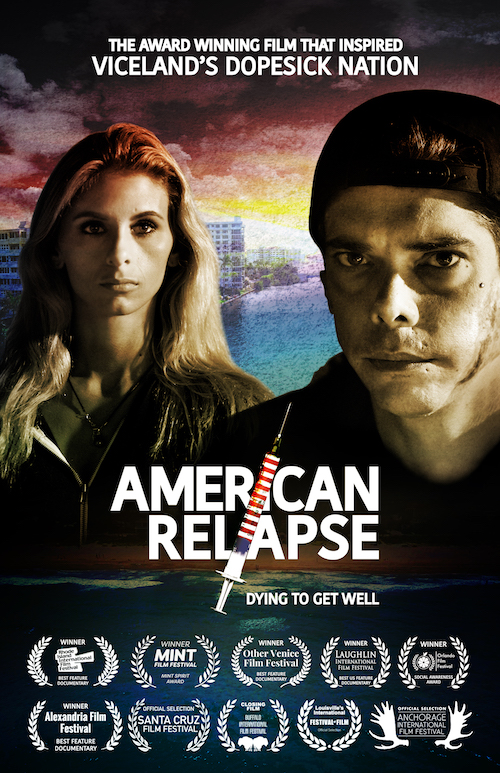 5 WAYS TO BUILD A SUSTAINABLE FILMMAKING CAREER IN 2019

Independent filmmaker Noam Kroll returns to LAPPG to outline his key principles for building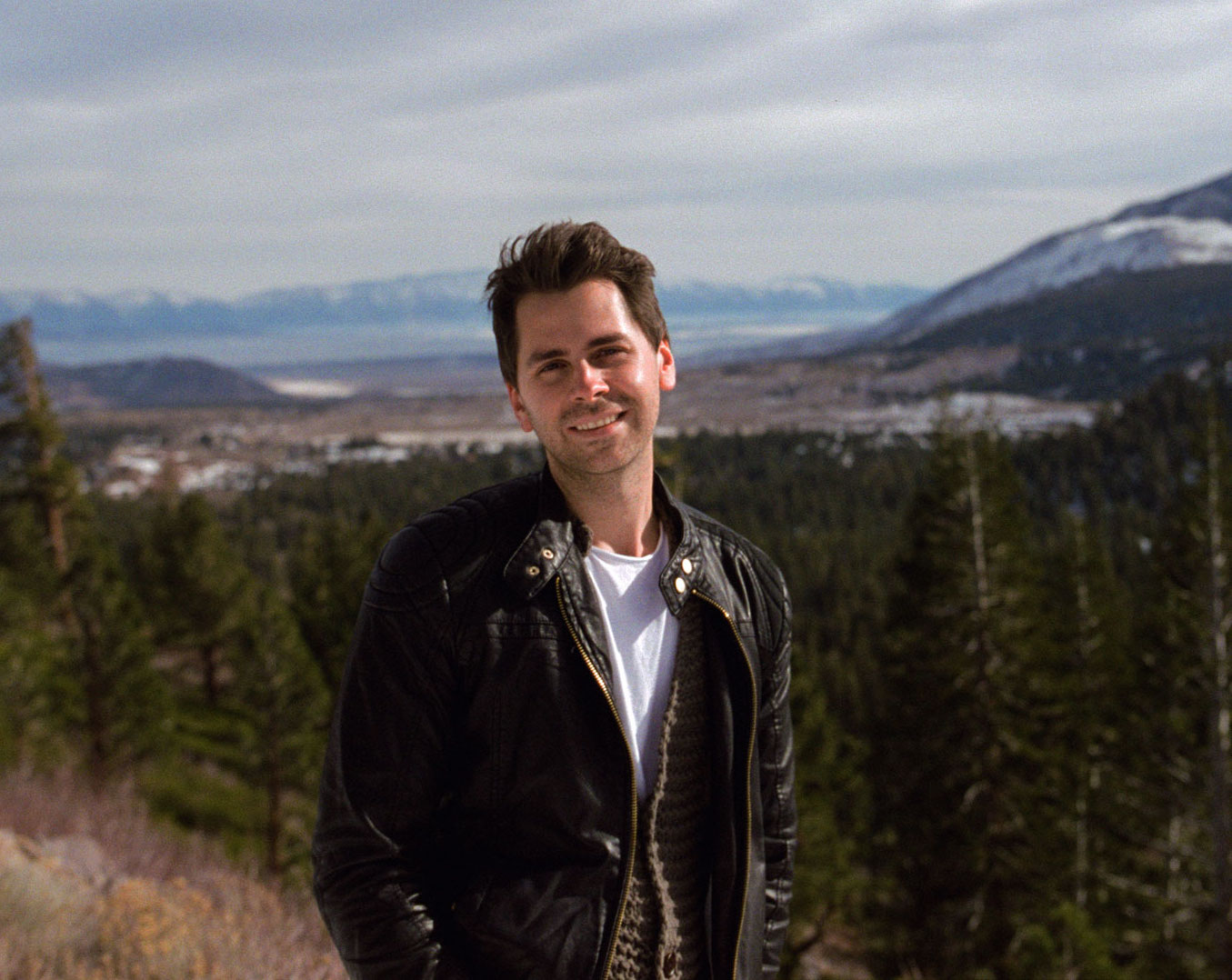 and sustaining a career as a content creator today. Using real world examples from his narrative feature films which have been produced on micro-budgets and self-distributed, Noam will break down the fundamental steps any filmmaker can follow to create, sell, and market their work to a global audience.



Noam Kroll is an award winning film director and entrepreneur based out of Los Angeles. He began his career as a freelance cinematographer and colorist, before launching Creative Rebellion - a boutique production company specializing in branded content and high end post, servicing a wide array of clients including Fortune 500 companies and international film studios. Shortly after founding his production company, Noam launched his personal filmmaking blog - www.NoamKroll.com - as a means to share educational and inspiring content derived from his hands on experiences as a director, DP, and colorist on narrative films. This initiative has since grown into a burgeoning resource for filmmakers across the globe, and is amongst the most frequented personal filmmaking websites of it's kind. Currently, Noam's time is split between running his growing production company, generating original content for his blog, and wrapping up post-production on his latest feature film.

 


***As always there will be plenty of time to network, enjoy some coffee and participate in our great giveaway which includes thousands of dollars of amazing prizes from our generous partners!

$5.00 cash kindly requested at the door will include 1 giveaway ticket.
Location:

Roth Hall
1714 21st Street

Santa Monica, CA 90404
Click for a map here. 
***Street parking is available as well as a Crossroads parking lot on 22nd Street. Please click here for a parking map. 

---
THANK YOU! 8TH ANNUAL LAPPG FOOD DRIVE - A SUCCESS!

We hope everyone had a wonderful holiday season! Helping set the tone for this special season of giving, we held our 8th Annual Food Drive at our last meeting. A huge thank you to all our generous members, partners and supporters for participating in this yearly collection to benefit Westside Food Bank. As in previous years, we had an amazing show of support for those in the community in need of a little assistance.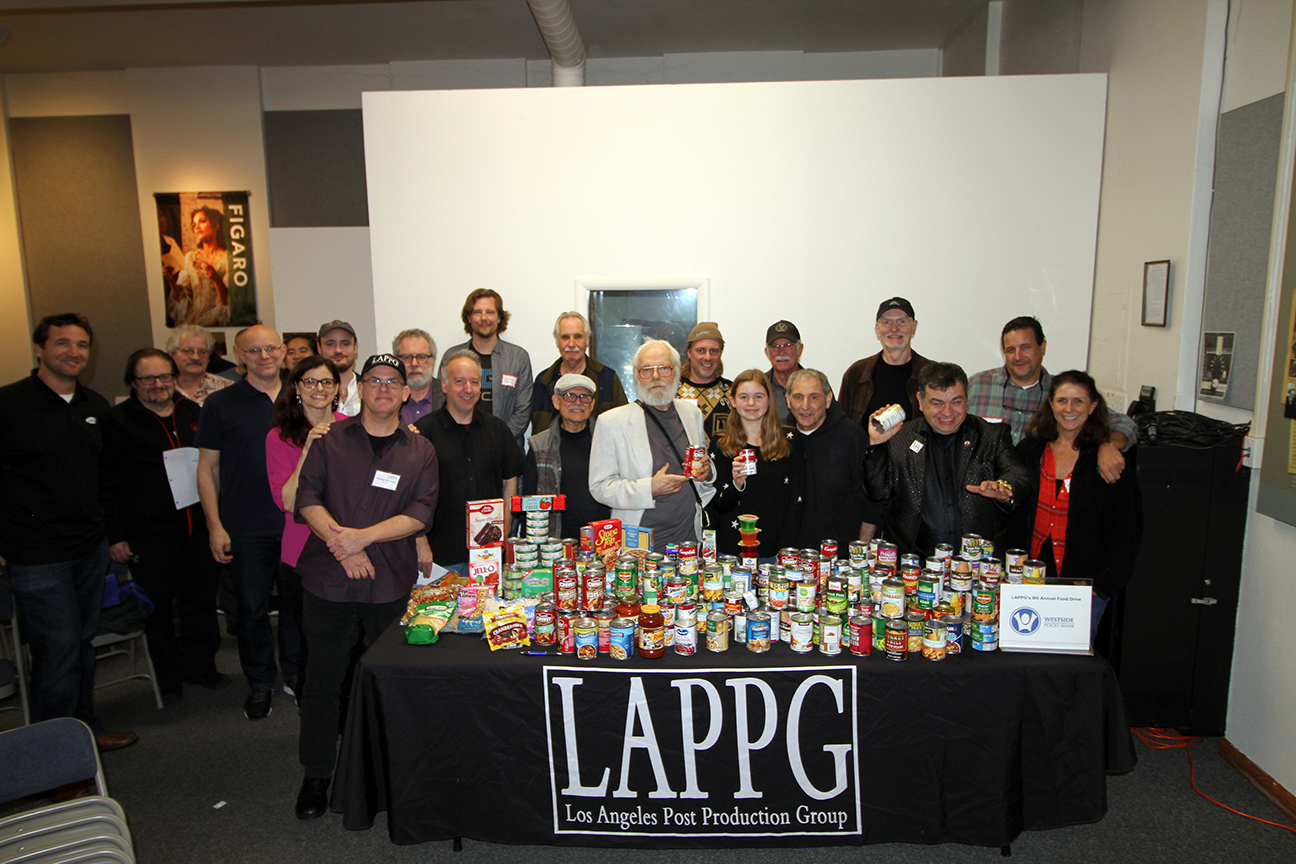 LAPPG's 8th Annual Food Drive
---
LAST CHANCE TO HELP MAKE SURE LAPPG ROCKS FOR YOU IN THE NEW YEAR!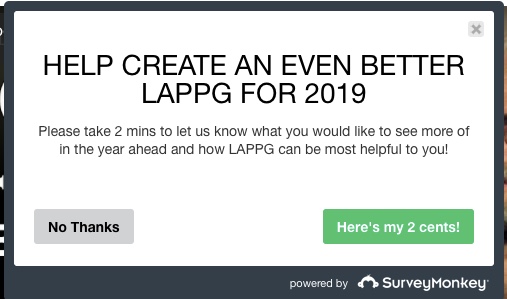 Thank you to all our awesome members for sharing your thoughts about LAPPG programming for 2019 in our recently launched survey. If you haven't had a chance to participate, here's the link to the survey - it's only 6 questions, 2 mins to complete and will offer us incredibly helpful information as we craft the upcoming year to meet our members' interests and needs. Thank you for your help!

https://www.surveymonkey.com/r/6PRNGMG
---

A GIFT FOR YOU....

We all want 2019 to be filled with success, happiness, prosperity and good health. So we've included a small gift for you, our amazing, passionate and talented members to help yourself set a path for a fulfilling year ahead. Please enjoy this worksheet provided by Laura Greenberg, Business and Personal Development Coach, and carve out some time for yourself to put 2018 in order so you can soar into 2019 with focus, clarity and intention.

---
IZOTOPE TO CONTINUE SUPPORT OF LAPPG IN 2019!

We are excited to announce that iZotope has renewed their support for LAPPG in the year ahead as a Silver Partner! As daily users of iZotope's powerful programs we love sharing helpful information about best (and worst!) practices including this blog post from their site:

8 Common Audio Restoration Mistakes
by Nick Messitte, iZotope Contributor

With more recordings being created in sub-optimal spaces, audio restoration is becoming essential to the editing and mixing processes. This means there are tons of opportunities to improve a subpar audio signal—but there are also unparalleled ways to mess things up more than ever before!

We've compiled a list of the most common mistakes in audio restoration. The list is geared primarily towards music operations, though post-production people might find useful tips as well. If you feel guilty of some of these, fret not: we all have been at one point or another. The important thing is to learn and move on. May this list provide one such learning opportunity!

1. Not using software in standalone or AudioSuite modes

RX allows for real-time use with many of its modules, but sometimes a track is too unruly for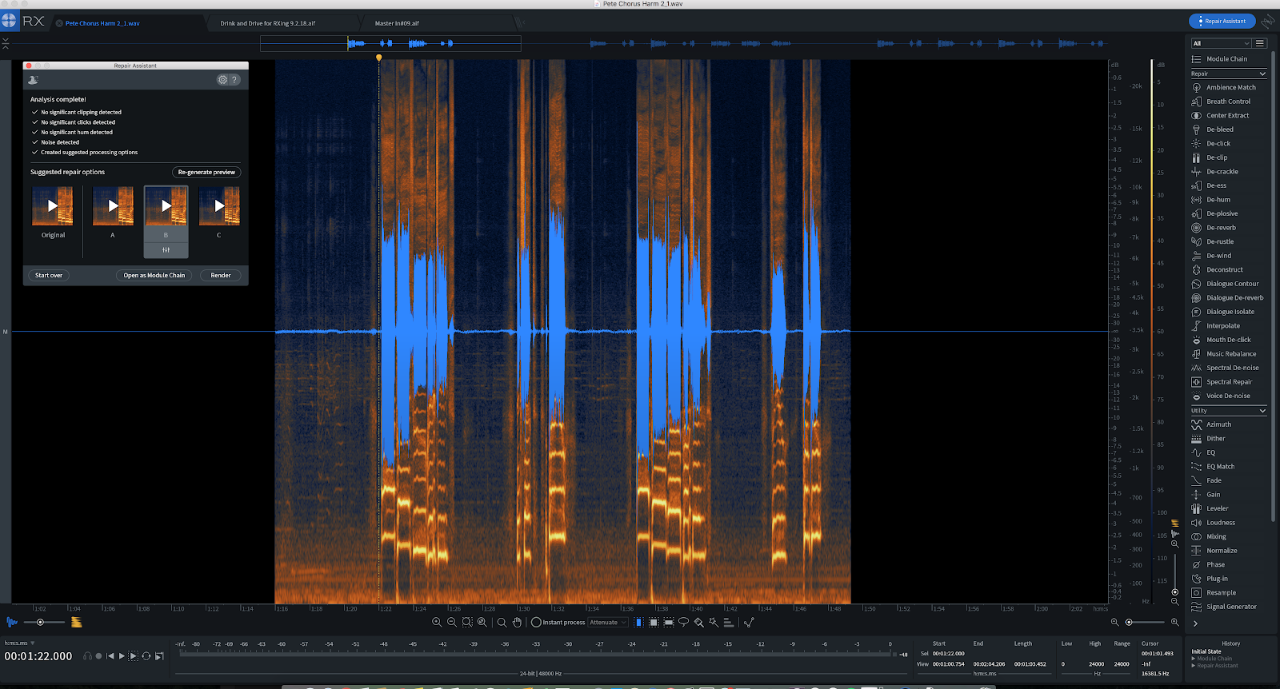 processing in real-time. Perhaps the offending noise varies in intensity, pitch, and direction (if stereo).

Also consider that, depending on your DAW, restoration software can introduce small latencies in real-time processing. This is a no-go if you're working on post-production projects where sync is the most important factor.

Thankfully, RX exists as a standalone application that addresses audio restoration issues in powerful ways, allowing you to hone in on specific durations of time, or specific frequencies, or individual channels. Processing such audio offline also circumvents sync issues, I find. Most DAWs have ways of communicating with RX's standalone app, so you should be able to get around to the application at all times.

There are other region-specific ways of employing audio restoration in shorter-lived problem areas. A DAW like pro tools allows you to AudioSuite specific regions, which is one such workaround, with Dialogue Isolate, De-rustle, Music Rebalance, and Breath Control all available as AudioSuite plug-ins in RX 7. (click here to read the other 4 common audio restoration mistakes.)


---
SUBSCRIBE TO LAPPG'S YOUTUBE CHANNEL TO CATCH UP ON MISSED MEETINGS
In this highlight video from our August meeting, KC Mussman describes the tightening integration of practical special effects makeup on set with post production visual effects. She speaks about working with post to review paints and blood tints with the lighting and gels used on set, and finding out what are the most important details to hone on set or are better to leave with the post visual team. All in all - as with all filmmaking - it comes down to proper communication between departments.
Watch here:
Click the button below to SUBSCRIBE and be notfied as new videos hit our YouTube Channel!


---
THE BLACKMAGIC DESIGN TELEVISION & VIDEO EXPO COMES TO THE WEST COAST IN 2019 LAPPG

LAPPG members mark your calendars for January 8th's 1-day event featuring DaVinci Resolve training sessions and a free Expo event! The conference is perfect for video editors and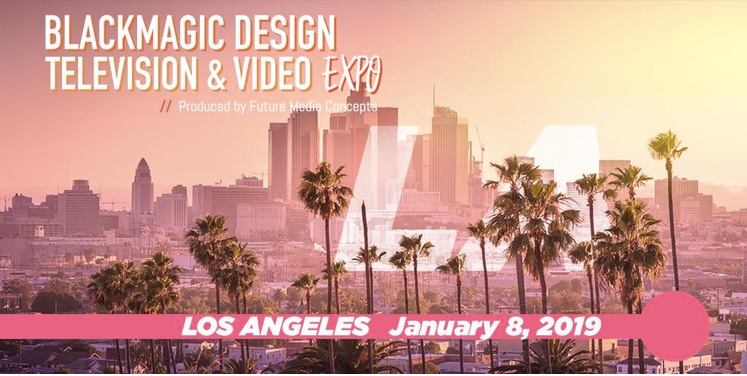 colorists seeking to learn more about the Blackmagic Design ecosystem. Jeff Greenberg will lead the training sessions so you can get up to speed on the latest features in DaVinci Resolve and Lead Blackmagic Camera Specialist, Tor Johansen will explain how best to use the revolutionary Blackmagic Pocket Cinema Camera 4k!

The training sessions, expo, and networking will take place at the Hilton Los Angeles/Universal City. Visit the event website for more details and book your pass.

The expo is free of change, while the training program can be accessed for a small fee ($129). Plus, all LAPPG members can save 15% off the training pass by using our exclusive membership code: BMDLA19. www.blackmagicconference.com

See you on January 8th!

---
MARK YOUR CALENDAR FOR THESE UPCOMING MEETINGS
January 10, 2019 – LAPPG Meeting (Roth Hall)
February 13, 2019 – LAPPG Meeting (Roth Hall)
March 14, 2019 – LAPPG Meeting (Roth Hall)
April 23, 2019 – LAPPG Meeting (Community Room)
May 8, 2019 - LAPPG Meeting (Roth Hall)
June 20, 2019 - LAPPG Meeting (Roth Hall)
---
40TH ANNUAL TELLY AWARDS - ENTER TODAY

Honoring Excellence in Video And Television Across All Screens

The industry has changed, and fast. Work is now being made for more platforms, by more companies, and for larger audiences than ever before. The Telly Awards is committed to honoring the cutting edge of innovation in our shifting industry, and providing a way for the best work to stand out from the crowd.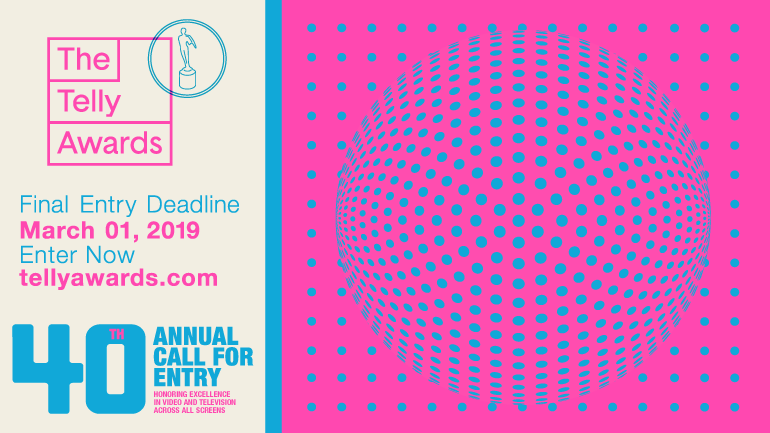 This year marks 40 years of honoring excellence across video and television, which we're commemorating with this year's theme: A Story for Every Screen. We've grown over forty years—from VHS tapes to urls, from one TV box to multiple screens, but have remained committed to celebrating our vibrant industry's best work for all screens.

To continue from last year's dynamic evolution, we've added a suite of new categories, new judges, and events, including:

A new suite of honors for Branded Content, Social Video, and—new this year– Live Video
& the inaugural Media Company of the Year Award.

New judges, like David Lennon (VICE), Courtney Coupe (Great Big Story), Justin Durrazo (Droga5)—and more.

Stay tuned for upcoming news, like our new screening series showcasing Telly Winners, and enter your work today! The final entry deadline is March 1st, 2019.

Click here for more information and to enter.
---
CONNECT WITH US!
Adobe, Advantage Video Systems, Blackmagic Design, BorisFX, Creative Handbook, Digital Rebellion, Glyph Production Technologies, Indie Shooter, Intelligent Assistance, iZotope, LaCie, Mercury Production Report, Other World Computing, Pro Sound Effects, Pro Video Coalition, ProductionHUB, Shutterstock, Sound & Picture, Vimeo, Zeiss
We look forward to seeing you on Thursday, January 10th!

Sincerely,
Los Angeles Post Production Group
Please visit www.lappg.com for discounts, job listings, industry news and more.
When & Where

Crossroads School's Roth Hall
1714 21st Street
Santa Monica, CA 90404


Organizer
The Los Angeles Post Production Group is a professional organization for people with a passion for film, video and the digital media finishing process.

The LAPPG discusses all aspects of post production, from picture and sound editing to color correction, visual effects, codecs, storage and post workflows.

Expert presenters and leading companies come to our monthly meetings and share new technologies, techniques, tools, products and best practices to aid us in telling great stories.
We also provide our members with great offers and discounts as well as opportunities to network and make industry connections.
Membership is free and you need not live in Los Angeles to take advantage of this great resource.
To become a member please email your name and information about yourself to membership@lappg.com.