Description
Aloha fellow food and farm enthusiasts,
You are invited to join us for our second Feast for Farms Benefit Dinner, hosted at and in support of Kahumana Organic Farms & Cafe. Themed "Wild Harvest," we will be showcasing the unique bounty of wild foods found here in the Hawaiian Islands, thanks to the support of our friends at Forage Hawaii and Waianae Gold.
Forage works with local hunters and ranchers to bring customer a variety of wild game meats including venison, lamb, antelope, and wild boar. Waianae Gold, a longtime supporter of Kahumana Farms, is locally renowned for producing high-quality kiawe bean flour and their beloved 'Aina Bars sourced from wild foraged beans along the Waianae coast.
The evening will include a mix of different food and drink stations that guests can walk about and enjoy as they talk story, meet the farmers/ranchers/co-producers and learn more about the bounty that we will be sharing together. Enjoy live music throughout the night, as well as the opportunity to take home some local treats and experiences through a silent auction. Beer and wine stations will be provided for those 21 years of age and older. Stay tuned for more menu details as we move closer to the event!
All ticket and auction sales will be donated to Kahumana Farms and Café, which grows more than 80,000 pounds of food /year, while our parent non-profit organization Alternative Structures International (ASI) has been serving some of Oʻahu's most vulnerable people since 1974; the Kahumana Learning Center provides support for over 60 adults with developmental disabilities; Kahumana's transitional housing enterprise "Ohana Ola" houses more than 120 formerly homeless families; and Kahumana's Community Kitchen serves more than 1,500 meals to schoolchildren on the Waianae Coast every day. All of the proceeds made will help the farm to support these social enterprises.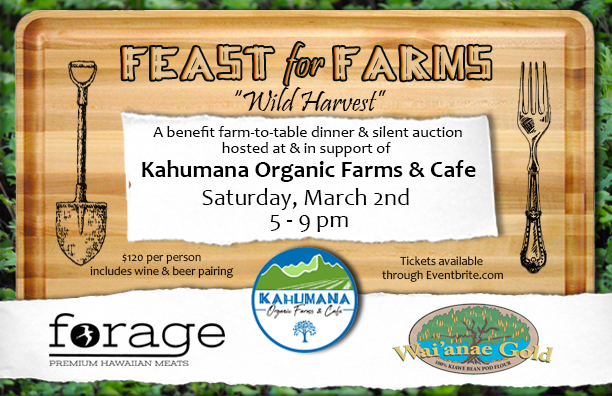 Here is a little sneak peak of what to expect for this weekend's event:
FOOD:
Grilled Ni'ihau Lamb Loin
Pickled Bilimbi
Pono Pork Liver Pate
Maui Nui Venison Guisada
Ni'ihau Antelope Loco Moco
Whole Wild Pig
Ni'ihau Lamb Kofte
Waianae Gold 'Aina Bars
Canistel (Eggfruit) Tart
Il Gelato Sorbetto
BEVERAGE:
New Belgium Fat Tire Amber Ale
New Belgium 1554 Black Lager
New Belgium Voodoo Ranger IPA
New Belgium Abbey Balgian Style Dubbel
Waimanalo Kombucha Samples
Selection of Fine Wines from The Waianae Store
MUSIC:
John Kema
SILENT AUCTION DONORS:
Four Seasons Resort Ko Olina
Pig and the Lady
Moku Kitchen
West Oahu Yoga
Manafest Jewlery
and many more....