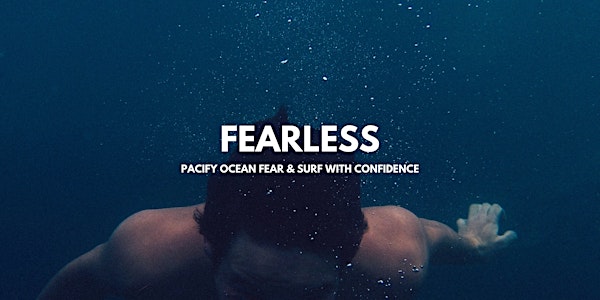 FEARLESS: Two-Day Underwater Confidence Course For Surfers
A two-day intensive ocean confidence course designed specifically for surfers.
When and where
Location
House of Surf - Surf School in Mount Maunganui Opposite 27 Marine Parade Mount Maunganui, Bay of Plenty 3116 New Zealand
About this event
"HEART RATE PUMPING, FRANTICALLY GASPING FOR BREATH…"
Does that kind of sum you up when you get wiped out, or when a wave breaks on your head - even when it's only 3ft?
Do you experience a state of panic when a set of waves is approaching; what if they break on you? What if you get held under? What if you lose your board?
What if, what if…
If any of the above sings true to you then you're in good company, as this is something a LOT of people experience.
Sure, it's kept you safe up until now (you're still here right!), but is it the best way to go about things?
Well it's definitely not the most enjoyable way to go about things that's for sure, but it turns out that it can be damn right dangerous too (more on that in a minute).
PICTURE THIS:
Surfer A: Cool, Calm, Relaxed.
Surfer B: Anxious, Scared, Panicking.
A set wave approaches and both surfers are too far inside, they paddle and scrape to make it over the approaching waves.
Paddle, paddle, paddle they go.
But it's not enough, they're not going to make it. They're in the worst spot possible and the wave is going to break right on top of them.
Which surfer do you think would fair best?
Would all of the fear, and panic serve Surfer B in any way? Or would it put them in danger?
Damn right it'd put them in danger.
With heart rate pumping at maximum capacity, oxygen burning at a rapid rates, muscles tense and stress hormones firing - turning a standard run-of-the-mill five second hold-down into a sketchy situation.
BUT IT DOESN'T HAVE TO BE THIS WAY
Fear isn't a bad thing at all, without it we'd have all been eaten by lions a long time ago.
Irrational fear on the other hand, this one often serves us in all the wrong ways - especially in the surf.
It's this irrational fear that can turn a completely safe environment for one person into a life of death situation, fraught with danger for another.
The environment remains the same, but the danger levels vary dramatically depending on the individual.
Calm, relaxed and prepared - no problems.
Stressed, panicked and under prepared - watch out!
BUT I CAN ONLY HOLD MY BREATH FOR 20 SECONDS!
Is that really true?
Go on, be honest.
And even if it is, do you think you could improve that breath hold by five seconds? How about 10 seconds?
Do you think you could get yourself up to a minute - with the right knowledge, and the right training?
I bet you could do a whole lot better, right.
Replicating that calm breath hold in the surf though is a very different experience from the controlled environment of your own home.
For this you'll require a very specific set of knowledge and skills tailor made to the sport of surfing to handle the unique situations and challenges faced on a regular basis, in an ever changing, unpredictable environment.
INTRODUCING FEARLESS
A two-day intensive ocean confidence course designed specifically for surfers.
Pacify your ocean fears, empower yourself with the knowledge, skills & techniques to stay calm in the surf.
HOW IT WORKS
Over the structured weekend course we'll take you through our four stage process:
STAGE 1: UNPACKING THE FEAR
To know where you're going, you've got to know where you're coming from, and that means getting to the root cause of the fear.
Understanding where it comes from, learning how it effects you in the water, and owning it.
STAGE 2: PACIFYING THE FEAR
Uncovering the root cause of the fear - and all the underlying psychological and physiological responses you have to it - leads to the next stage of pacifying the fear.
You'll be guided through a number of techniques to let go of the fear, and relinquish its control over you.
STAGE 3: TOOLS & TECHNIQUES
It's no use just taking control of the fear, you need the real life skills unique to surfing to really empower you in the surf.
Knowledge equals power, right!
It's true. If you know how to react in sketchy situations - what to do and how to do it - this alone will not only reduce your fear significantly, but will help you to conserve energy, and stay safe too.
STAGE 4: THE REAL THING
Knowledge is one thing, but real life experience is a whole different kettle of fish.
Which is why we'll be simulating wipeout scenarios, hold downs, and much more in a controlled environment to get you accustomed to the feelings, stresses, and emotions you'll need to contend with in real life situations.
WHAT TO EXPECT
DAY 1: UNPACK AND EMPOWER
Day one is all about unpacking the fear, and learning ways to stay relaxed - hey, even have fun - in sketchy situations.
We'll go through a tonne of in-class theory, plus we'll be hitting the pools to lay the foundations of the in water training.
We'll lock in and record breath-hold times, and run through some in-water wipeout simulations.
*Optional: Group free surf session to finish the day.
DAY 2: LETS GET PRACTICAL
Day two is all about getting practical.
Practical real life scenarios, what to do, how to do it, and why.
You'll learn the skills to keep you calm and safe in the surf, little known techniques to get you out of trouble, and a whole bunch more.
Day two will see the culmination of all our work with intensive pool simulations, and new record breath hold times recorded (with a bit of luck).
*Optional: Group free surf session to finish the day.
WHO IT'S FOR
FEARLESS is for you if:
You get scared in waves above head high.

You're terrified of being held underwater.

Can't surf without having your feet touching the floor at all times.

Feel too frightened to surf alone.

You're petrified of rips.

Anxious and unprepared if your leash snapped and you lost your board at sea.
WHO IT'S NOT FOR
FEARLESS is NOT for you if:
You're trying to prepare yourself for surfing 50ft waves: This course is not really for big wave surfing (although everything we teach will really help in this respect), instead it's for your everyday surfer, looking to surf everyday waves without fear.

You're not willing to learn: This course is intensive, we cover a lot of ground, and there's a tonne of practical exercises that you'll be required to undertake.

You don't like meeting new people: This course will have a variety of people of different ages, men & women, and everything in between.