FEARLESS

Saturday, November 2, 2019 from 9:00 AM to 4:30 PM (EDT)
Event Details
Does it seem like an invisible wall has you closed in? Do you feel reluctant to step out in faith towards your destiny? Is fear the reason you have settled in your life? Does your mind entertain thoughts and musings of regret? Perhaps you are ready to launch into the deep, but you need a little push.
If we're honest, most of us have struggled with an enemy of our progress called "fear". Without saying an audible word, this adversary has the power to influence every part of our lives. He knows that once he has shaken our confidence he has the influence to steer our decisions. Fear is a bully. He is also defeated. Deep within the recesses of our souls are empty places needing to be filled with the knowledge and power of God's word. If you're at a stand-still, feel timid, need to be informed or refreshed, come and join us for an exciting day as we walk the Scriptures to dismantle the power of fear. The Lord will meet us there as we bask in His presence! You will experience spirit-filled worship, enjoy engaging and transformative teaching, and be provoked to conquer by listening to the powerful testimonies of God's deliverance in the lives of His people!   
God never instructs us to be paralyzed by fear, instead He assures us to go forth despite fear. "Have I not commanded you? Be strong and of good courage; do not be afraid, nor be dismayed, for the Lord your God is with you wherever you go." Joshua 1:9 NKJV
Anointed Worship * Engaging Sessions * Transformative Teaching * Powerful Testimonies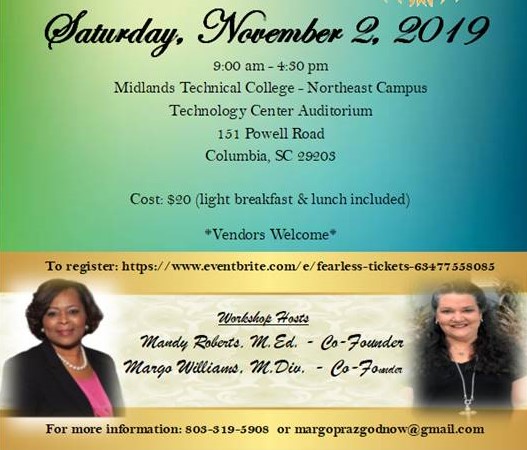 When & Where

Midlands Tech - Northeast: Technology Center Auditorium
151 Powell Road
Columbia, SC 29203


Saturday, November 2, 2019 from 9:00 AM to 4:30 PM (EDT)
Add to my calendar
Organizer
The Master's Joy is a Christian ministry committed to leading women and men to a deeper, more personal relationship with Jesus Christ. Through the ministries of speaking, training, workshops, conferences, and Bible studies, we endeavor to provide a balanced message of love, hope, and power which is established by living an abiding life in Christ. The Master's Joy teaches people how to practically apply the Word of God to every facet of life. Regardless of religious affiliation, gender, race, ethnicity, or economic status, we offer the unconditional, agape love of God to all.
                               The Master's Joy is a ministry of Margo W. Williams Ministries.
                                                                    Contact:
                                               Janelle Butler: jbutler@richland2.org                                                            
                            Mail: Margo W. Williams Ministries, PO Box 1361, Irmo, SC 29063
                                                             margoprazgodnow@aol.com