Fearless Physical Improv Workshop with Jay Hitt - Winter
Description
This class focuses on using physicality to communicate emotion, story, character and utilizing the scene's environment. Prepare to laugh and sweat as Jay guides you to take your scene from talking heads to fully embodied characters that communicate through action. Improving your physicality will help you be more comfortable on stage from mime and object work to your physical presence. As an improviser your body is your instrument - Play it!
Skills offered in class: object work, nonverbal storytelling, sense of location, movement on stage, using physicality to portray emotions and intentions, character work.
Dates: 1/17 for 4 Thursday classes
Time: 7:00pm-9:30pm
Location: Unexpected Productions Improv School, Georgetown Studios, 650 South Orcas, Suite 101 Seattle, WA 98108 https://goo.gl/CMCRQp
Maximum Students: 16
Cost: $150 ($158.49 w/fees)
Prerequisite: Improv 300 or equivalent or by teacher approval
Ages: 17+
Teacher Bio:
Jay Hitt, Unexpected Productions' Managing Director, has been a member of the UP ensemble since 1993. He has performed and directed a variety of long-form improv shows. He created the Duo Comedy Showcase in 2008. He has been teaching and coaching improv since 1998. He is well known for his fearless approach to physical improv. In this unique workshop, Jay shares the secrets of his extensive practical experience of physical comedy on stage.

NOTE: Please note that this class has a great deal of movement and action. Please dress accordingly and bring a bottle of water.
Physicality is a kind of language, especially in improv. Jay's class helped to remind me just how important, nuanced and exciting it can be and gave me the "words" to use and showed me how to "speak" them with physicality. Jay as a teacher is like a clown's never-ending scarf bit. I'm not sure how he keeps pulling more and more interesting stuff out of his pocket, but there seems to be a never ending supply of it.
James L. 9/18
Jay reminded me that physicality is the foundation of performance and he gave me the tools to get there!
Randal F.
Jay was warm and welcoming. He was thoughtful in his planning and presentation. I really enjoyed getting to know him and learning more techniques to bring physicality to my practice.
Theresa W. 9/18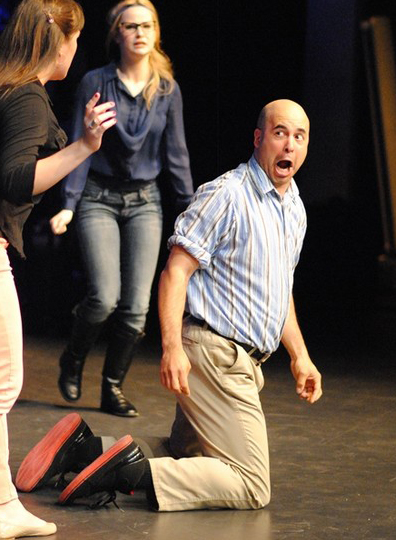 Our Georgetown Studios are located right behind the Georgetown Post Office. It is easily accessible via I-5 or Highway 99 or via bus lines 124, 106, 131, and 132. There is plenty of well lit, free parking as well, right near our front door! https://goo.gl/CMCRQp
**Cancellation policy: If you must cancel before the first class, we offer credit only towards a future class. We are unable to offer refunds.