Fearless Females of the Global Renaissance

Tuesday, February 17, 2015 from 1:00 PM to 4:00 PM (MST)
Event Details
FEARLESS FEMALES OF THE GLOBAL RENAISSANCE:
"Malinche: Aztec Voice of the Conquistador"
Presented by Sharonah Fredrick, Assistant Director, ACMRS
"Arcangela Tarabotti: A Venetian Nun Wages War"
Presented by Marsha Fazio, Lecturer, School of Humanities, Arts, and Cultural Studies, ASU 
Free and open to the public ~ Refreshments will be served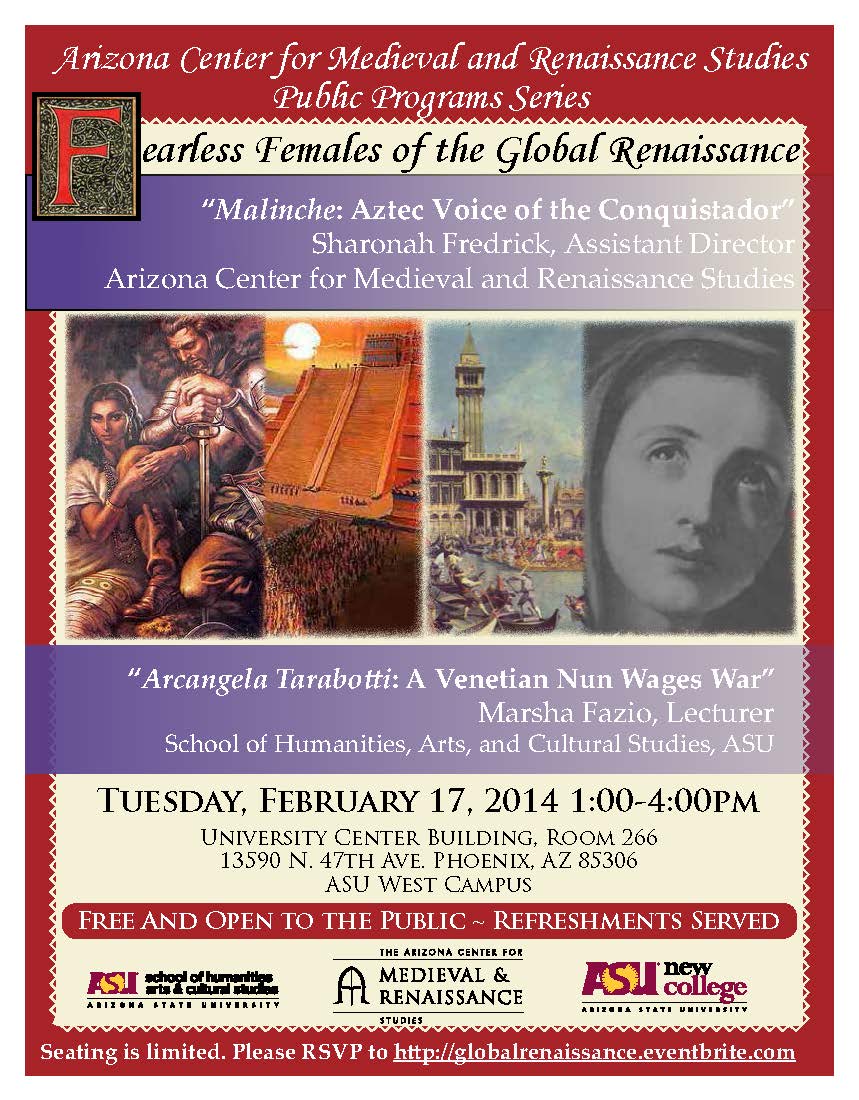 The Early Modern period was both a time of great discovery and severe restriction for all women. In the Old World and the New World different mechanisms were set in place that relegated women to a secondary status and allowed only a selected few to reach any sort of position of political, intellectual, or economic power. During the Conquest of Mexico a Nahua-speaking former slave Ce Malinalli or Malinche, as she was later known was confidant and interpreter to Hernan Cortes, and to some, traitor to the Aztec cause. Whatever she was deemed to be by Westerners, all Native American chroniclers view her as a determining factor in the collapse of what Hernan Cortes called, "the Mexican Venice," Tenochtitlan. In the "Old Venice" another woman, Arcangela Tarabotti, also used words as a means of expression and intellectual power. Whereas Malinche translated between 3 Native American languages and Spanish, Tarabotti created works of prose, poetry, and commentary that were extremely influential in the Venice of her time and drew admiring criticism from her secular male counterparts. Malinche died in her late-twenties, married off to one of Cortes' lieutenants and Arcangela was consigned to a nunnery by her family as a child. Both women managed to achieve a certain degree of intellectual sovereignty using words as a means and a weapon.
TENTATIVE SCHEDULE
1:00 - 1:15 Bob Bjork, Director ACMRS
1:15 - 1:30 Introduction: Sharonah Fredrick, Assistant Director ACMRS
1:30 - 2:30 "Malinche: Aztec voice of the Conquistador" 
2:30 - 2:45 Questions & Discussion
2:45 - 3:45 "Arcangela Tarabotti: A Venetian Nun Wages War"
3:45 - 4:00 Round Table Questions and Discussion
Free and open to the public
When & Where

ASU West Campus
University Center Building, Room 266
13590 N. 47th Ave.
Phoenix, AZ 85306


Tuesday, February 17, 2015 from 1:00 PM to 4:00 PM (MST)
Add to my calendar
Organizer
The Arizona Center for Medieval and Renaissance Studies (ACMRS) was founded in 1981 as a state-wide research unit charged with stimulating the interdisciplinary exploration of medieval and Renaissance culture. Its activities cover a period roughly from AD 400 to 1700. ACMRS coordinates programs at ASU, Northern Arizona University in Flagstaff, and the University of Arizona in Tucson. Among the activities and programs the center sponsors are a semi-annual distinguished lecture and ad hoc lecture series, an annual distinguished visiting professorship, an annual conference, a public symposium, and summer study-abroad programs in the United Kingdom and Italy. The Center also awards undergraduate and graduate certificates in medieval and Renaissance studies to students completing required coursework.
---
MAJOR RESEARCH PROJECTS AND PUBLICATIONS
MAJOR RESEARCH FUNDING SOURCES
National Endowment for the Humanities

Program for Cultural Cooperation Between Spain's Ministry of Education, Culture and Sports and U.S. Universities

Iter Inc., (University of Toronto)

Samuel Kress Foundation

Institute for Humanities Research