About this event
FEAR. Face Everything And RISE. This is the next step in your True North Endurance journey. A step above our introductory RISE event. You will be pushed further, move out of comfort zone and learn more about what you can truly accomplish in life. While teamwork is absolutely critical to the completion of this event, there will be individual challenges along the way and everyone may not finish. Each event will be unique and last 8+ hours. Every event will feature a service component to it.
Date: Friday, October 2, 2020 - Saturday, October 3, 2020
Time: Check in will start at 11:30 PM sharp. Do not be late.
Location: Beck Family Farms - 100 S 300 W, Centerfield, UT, 84622
Pricing (Registration ends October 2, 2020 unless sold out)
Through September 2, 2020 - $75
After September 2, 2020 - $85
Age Limit: 16 and over (minors under age 18 are permitted to participate as long as a parent/guardian is present throughout the entire duration of the event as a participant or shadow)
Registration Includes:
Token for finishing the event
Sweatshirt for finishing the event (if you register anytime after September 20, 2020, your finisher sweatshirt may be mailed to you after the event)
Camping for family, friends and significant others on Friday night (October 2) while you are participating in the event. You are responsible for providing your own camping supplies and food.
S'mores on Friday evening (October 2) before the event for all FEAR participants and their family, friends and significant others that are camping
Small assortment of breakfast items after the event is over Saturday morning (October 3) for FEAR participants
Mandatory Participant Gear List:
Every person must bring the following items. This is mandatory for the success and safety of the event. If you show up without some of these items, you may not be able to participate.
Standard Items:
Pack/ruck to carry your items in
Minimum dry weight requirement inside your pack before any of the other items listed below including food and water. Men = 30 lb; Women = 20 lb. We recommend a ruck plate of some sort but it's ultimately up to you.
Headlamp (bring extra batteries)
Roll of duct tape
Multi-tool
2 chem lights/glow sticks attached to the outside of your pack/ruck
Black Sharpie marker
50 feet of 550 paracord
Reflective vest (not a PT belt)
Pair of work or tactical gloves
Emergency blanket (the shiny plastic kind)
Layers of clothing/windbreaker to combat cold or wind.
Beanie
Government issued ID
Enough water to get you through the event
Enough nutrition/food/electrolytes to get you through the event
An additional minimum of 1 gallon of water with your name on it that we will leave at base camp and will be your source for extra water during the event.
Specialty Items:
Mask/face covering
Hand sanitizer
More TBA
Onsite Event Refund Policy
Refunds are not allowed for onsite events
Transferring registration to a different participant is not allowed for onsite events
30 days or more before the onsite event: Credit to another one of our events in the amount paid for the registration (excluding fees and taxes) will be issued if requested 30 days or more before the event at no additional charge
14-29 days before the onsite event: Credit to another one of our events in the amount paid for the registration (excluding fees and taxes) will be issued if requested 14-29 days before the event for a fee of $10
Less than 14 days before the onsite event: No credit will be issued
To request your credit within the time frames listed above, email us at truenorthee@gmail.com
Finisher Token and Sweatshirt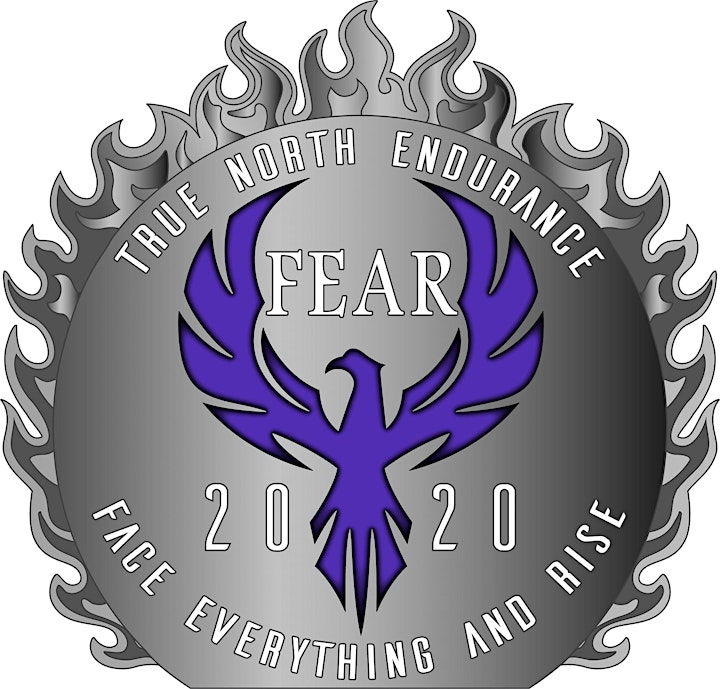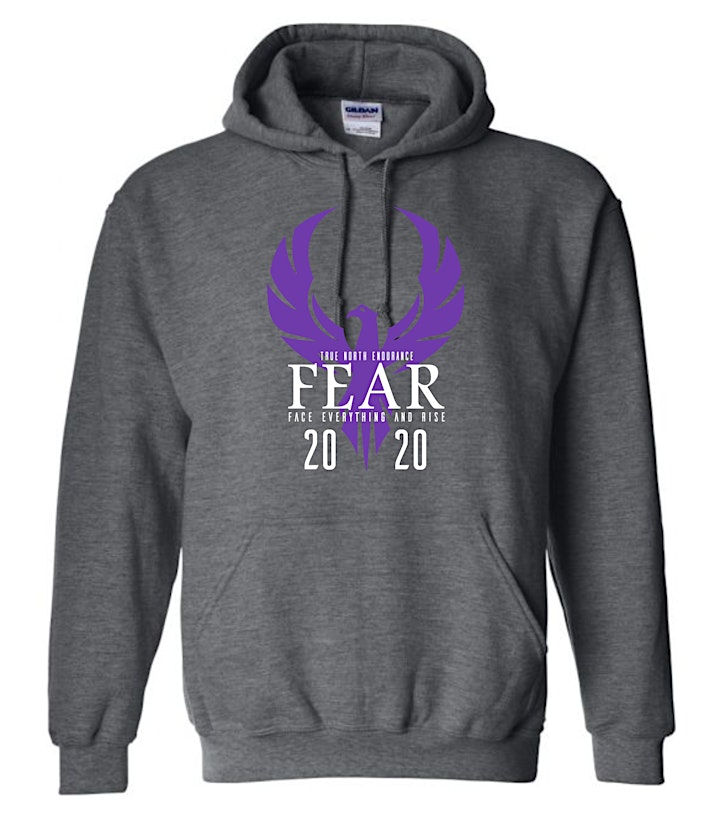 Pictures from 2019 FEAR Event