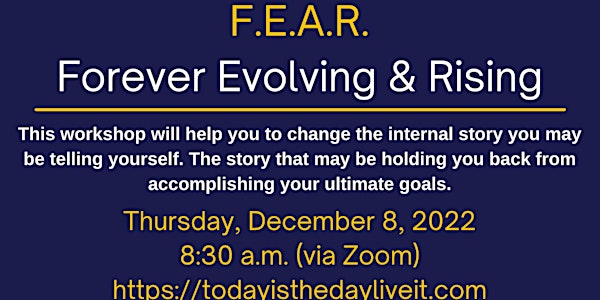 F.E.A.R. - Forever Evolving and Rising Zoom Workshop
Workshop to help you work through fears and apprehensions that may be holding you back from doing things you want and achieving your goals.
About this event
1 hour 30 minutes

Mobile eTicket
No matter what title you hold in your career, how old you are, or how educated you may be, fears and apprehensions do not discriminate. They can stop you in your tracks, keep you feeling stuck and avoiding certain situations. With life being short and every day precious, now is the time to think about how to work through them.
From the fear of flying, heights, judgement, public speaking, closed in spaces, failure, success, mortality, etc. The tools and resources are basically the same.
Jodi Grinwald is a Certified Professional Coach, CEO and Co-founder of the Zzak G. Applaud Our Kids Foundation, Host, Today is the Day Changemakers Podcast, Founder, Today is the Day LLC, Today is the Day Changemakers International Forum, soon to be launched Today is the Day Changemaker Connective. Through this global community of like-minded people an authentic supportive community is being formed. Jodi has experienced all of the above fears and decided to work through all of them.
On July 14, 2022, Jodi finally took flight and flew on a plane for the first time in 27 years. She knows first-hand what it takes to get through fears, and she wants to help others on their journey to feel more open. You may not be ready today to work through your fear(s) fully, however listening in may help you become more open. For those who are ready, there will be a step- by-step process to help you on your journey. Today is the day to take the first step!
Follow us on Facebook & Instagram
Today is the Day Changemakers Podcast:
Click for more information about Today is the Day visit our website.
Click for more information about the Zzak G. Applaud Our Kids Foundation.
Link to the Zoom meeting will be sent out within 48 hours of your reservation and 24 hours before the event.