Location
The Park West
322 W. Armitage Avenue
Chicago, IL 60614
Description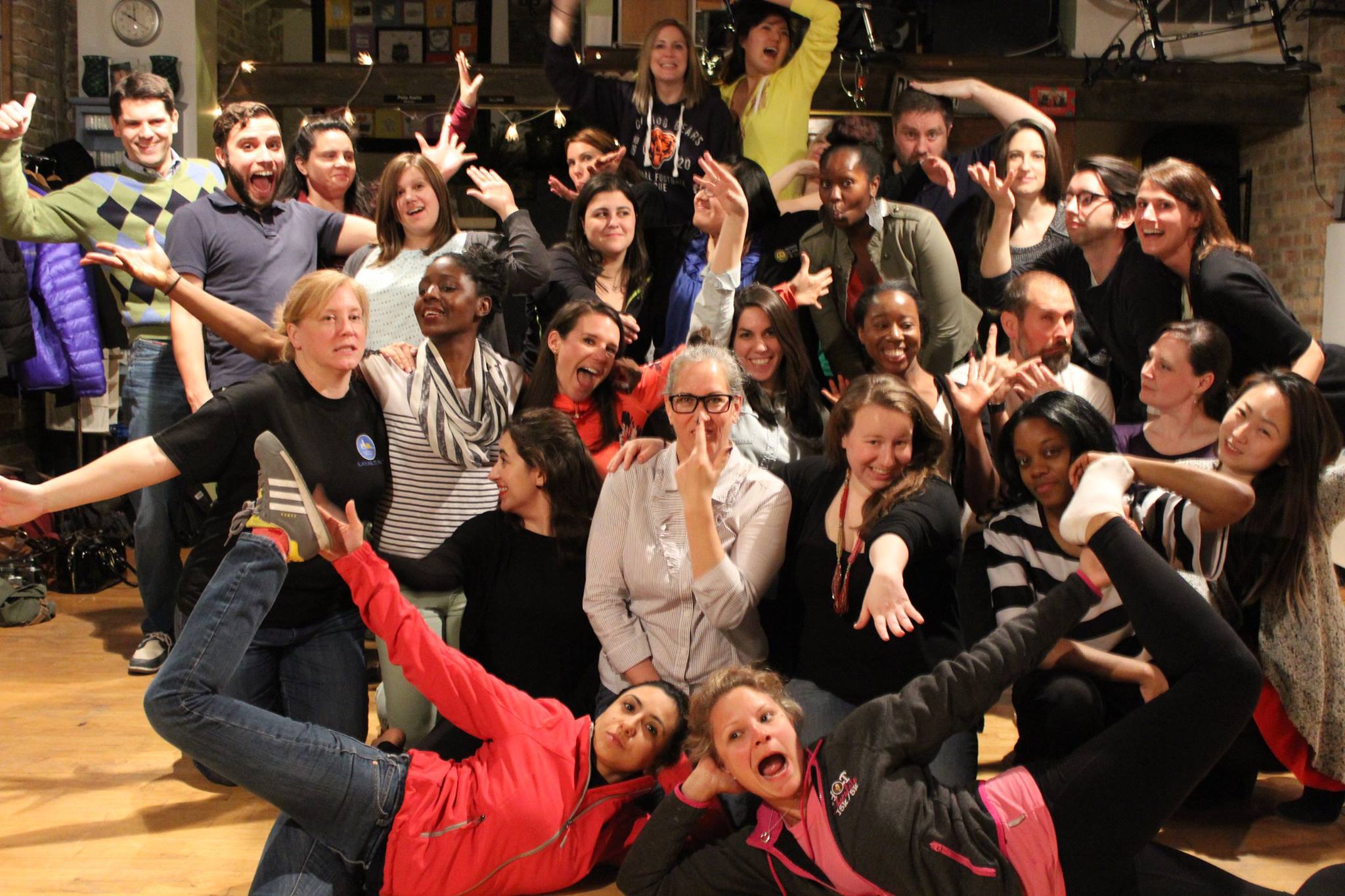 "I didn't know what to expect from this show. I was excited to go, but did not expect to be blown away. I have a penchant for live shows, mostly of the musical nature. I try to take in as many as possible and Fear Experiment, by far, exceeded a lot professional acts I have seen in regards to OVERALL entertainment."
As a way to meet others, challenge themselves, learn a skill, and be a rockstar, a group of once strangers quickly friends spend two months rehearsing an art-form -- dance and improv this go round -- and then perform in front of hundreds. An inspiring evening of adults saying YES to vulnerability and embracing fear!
Think this sounds fun and want to participate? Apply to the Fall Fear Experiment℠, which starts September 2015! A capella, storytelling, and stepping are the art forms. More info here.
Partner Love
FAQs
If I choose General Admission + Slideshow Ad, how will I know what to send when?
For more info on a slideshow ad, head here; this is also where you can buy an ad separetely from your ticket (but you don't get the $10 discount!)
After you purchase your ticket, finalize your ad request here

Within a week of your registration, you'll get an email from "Saya | Mac & Cheese Productions" with instructions on how to create and place your slideshow ad

If you don't get this email within that timeframe, check spam

Still not there? Contact Saya
How does the Divvy option work? What's Divvy? Why should I want a Divvy Day Pass?
A code will be emailed to you if you choose the Divvy ticket option

Within a week of your registration, you'll get an email from "Saya | Mac & Cheese Productions" with instructions on how to create and place your slideshow ad

If you don't get this email within that timeframe, check spam

Still not there?

Contact Saya
Where are my seats?
Seating is General Admission

Are there bad seats? No. BUT fifty of the tickets are standing room, and it's first come first serve for seats. So the last fifty to enter the theater will probably be the ones sans seats if we sell out.
Do you sell out?
When do the doors open and the show start?
Doors open at 6:30pm

Show starts at 8pm (sharp!)
What time do I need to arrive?
Some people come at 6pm -- do you need to come that early? Definitley not!

You can show up at 7, 7:34, 8...

The early-birds are usually ones who want booths, want to hang with friends pre-show, and/or want to get a big section of seats together
Are there ID requirements or an age limit to enter the event?
Anyone 21+ who wishes to drink must have an ID

Those 18 and younger must be accompanied by an adult

We try very hard to make shows family-friendly but do be aware that sometimes 'adult' topics may come up (especially in improv and storytelling) from the audience or participants

We suggest not bringing children younger than ten due to the length of the show and aforementioned topics
Can I bring a baby?
Do you have discounted tickets for children? Can children come without tickets and sit on laps?
No, every attendee must have a General Admission ticket
Do I have to bring a printed ticket to the event?
Nope! Your name will be on list at the front door, along with the number of tickets you purchased.

Just bring your ID
When will my tickets be sent to me?
There are no actual tickets

You will get a confirmation from Eventbrite immediately after purchasing your tickets letting you know

you're all set and your name is on the list
I'm planning on surprising someone in the show with my attendance. Anything I should know?
Participants know the names of all the ticket purchasers

If you want to surprise someone, it's suggested you have someone who is also going to the show buy your ticket for you so that your name isn't on the ticket list

Don't use a fake name as the name on the ticket list needs to match the ticket purchaser
Can I leave and come back?
Re-entry is permitted, just make sure to get a stamp from the people checking you in

Show your stamp to security when you come back
Is my ticket transferrable?
Yep! You may transfer your ticket to someone else.

To do so -

Log into

Eventbrite

Go to "My Tickets"

Click "View Order"

Click "Edit"

Update the page with the information of the person taking your ticket (name and email)

Mark "

Send confirmation email to new attendee"

Hit "Save"
What is the refund policy?
There are no refunds. Please make sure you can join before you purchase tickets.
The name on the ticket-list doesn't match the attendee. Is that okay?
If your name isn't on the ticket-list, you must enter with the person whose name is, e.g. the ticket purchaser

You may enter the venue separately from the ticket purchaser as long as they added your name to the ticket list when they intially purchased tickets

If you foresee problems with this, you may want to buy your tickets separately
Can I buy tickets at the door?
Maybe -- we decide this the week of the show

If we're not sold out (we often are!)
How many tickets can I buy?
For General Admission, up to ten per order; if you want more than ten, you can make another order

For

General Admission + Divvy Day Pass,

up to four per order (until they're gone!)

For General Admission + Slideshow Ad, one total (until they're gone!)

For

FE Alum,

must buy two
Is the show handicapped accessible?
Yes, just reach out to Saya (the curator) to let her know you need an accessible area
Is there another way to pay for tickets other than Eventbrite/online?
No

The Park West is NOT selling tickets at the theater
Is food sold at the theater?
No but check out some of the nearby food places below
What can't I bring to the event?
Outside beverages, including water, are not allowed; security will make you throw it out
Is there an intermission?
There is a 10-minute intermission
How long does the show run?
About two-hours and thirty minutes'ish; each show varies in length
After the show, can I hang out with the Rockstar I came to support?
Absolutely! The theater and bar will remain open for a bit post-show and anyone is welcome to stay and hang out.

After the theater closes, we'll head to Gamekeepers, a 1/2 block away, to continue celebrating, for those 21+
Is there a coat check?
There's a paid coat-check available
Are photos and video allowed?
Absolutely! And we encourage you to tag #FearExperiment so that we can all enjoy your images
What are other good things to know?
There is a minimum credit card charge for drinks so you may want to bring cash

Theres's a bathroom attendant so you may want cash for a tip (though tipping is not required!)
What are my transportation options?
Public transportation, bikes, and cabs are highly-recommended as PARKING IS DIFFICULT

There is a

Divvy

station down the street from the theater (Clark & Armitage)

The brown-line Armitage stop is about a mile west

Lincoln, Armitage and Clark St buses stop very near the theater

There is a mix of un-metered street parking and metered parking

Instead of a cab, try

Uber: use

code

UBERCHEESEIT for a free ride for first-time users up to $20
Lyft: use code SAYA20 for a free ride

for first-time users up

to $10
Sidecar: use code SAYA7

for a free ride

for first-time users up

to $20

Garage/Lot Parking

Helpful parking tools are Parkopedia and Park Whiz (use this link for a discount) which allows you to search for nearby spots

A mile from the Park West >> (Old) Children's Memorial Hospital Garage, 2346 N. Lincoln, 5 hour max, no elevator service and it's six levels so you may have to walk up/down ramps or stairs.

Plenty of cabs/Lincoln bus if you don't want to walk; FREE*

Around the corner from the Park West >> PNC Bank Parking Garage, 2036 North Clark, 3 hours $16, 12 hours $18*

4 blocks from the Park West >> Chicago History Museum lot, 1730 N. Stockton; 3 hours $15, 4 hours $20, 24 hours $28*

*Rates change so double-check before parking in a lot
Are there places to eat nearby?
Yes!

Connie's Pizza

-- mention Fear Experiment℠ day of show at the Gold Coast location and get $5 off your dine-in bill of $20+

Subway (352 W Armitage Ave)