| | |
| --- | --- |
| Fear Experiment: Info Sessions Fall 2015 | |
Event Details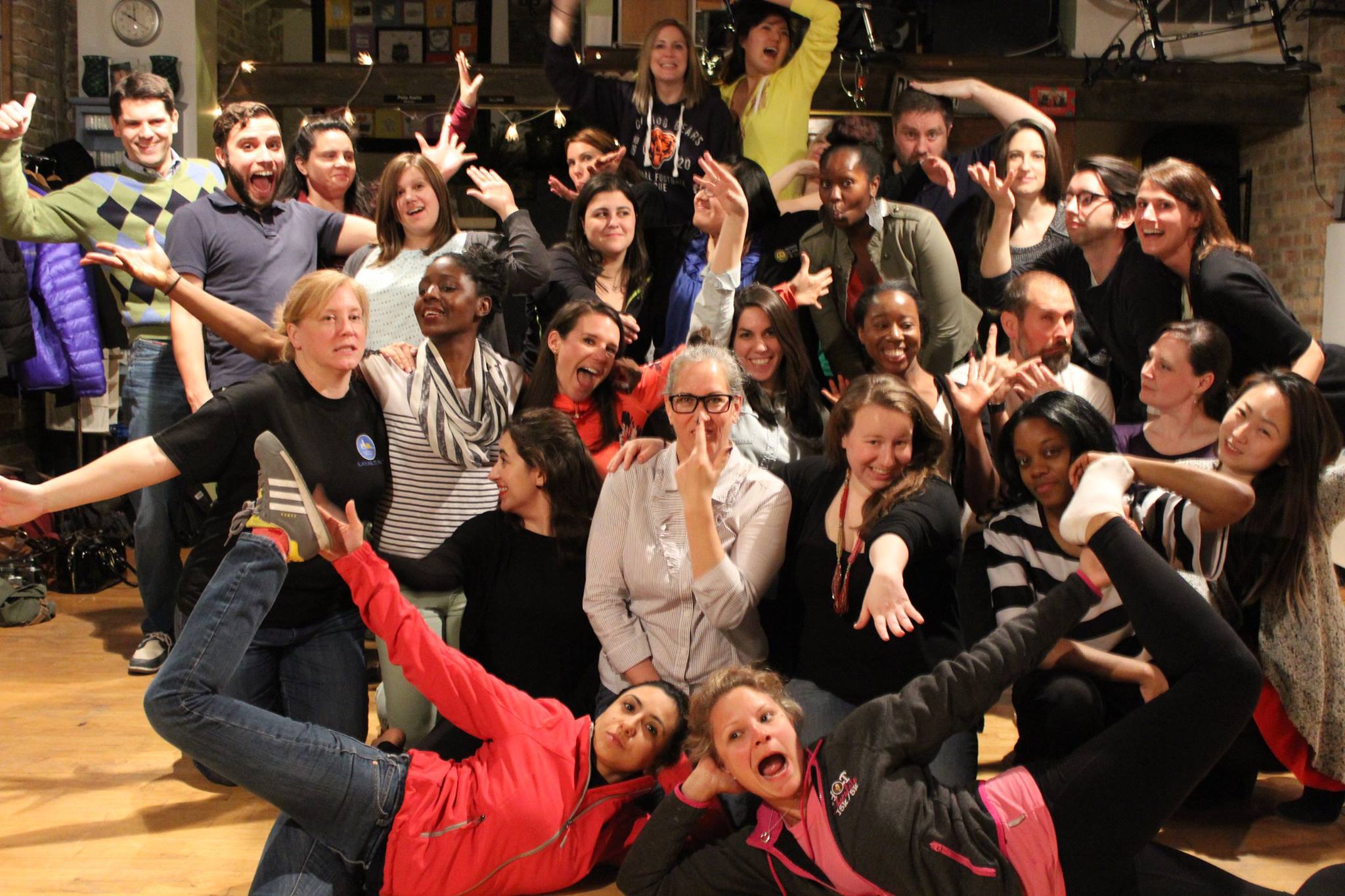 Fear Experiment℠ (FE), an offering of Mac & Cheese Productions℠, is a unique, fun way to create community, push oneself, learn something new, and laugh. A lot. Strangers come together to learn an art-form (a capella, storytelling, dance, stepping, or improv), rehearse for two and a half months, and then perform in front of 700+ at the Park West. 
The criteria to participate?
You have to sign up solo

Your inner-you should be saying "You want me to do what?!"
FE is for complete newbies, for folks who've taken a class or two, for folks who majored in the art-form in college — basically, it doesn't matter your experience level; what matters is your interest in being a part of an awesome community and that something about the experience instills a bit 'o fear in you (the time commitment, the signing up solo, the social aspect, the performance, the being photographed and splashed all over the internet…).
Because when you challenge yourself to do something scary, beautiful things result!
The next round starts in January (dance or improv; you apply for one) and info sessions are this Fall. In order to apply, you need to attend an info session. It is highly recommended that you attend a show before it's YOUR show; you can get tickets for November's show here.
If you'd like to learn more about FE, head here. Or just register for and come to an info session!
---
INFO SESSION INFORMATION
Agenda:
hear all the nitty gritty details [history, venues, cost, commitment, what to expect, participant criteria, timeframe from application-release to show, etc.]

meet and hear from the curator and instructors

meet and hear from past participants

meet your potential future FE teammates

ask questions -- PLEASE DON'T EMAIL QUESTIONS; that's what the Info Sessions are for! Bring 'em then, we'd LOVE to answer them.

 
IMPORTANT NOTE
Every round we hear that people flake out on their info session because they're scared. The info session is warm and inviting and NOTHING TO BE SCARED OF. Truly. Take the baby step of attending the info session -- then decide if you want to take another step. But don't close the door before it's even opened!
When & Where

Mac & Cheese Productions [Belmont/Ravenswood; exact address sent upon registration]
3 blocks from Paulina el stop
Chicago, IL


Organizer
Mac & Cheese Productions
Mac & Cheese Productions℠ is a lifestyle business that utilizes innovation, comfortable fear, and play to address universal stressors and create communities of everyday superheroes. We reframe and reclaim adulthood — instead of "the grind" and "case of the Mondays", think adult summer-camp, for the individual and for the organization.
Fear Experiment: Info Sessions Fall 2015