Description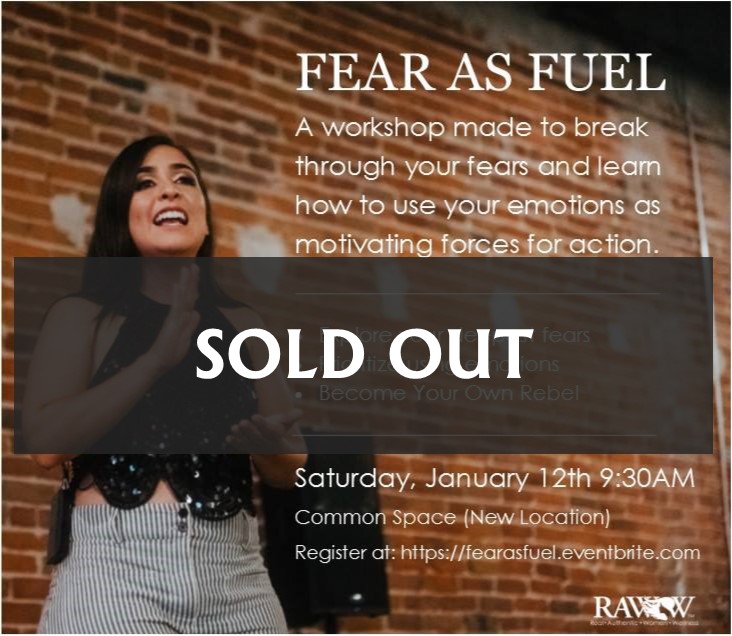 A workshop made to break through your fears and learn how to use your emotions as motivating forces for action.
Diana is a wife, mother of twins, anxiety-survivor, mental health advocate, and Founder of RAWW (Real Authentic Women Wellness) – a revolutionary women-centric nonprofit. By fusing her education, career experience and personal struggles, Diana has made it her goal to equip women with the tools that they need to become their ownrebel, face their fears, and pursue their passions– no matter what obstacles may lie in their path.
---
"Diana absolutely rocked her presentation for our group of women policy advocates! I feel I'm a pretty vulnerable and transparent person, but even I was shocked at how deep she helped me go. I really came to the root of my fears in a way that has never come to me in the past. It was incredibly POWERFUL. Diana creates such a safe, welcoming space for all of us to reflect deeply and turn that vulnerability and fear into our power. Diana is fun, energetic, and RAWW! Book her ASAP!" – Nikki Henry, Ladies Leading Ladies
----
"Thank you i have an amazing experience as well. I felt comfortable to share and didnt feel judged I've never experienced something like that! What you do is great and i would love to go to another event thank you."
-Marissa
----
"Once again.....you are simply changing lives.....your beautiful spirit just allows women to feel "safe" and we get to come face to face with parts of ourselves we haven't seen in ages.....you are a blessing Diana....God has given you a purpose and it's an honor to see you follow it!!!"
-Maggie
----
"Had an amazing time at the workshop today. Truly amazing to hear everyone's story. To be able to breakdown those wall and be completely Raww. What you do is amazing Diana. Can't wait to attend more. I wish I could have stayed for all of it."
-Elsie
-----
"I feel truly honored and blessed to have been a part of yesterday's RAWW workshop. Diana once again you have blown me away. Thank you everyone for being so vulnerable and Raww. I can't wait for the next one. I think we need to make it longer☺️ it was so deep in such a short time. Gracias mujer you are changing lives, including mine. "
-Denise