FCCA Summer Online featuring YMCA of Greater Flint Power Scholars Academy
Sales Have Ended
Registrations are closed
Thank you for Registering for the FCCA Summer Online Program!
Sales Have Ended
Registrations are closed
Thank you for Registering for the FCCA Summer Online Program!
About this Event
July 6, 2020 - July 31, 2020
Online Program: Monday through Thursday @ 9:30AM - 12:30PM
Program Schedule
Each session will consist of fun and educational lessons on core subjects, then your child will enjoy engaging virtual field trips to a number of locations including: Longway Planetarium, Ann Arbor Hands-On, Flint Institute of Music, Flint Repertory Theatre, Whaley House Museum and more!
9:30 AM - 10:00AM: Online Breakfast and CREW values!
10:00 AM - 11:00AM: Power Scholar Session 1 & Enrichment Session 1!
11:00AM - 11:15AM: Break time!
11:15AM - 12:15PM: Power Scholar Session 2 & Virtual Field Trip
12:15PM - 12:30PM: Online Lunch & Dismissal!
*Due to an increase in COVID-19 cases in the state of Michigan , FCCA Summer Online will no longer offer free field trips for families on Fridays. Instead, families will receive vouchers which can be redeemed at Flint Farmers Market (Tuesdays, Thursdays & Saturdays).
These vouchers can be obtained at Flint Cultural Center Academy
1200 Robert T. Longway Blvd. Flint, MI 48503
Mondays, Wednesdays & Fridays 10:00AM - 1:00PM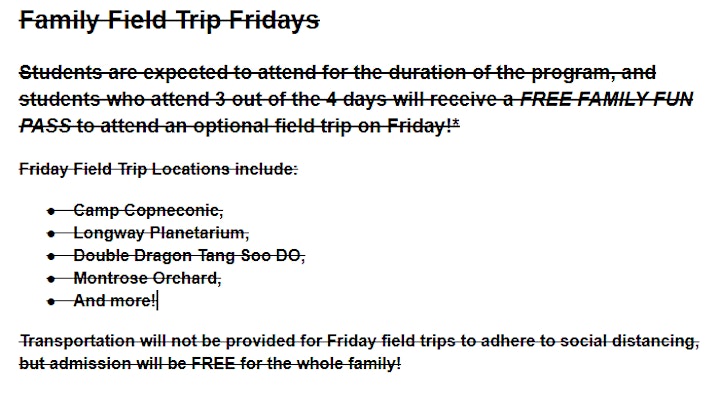 Sign up each child individually by their grade by clicking "Register" above.
Students who actively attend, participate 75% or more of the sessions and complete the pre- and post-assessments while showing Crew behavior will receive a $100 Visa Gift Card!
Students will be expected to have their breakfast, lunch and supplies picked up prior to programming during normal distributions times Monday, Wednesday and Fridays 10:00AM - 1:00PM @ Flint Cultural Center Academy
Monday & Tuesday meals will be picked up the previous Friday
Wednesday & Thursday meals will be picked up Monday
Friday meals will be picked up Wednesday
If you have any questions about the registration process please contact, Michael Fordham the FCCA Community School Director at ‭+1 (810) 447-3920