FCC Wireless Communications Bureau Chief Keynotes: 'The Wired Home and Wire...
Description
You are invited....
to an event of the Broadband Breakfast Club
http://broadbandbreakfastseries.eventbrite.com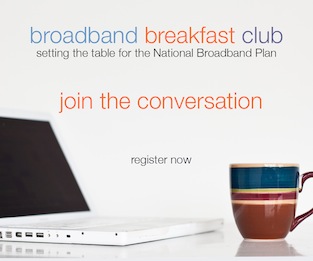 The Wired Home and Wireless Policy
Convergence in electronic devices has accelerated. Televisions, telephones and computers are all digital devices sharing content. How can the nation's wireless policies better advance connected home. In this provocative session moderated by Drew Clark, Chairman and Publisher of BroadbandBreakfast.com, experts will consider the issue of broadband adoption for consumers, particularly in the home.
On the heels of the Consumer Electronics Show, the first part of the discussion will address devices, from Droids to iPhones, laptops to televisions. The second part of the discussion will concern networks -- both wired and wireless -- and how high-capacity networks feed an ecosystem that enables more powerful uses for a range of consumer-friendly applications.
The session aims to stitch together both the "wired home" and the "wireless policy" discussions on broadband. We will consider licensed and unlicensed radio frequencies for mobile-friendly devices, and high-capacity uses (e.g. health care and video conferencing), for landlines and wireless broadband.
Telecommunications advocates, policy-makers, journalists, top officials and the general public, all seeking to trade insights on these important issues, are invited to attend this event of the Broadband Breakfast Club, which includes full American and Continental breakfasts, for as little as $45.00, plus a modest registration fee.
This event is on the record and open to the public.
For News and Events on BroadbandBreakfast.com follow us at http://www.twitter.com/broadbandcensus
Event Details
Title: The Wired Home and Wireless Policy
Date: Tuesday, January 17th, 2012 8 a.m. - 10 a.m.
Where: Clyde's of Gallery Place, 707 7th Street NW, Washington, DC 20001
The breakfast begins at 8 a.m., followed by a discussion, beginning shortly after 8:30 a.m. and ending by 10 a.m.
Keynote:
Rick Kaplan
Wireless Telecommunications Bureau Chief
Federal Communications Commission (FCC)
Rick Kaplan assumed his position at the FCC in June 2011. Prior to his current appointment, Mr. Kaplan served as Chief Counsel to FCC Chairman Julius Genachowski, where he managed the Commission's overall agenda, was responsible for policy coordination among the Bureaus and Offices, advised the Chairman on wireless, engineering and technology, and public safety issues. Before joining the Chairman's staff, Mr. Kaplan was the Chief of Staff and Media Legal Advisor for Commissioner Mignon Clyburn, and served as deputy coordinator of the FCC DTV task force, where he oversaw a number of aspects of the Commission's role in the nation's successful transition to digital television. He practiced regulatory law and appellate litigation at Sidley Austin LLP, and served in the Office of the General Counsel at the U.S. House of Representatives. Mr. Kaplan began his legal career as a law clerk for Judge Harry T. Edwards of the U.S. Court of Appeals for the D.C. Circuit. Prior to his legal career, Mr. Kaplan founded and operated a sports management and public relations agency that represented and served professional athletes and sports-related organizations.
Panelists:
Fred B. Campbell, Jr.
President & CEO
Wireless Communications Association International (WCAI)
Fred Campbell has been President and CEO of the WCAI since August 2008. He is also an adjunct professor at the University of Nebraska College of Law where he teaches spectrum law and policy. Mr. Campbell previously served as Wireless Bureau Chief at the Federal Communications Commission (FCC) in 2006-2008. In that position he developed and implemented the 700 MHz auction, the largest and most successful auction in the history of the FCC, and many other innovative wireless broadband policies, including open platform requirements, anonymous and combinatorial bidding in spectrum auctions, a power spectral density approach to power limits, non-exclusive licensing using a contention-based protocol in the 3.65 GHz band, the classification of wireless broadband as an information service, and a revised initial spectrum aggregation screen. Prior to heading the Wireless Bureau, Mr. Campbell spent two years as Wireless Legal Advisor to FCC Chairman Kevin Martin. Before joining the FCC, Campbell was an attorney with the law firm of Harris, Wiltshire & Grannis, where he advised on a broad range of legal issues associated with the provision of domestic and international telecommunications services. Campbell previously practiced commercial litigation with the law firm of Wolfe Snowden and clerked for Justice William M. Connolly of the Nebraska Supreme Court. He earned his B.A. from the State University of New York and his J.D., with high distinction, from the University of Nebraska College of Law.
Walter B. McCormick, Jr.
President & CEO
USTelecom
Walter B. McCormick, Jr., is the President & CEO of the United States Telecom Association (USTelecom), the nation's premier telecommunications industry trade association, representing broadband service providers, manufacturers and suppliers in the new world of Internet-based communications and entertainment. A respected Washington veteran with more than 25 year's experience in telecommunications, Mr. McCormick joined USTelecom in 2001 and has led the organization's growth into one of the top trade associations in the nation's capital. Washingtonian magazine has profiled Mr. McCormick as a trade association executive with "real clout." The Capitol Hill newspaper, The Hill, has featured Mr. McCormick as a "Hill Mover of the Month" and labeled him as a "rainmaker" - one of the "top trade association lobbyists" in Washington. He has been recognized by Who's Who in America and Who's Who in American Law. Prior to joining USTelecom, Mr. McCormick served as President & CEO of the American Trucking Associations. There he led a broad corporate restructuring that resulted in record dues revenues, increased stature for the industry, and significant legislative victories. His background also includes service as a member of the President's National Security Telecommunications Advisory Committee; as General Counsel of the U.S. Senate Committee on Commerce, Science and Transportation; as General Counsel of the U.S. Department of Transportation; and as a partner with Bryan Cave LLP – an international law firm of more than 500 lawyers, where he headed the practice group on Regulatory Affairs, Public Policy and Legislation. During his tenure on the professional staff of the U.S. Senate, he was recognized by Roll Call magazine as one of the 50 most influential staffers on Capitol Hill. Mr. McCormick holds degrees in journalism and law from the University of Missouri. He has studied international economics and political science at Georgetown University, and has completed the program for senior managers in government at Harvard University's John F. Kennedy School of Government. He is a member of the Board of Trustees of Rockhurst University, the Federal Communications Bar Association, the District of Columbia Bar and the Missouri Bar.
Grant Seiffert
President
Telecommunications Industry Association
As president of TIA, Grant Seiffert oversees the policy, standards, tradeshow and marketing efforts for the leading advocate in Washington, D.C., for the information and communications technology (ICT) industry. TIA's member companies represent the entire supply chain of the ICT industry; these companies manufacture products, provide services and offer applications that transmit content by video, voice and data, thereby merging communications and entertainment options. As leaders in the industry, the companies and organizations participating in TIA develop and deliver communications innovations for consumers, government users and businesses alike, while improving productivity and access to information around the world. Seiffert joined TIA in 1996 as director of government relations. His main priority was the representation of the equipment industry's interests, particularly regarding competitive issues during implementation of the Telecommunications Act of 1996 by the Federal Communications Commission (FCC). He was promoted to vice president in 1998, directing domestic and global policy to help the association's supplier members gain marketing opportunities around the world. In that role, he oversaw policy, including interaction with the U.S. Congress, the FCC and the Administration, as well as with international regulatory bodies and government leaders and fulfilling the senior management role for association membership and TIA tradeshows. He succeeded Matt Flanigan as president of TIA in January 2007. Prior to joining TIA, Seiffert served five years with Senator John McCain (R-Ariz.). Seiffert serves on the Executive Committee of Connected Nation, the American National Standards Institute's (ANSI) CEO Advisory Committee, the Board of Directors of the Sustainable Technology Environments Program (STEP) and the Board of the National Science & Technology Education Partnership (NSTEP). He holds a Bachelor of Science degree in political science from Radford University.
Gary Shapiro, President & CEO, Consumer Electronics Association
Gary Shapiro is president and CEO of the Consumer Electronics Association (CEA)®, the U.S. trade association representing over 2,000 consumer electronics companies, and owning and producing the continent's largest annual tradeshow, the International CES®. Shapiro leads a staff of 140 employees and thousands of industry volunteers and has testified before Congress on technology and business issues more than 20 times. As chairman of the Home Recording Rights Coalition (HRRC), Shapiro led the manufacturers' battle to preserve the legality of recording technology and consumer fair use rights. Shapiro has held many exhibition industry leadership posts, the industry's highest honor, the Pinnacle Award. Shapiro authored the 2011 bestselling book The Comeback: How Innovation Will Restore the American Dream (Beaufort). He received his law degree from Georgetown University Law Center and is a Phi Beta Kappa graduate in economics and psychology from Binghamton University.
Drew Clark, Chairman and Publisher, BroadbandBreakfast.com
Drew Clark has a long-standing reputation for fairness and depth in his reporting. He worked for the National Journal Group for eight years, ran the telecommunications and media ownership project of the Center for Public Integrity, and was Assistant Director of the Information Economy Project at George Mason University. He has written widely on the politics of telecom, media and technology for a variety of publications, including the Washington Post, GigaOm, Slate, and Ars Technica. Drew launched BroadbandCensus.com, BroadbandBreakfast.com's parent, in January 2008, as a means of providing objective information about broadband speeds, prices, availability, reliability and competition.
The Broadband Breakfast Club is a "widely attended event" under House of Representatives Rule 25, clause 5(a)(4)(A).
-----
For individuals outside of Washington, or those whose schedule doesn't permit attendance in person, archived webcasts of the Broadband Breakfast Club are available for free on BroadbandBreakfast.com.
The Broadband Breakfast Club seeks sponsorship of our events from interested companies and organizations. For details on sponsorship opportunities, please contact Sylvia Syracuse at 646-262-4630 or sylvia@broadbandcensus.com. The Broadband Breakfast Club is produced by Broadband Census News LLC.
Follow us on Twitter at www.twitter.com/broadbandcensus
______________________________________________________________
The Broadband Breakfast Club is Sponsored By:





Organizer of FCC Wireless Communications Bureau Chief Keynotes: 'The Wired Home and Wireless Policy' with Panel of Telecom Group Heads
Broadband Breakfast is a unique media company. We began as a voice in the wilderness advocating for higher-capacity internet everywhere. Our rallying cry is "Better Broadband, Better Lives." As the coronavirus pandemic makes painfully clear, Better Broadband is vital: We need it now more than ever.
Broadband Breakfast is also an inclusive media community. We don't take sides on controversies around fiber or wireless, net neutrality or open internet orders, privacy rules or changes to Section 230. We bring people together through the Broadband Breakfast Club and online. Our news coverage and our events are topical, timely and smart..
Our Broadband Breakfast Club series meets monthly on the SECOND Wednesday of the month .
Events are held at Clyde's of Gallery Place, 707 7th St. NW, Washington, DC. Metro Stop: Chinatown/Gallery Place.
Events are open to the public and held from 11:30 a.m. to 1 p.m., with full plated lunch served beginning at 11:30 a.m.
To subscribe to our news service go to BroadbandBreakfast.com.
The Broadband Breakfast Club is Sponsored By:
UTOPIA Fiber - UTOPIA (Utah Telecommunication Open Infrastructure Agency) Fiber is the group of 11 Utah cities that joined together in 2004 to build, deploy, and operate a fiber to the home network to every business and household within their communities. Their network allows subscribers to connect to the world in ways they have never experienced before, providing blazingly fast Internet speeds, phone, and television services. Using an active ethernet infrastructure and operating at the wholesale level, UTOPIA Fiber supports open access and promotes competition in all broadband and telecommunications services. It is the largest open access network in the United States.
Lit Communities -Lit partners with municipal, county and other governmental entities, as well as a variety of private partners to deploy last-mile fiber optic network infrastructure. Residents and businesses connected to our networks will receive service from a local internet service provider that delivers a local brand and promise of great service and customer support. Our networks also support a wide variety of other services in addition to the internet, including but not limited to voice, telehealth, home security, home automation, small cell, DAS, wireless backhaul, and public safety applications such as gunshot detection sensors and smart traffic control systems.
Positron Access - Positron Access specializes in carrier-grade telecommunications products that increase bandwidth delivered and the distance covered within both core access networks and residential buildings using existing wiring infrastructure. These include line powered digital subscriber line amplifiers/extenders that double the customer serving areas and increase the bandwidth, G.hn Gigabit Access Mulitplexors (GAM) that provide managed non-blocking symmetrical gigabit bandwidth to subscribers in multiple-dwelling units/multi-tenant units over copper pairs or coaxial cables; and bonded copper solutions for mobile backhaul, core transport, access and edge aggregation.
Samsung Electronics America - Samsung is a global leader in technology, opening new possibilities for people everywhere. Since being established in 1969, Samsung Electronics has grown into one of the world's leading technology companies and has been recognized as one of the top 10 global brands. Through relentless innovation and discovery, Samsung is transforming the worlds of TVs, smartphones, wearable devices, tablets, digital appliances, network systems, medical devices, semiconductors and LED solutions.
Render Networks - Render Networks provides an entirely new approach to fiber deployment. Utilizing innovative geographic information systems (GIS), mobile and automation technology, Render's platform and data management enable network operators, engineers and builders to deliver quality networks without the need for manual, paper-based construction packs. Render uses real-time geospatial data to provide increased control and visibility, resulting in significant resource productivity across the delivery lifecycle.
BroadbandNow - BroadbandNow is a data aggregation company helping millions of consumers find and compare local internet options. BroadbandNow's database of providers, the largest in the U.S., delivers the highest-value guides consisting of comprehensive plans, prices and ratings for thousands of internet service providers. BroadbandNow relentlessly collects and analyzes internet providers' coverage and availability to provide the most accurate zip code search for consumers.