FCC International Bureau Chief Keynotes: The ITU Year-End Meeting

Tuesday, November 20, 2012 from 8:00 AM to 10:00 AM (EST)
Event Details
You are invited....
to an event of the Broadband Breakfast Club
The International
Telecommunications Union
Year-End Meeting
the 
Global Open Internet
http:broadbandbreakfastseries.eventbrite.com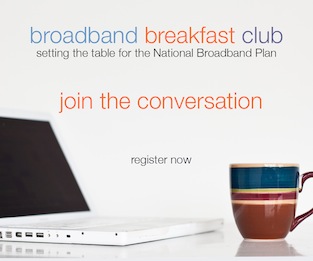 The International Telecommunications Union Year-End Meeting and the Global Open Internet 
Ahead of the ITU's World Conference on International Telecommunications (WCIT-12) meeting in mid-December, this session will consider a variety of viewpoints on the proposals advanced for this major international broadband event.
Telecommunications advocates, policy-makers, journalists, top officials and the general public, all seeking to trade insights on these important issues, are invited to attend this event of the Broadband Breakfast Club, which includes full American and Continental breakfasts, for as little as $45.00, plus a modest registration fee.
This event is on the record and open to the public. 
For News and Events on BroadbandBreakfast.com follow us at http://www.twitter.com/broadbandcensus
Event Details
Title:  The International Telecommunications Union Year-end Meeting and the Global Open Internet
Date:  Tuesday, November 20th, 2012  8 a.m. - 10 a.m. 
Where:  Clyde's of Gallery Place, 707 7th Street NW, Washington, DC 20001
The breakfast begins at 8 a.m., followed by a discussion, beginning shortly after 8:30 a.m. and ending by 10 a.m.
Keynote Speaker:
Mindel De La Torre
Chief, International Bureau
Federal Communications Commission
Since October 2009, Mindel De La Torre has been Chief of the International Bureau at the Federal Communications Commission (FCC).  In that role, she leads the FCC's efforts internationally – both on a bilateral and multilateral basis.  She oversees the International Bureau's functions with regard to licensing of international and domestic satellites, international long distance, international broadcast stations, and submarine cables.  Ms. De La Torre was previously at the FCC between 1994-1998 as Deputy Chief of the Telecommunications Division of the International Bureau.  Before returning to the FCC, she was president of the Telecommunications Management Group, Inc. (TMG), a consulting firm in the Washington DC area. She has been a member of various U.S. delegations to ITU conferences, such as World Radiocommunication Conferences (WRC), World Telecommunication Development Conferences, and Plenipotentiary Conferences.  She has also participated actively in regional telecommunications organizations, such as CITEL and APEC. Ms. De La Torre also worked at the Department of Commerce – for over four years at the National Telecommunications and Information Administration and for three years in the General Counsel's office. Ms. De La Torre has a B.A. from Vanderbilt University and a J.D. from the University of Texas. 
Panelists:  
Fiona Alexander
Associate Administrator, Office of International Affairs
National Telecommunicationsa and Information Administration (NTIA)
U.S. Department of Commerce 
In her role as Associate Administrator for International Affairs, Ms. Alexander oversees and manages NTIA's activities related to the Internet's domain name system (DNS) as well as NTIA's involvement in international ICT bilateral and multilateral discussions in venues such as the International Telecommunication Union (ITU), the Organization for Economic Cooperation and Development (OECD), the Asia Pacific Economic Cooperation Telecommunications Working Group (APEC TEL), the Inter-American Telecommunication Commission (CITEL), the International Telecommunications Satellite Organization  (ITSO), and, the International Mobile Satellite Organization (IMSO).  She is also a key member of the Department's Internet Policy Task Force providing strategic guidance with respect to online privacy, copyright protection, and cybersecurity, and co-leading the work on the global free flow of information. Ms. Alexander was NTIA's lead negotiator for issues related to Internet Governance in the context of the UN World Summit on the Information Society as well as the Affirmation of Commitments with the Internet Corporation for Assigned Names and Numbers (ICANN).  In addition, she was a key member of the U.S. team that worked on the OECD's Internet Policy Making Principles. Prior joining NTIA, Ms. Alexander was a Senior Consultant at Booz, Allen & Hamilton.  She has a Masters Degree in International Relations from American University, Washington, D.C.
Gary Fowlie
Head, International Telecommunications Union Liaison Office
United Nations
Gary Fowlie has been the head of the Liaison office of the International Telecommunication Union to the United Nations since 2009. ITU is the UN specialized agency for information and communication technology.  Mr. Fowlie is an Economist and Journalist. He was a Producer/Reporter for the news service of the Canadian Broadcasting Corporation for 10 years and a freelance reporter for The Economist. Prior to joining the International Telecommunication Union in 2001, Mr. Fowlie worked as an Account Director for the technology practice of the global consulting firm Hill and Knowlton. His clients included Microsoft, SAP and many others. Mr. Fowlie was responsible for communications for the UN World Summit on the Information Society (2003 and 2005) and from 2005 until 2009 was the Chief of Media Liaison for the United Nations in New York. Mr. Fowlie is a graduate of the Universities of Alberta, Alabama and the London School of Economics.
Emma Llansó
Policy Counsel
Center for Democracy & Technology
As Policy Counsel at CDT, Emma works on free expression policy with both the domestic Free Expression team and the Project on Global Internet Freedom. Emma earned her J.D. from Yale Law School in 2009 and her B.A. in anthropology summa cum laude from the University of Delaware in 2006.  She has been admitted to the New York State Bar. Llanso joined Center for Democracy & Technology in 2009 as an Equal Justice Works Fellow sponsored by the Bruce J. Ennis Foundation.  Her fellowship project focused on analyzing legislative, regulatory, and policy proposals aimed at addressing online child safety and privacy concerns for their potential impact on free expression online.  This project involved the full range of CDT's domestic free expression policy work, which includes amicus activity in First Amendment cases, defending Internet intermediary liability protections in the U.S. and abroad, and advocating for user-empowerment tools and digital media literacy for minors.  
Ross Schulman
Public Policy & Regulatory Counsel
Computer and Communications Industry Association
Ross Schulman is Public Policy and Regulatory Counsel at the Computer and Communications Industry Association.  He was previously with the Center for Democracy and Technology as a program manager handling consumer privacy and information security issues.  While there he managed the Anti-Spyware Coalition in developing industry standard definitions and best practices for consumer and business computer security.  In the course of eight years living in Washington DC, he has also spent time working in both the Senate, for Senator Ron Wyden and the Senate Judiciary Committee, and the House of Representatives for the House Energy and Commerce Committee. He received his Juris Doctorate degree magna cum laude from American University and his bachelors degree in computer science from Brandeis University.
Additional speakers have been invited
Moderator:  

Joshua Philipp is a staff reporter and technology editor for The Epoch Times where he specializes in features and investigative reporting. He is the also Chief Editor at TechZwn.com, an independent news source for gaming and technology.
The Broadband Breakfast Club is a "widely attended event" under House of Representatives Rule 25, clause 5(a)(4)(A).
-----
For individuals outside of Washington, or those whose schedule doesn't permit attendance in person, archived webcasts of the Broadband Breakfast Club are available for free on BroadbandBreakfast.com.
The Broadband Breakfast Club seeks sponsorship of our events from interested companies and organizations.  For details on sponsorship opportunities, please contact Sylvia Syracuse at 646-262-4630 or sylvia@broadbandcensus.com. The Broadband Breakfast Club is produced by Broadband Census News LLC. 
Follow us on Twitter at www.twitter.com/broadbandcensus
______________________________________________________________
The Broadband Breakfast Club is Sponsored By:




When & Where

Clyde's of Gallery Place,
707 7th St NW
Washington, DC 20001


Tuesday, November 20, 2012 from 8:00 AM to 10:00 AM (EST)
Add to my calendar
Organizer
Broadband Breakfast Club
BroadbandBreakfast.com is an internet policy news and events service devoted to breaking news on Broadband policy issues including Broadband Stimulus, Wireless, the National Broadband Plan, Universal Service, and more. Our trenchant articles are free at BroadbandBreakfast.com.

To complement our news service, BroadbandBreakfast.com also hosts monthly "Breakfast Club" events and other special events.
Our Broadband Breakfast Club series meets monthly on the THIRD Tuesday of the month (except for August and December).
Events are held at Clyde's of Gallery Place, 707 7th St. NW, Washington, DC. Metro Stop: Chinatown/Gallery Place.
Events are open to the public and held from 8 am - 10 am, with full Continental and American breakfasts served from 8 am - 8:30 am.
To subscribe to our news service go to BroadbandBreakfast.com.
To register for our next event click on
http://broadbandbreakfast.eventbrite.com
To view our past and future events see 
http://broadbandbreakfastseries.eventbrite.com
To view our event videos see
http://broadbandbreakfast.com/category/broadband-tv/
The Broadband Breakfast Club is Sponsored By:



FCC International Bureau Chief Keynotes: The ITU Year-End Meeting