Description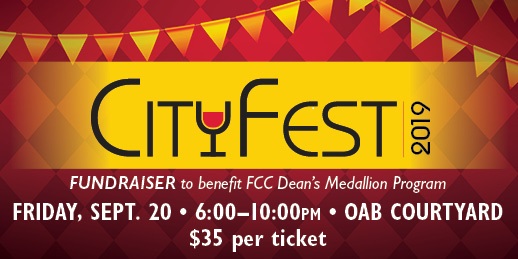 September 20, 2019 is the 5th annual CityFest! Fresno City College is proud of our students and graduates; CityFest helps us to create a legacy of giving for the students that are still to come.
This year's CityFest feature live bands, dancing, wine, beer, and a silent auction in the beautiful Old Administration Building.
Casual attire will have you fitting in and comfortable for having fun! Tickets are also available by phone at the Business Office by calling 559-489-2234, or in person at the Business Office or the Student Activities Office.
The Applied Technology Dean's Medallion Scholarship is the focus of this year's fundraising. The FCC Dean's Medallion winners not only represent scholastic achievement, but perseverance. These students have either (or usually both) overcome great obstacles or have contributed greatly to the community. Below is a quote from the 2017 Social Sciences Dean's Medallion winner who worked 10 hours a day, six days a week each summer to pay for college.
"I will continue to pursue the American Dream my parents sought when coming to the United States many years ago. Despite my own struggles, such as having to work in the fields to pay for school and living expenses, I too will continue plowing on just like my parents do day in and day out. No force has driven me more than my family, and I will succeed to show them that their sacrifices are worth-while."
For more information, please call (559) 489-2232. Thank you for your support and we hope to see you there!