FBC 2019 Vacation Bible School - ON SAFARI! Managing What Belongs to God!
Description
"The earth is the Lord's, and the fulness thereof; the world, and they that dwell therein." Psalm 24:1
Imagine the you are on a part of a church group on a mission trip, traveling to the village of Zohannda to serve at an orphanage. The village welcomes your group with open arms, even having a welcome service for them - all dressed in their beautiful array of African garb. While there, one of the orphanage staff, Bomani,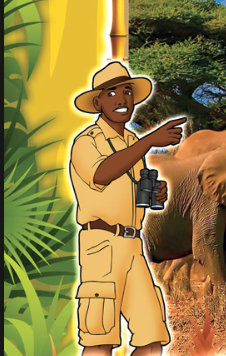 overhears some of the church members' sadness regarding the abject poverty and lack of resources in the village. Bomani invites the group to safari (journey) with him, to see the beauty of life in Zohannda.
On this trip, Bomani helps them understand that even amid what seems devastation, there is beauty present, beauty derived from everyday people's choosing to be faithful stewards for God by managing well, what God has entrusted to them.
Join us at First Baptist Church of Back River, for our 2019 Vacation Bible School, as we learn how we ALL can be stewards for God, Making a difference not just in the mythical world of Zohannda, but in our own community and the world around us.