FBAAD Celebrates 15 years of our Summer Dance Intensive!
About this event
FBAAD Celebrates15 years of Educating and Empowering Through the Arts! Celebrating 15 years of serious dance training! Are you looking for summer dance credits, looking to improve your technique after a long quarantine season, or looking to keep your instrument sharp through the summer months? All these reasons and more make our Summer Dance Intensive a great option for you! Join us for our Ballet/Contemporary Intensive June 14-25 and/or our Jazz/Hip-Hop Intensive July 19-30th! We look forward to dancing with you!
Attire- Classic Dance Classroom Attire, Leotard and tights required, Ballet shoes for Ballet class (preferred), Jazz shoes or Sneakers for Jazz and Hip Hop Intensives
Form fitting warm ups allowed
Please Bring Personal Water Bottle
FBAAD is practicing CDC guidelines for COVID safety, temperatures will be taken upon arrival
Masks required, hand sanitizer and wipes provided
In an effort to keep less traffic in the building there will be no parent viewing
Contact us by phone 281.403.3200, by email info@fbaad.com
Follow us on Social Media Platforms- Instagram-@fbaad5678, Facebook-@Fort Bend Academy of Arts and Dance, Twitter-@fbaad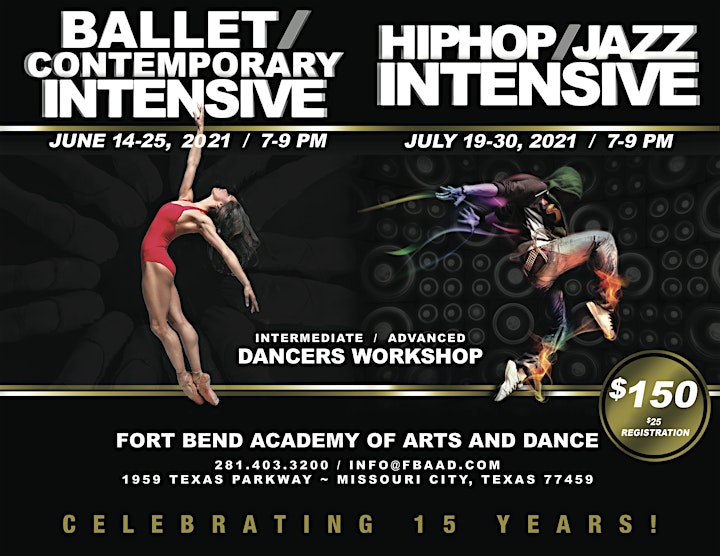 Organizer of FBAAD Summer Dance Intensive- Teens/Adults
FBAAD, Fort Bend Academy of Arts and Dance is a quality professional fine arts dance school passionately dedicated to "Education and Empowerment Through the Arts." We strive to become a positive influence to the economic, social, and cultural development of Missouri City, Sugar Land, and surrounding Fort Bend County areas. FBAAD seeks to not only educate but to also give our students the authority and power to influence themselves, others, their families, and their community through the Art of Dance. Dance is powerful!