Description
is event is a celebration of the incredible momentum women have created in speaking truth to power and increasing their representation at all levels of our government. Our theme this year is Women Will Unite to Stand Up, Speak Up, & Show Up. We thought this to be an appropriate theme for our annual fundraising event for two reasons:
On a national scale, it started with the largest protest march in history with the Women's March in 2017, when women showed they would Show Up to make their views known and carried forward to historic number of women running for office and winning. The #MeToo Movement empowered women to shake their shackles of shame and Speak Up. With the threat of our free will and reproductive rights for personal and private freedom to make own decisions about our own bodies, we showing we will Stand Up for ourselves, our daughters, and future generations. When Women Unite, they can change the course of history. Women ARE Standing Up, Speaking Up, and Showing Up.
Within our state and local community, we have seen the impact of our progressive political activism. Yet the legislative agenda at the Gold Dome is poised to threaten so many of the rights and opportunities we hold dear. We must Unite to be the Voices of Change. The Fayette Democratic Women is living the theme, and committed more than ever to supporting a victory for Democratic candidates in local, statewide, and national and the opportunity to turn Georgia Blue – again!.
Join us on August 17th! Come share a Saturday morning with like minded and engaged women (and men) who are living examples of our Theme: Women Will Unite to Stand Up, Speak Up, and Show Up.
Jon Ossoff is our featured speaker who will kick off the main program with stories and insights from his experience as political candidate and activist and then lead a discussion with esteemed elected officials to share their journey as a voice for change. They are:
GA Senator Jen Jordan
GA Senator Valencia Seay
GA House Rep Brenda Lopez Romero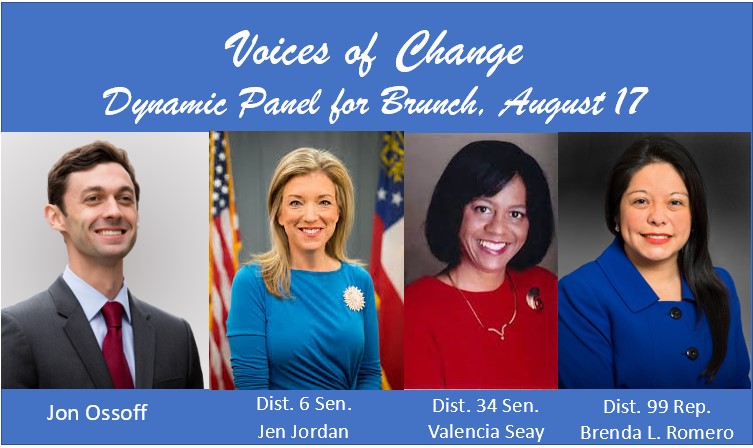 ---
Our outcome from the 2018 Fall Luncheon was historic and we were able to support two non-profits and contribute to every democratic candidate campaign that impacted our community at every level.
FDW chose to focus on two areas of dire need in our community:
Combatting Human Trafficking & Veteran Suicide and Addiction
We chose Gigi's House and The Eden Project to support with our fund raiser.

Gigi's House https://www.gigishouseatl.org/ Gigi's House creates a safe culture for victims to heal at their own pace. Gigi's House is dedicated to serving girls ages 13-19 who are at risk of becoming a victim of sex trafficking.
The Eden Project: https://eden-project.com/ The Eden Project's philosophy is to create this holistic, multi-disciplinary support network in each community to facilitate reintegration for warriors and their families.
Please view the video where they share their purpose and passion at the monthly FDW Meeting: (facebook live replay)
https://www.facebook.com/FayetteDemocraticWomen/videos/466636987231157/?eid=ARDwwAXFkTlwP7MDZ7VZ57uUE8_JeEaeX-6GfCjROHRNeB5YULcDE1kpsB6AMKc-EtzYpHT6cWAuZnmd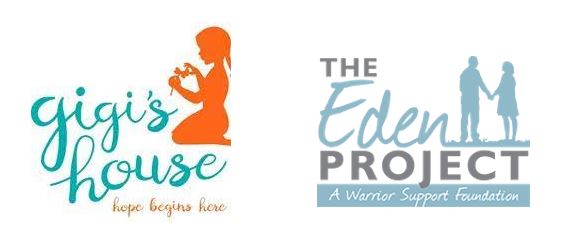 Doors will open at 9:00 am for registration, socializing, and to explore the silent auction and make bids before the bountiful and delicioius brunch buffet opens at 10. The program will begin at 11 am.
Please Make plans to Join us on August 17th for Good Food. Good Company. And for a Good Cause!
---
Seeking Sponsors and Donors. Send a message to the event owner for more information.



---
This is a fund raising event and a celebration of the energy and impact women are having on our political landscape. The funds raised through this event will help us recognize community organizations that have shown demonstrated commitment to the health and well being of those that are most vulnerable in our community. As an important election year, your support is more important than ever as it will allow us to extend financial support to candidates in district and state-wide elections.

For more information about the organization, please visit http://fayettedemocraticwomen.org/
Join us on Facebook: https://www.facebook.com/FayetteDemocraticWomen/
Please attend this event and you are welcome to join our organization. We have a prorated membership option available as part of the check out process. Many of our members live outside Fayette County, and join to be connected to a dynamic and progressive group of women.
---
OUR COMMUNITY SPONSORS
(Help us promote the event and reach a larger audience by becoming a community sponsor. There is no cost to becoming a communty partner. Contact Karen Rands for more information on how to become a community sponsor)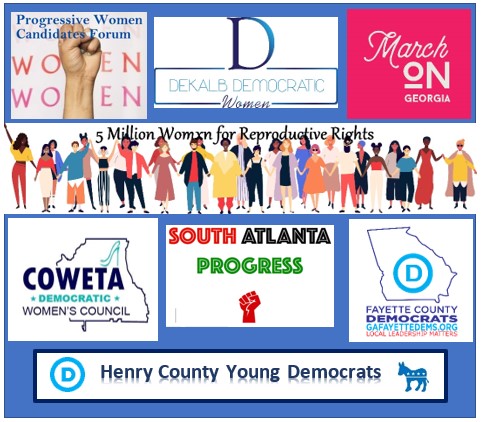 ---
DONATIONS: In this ticket order form are two donation options - $50 and $25. With a minimum donation of $25 you'll get an opportunity to submit a 'shout out' to go in the program --your personal proclamation, congratulations, protest, or gratitude either with your name or anonymous. With a $50 donation (including unused tickets) you will also get a patron th"shout out".
Example (Go FDW! Women Will Turn GA Blue in 2020! ~ Jane Smith)
10 % of the proceeds from the event registrations, advertisements, sponsorships, donations, and silent auction will benefit these Non-Profits we are supporting with this fund raising initiative.
---
GOLD SPONSORS: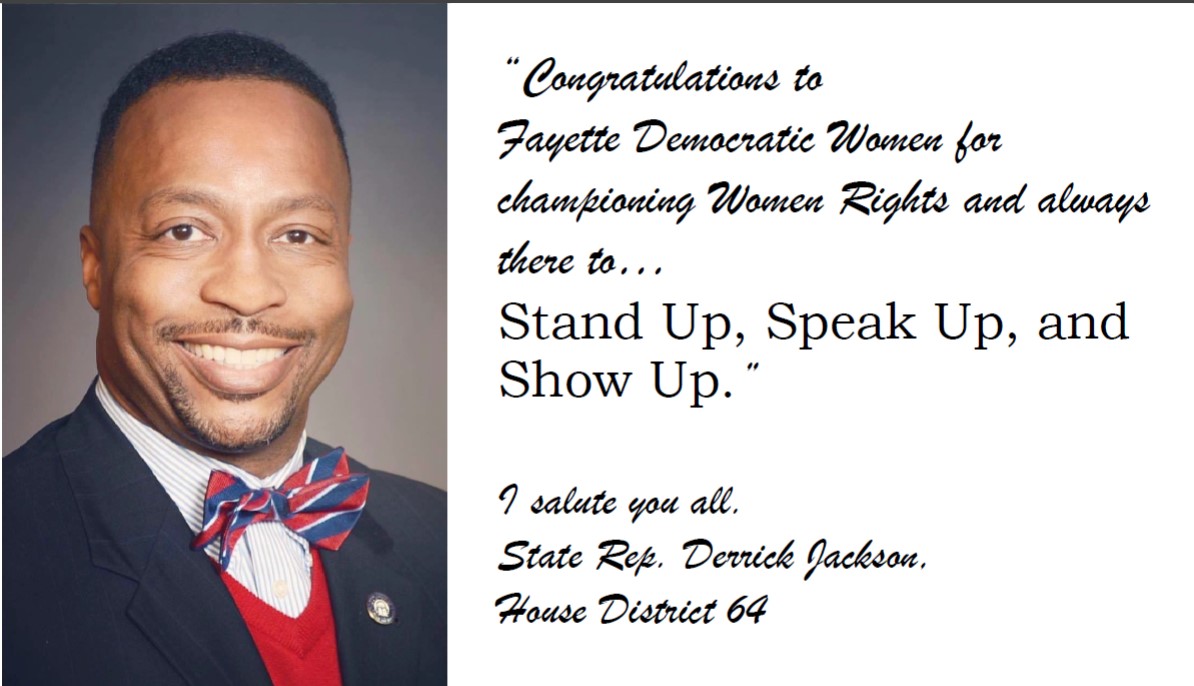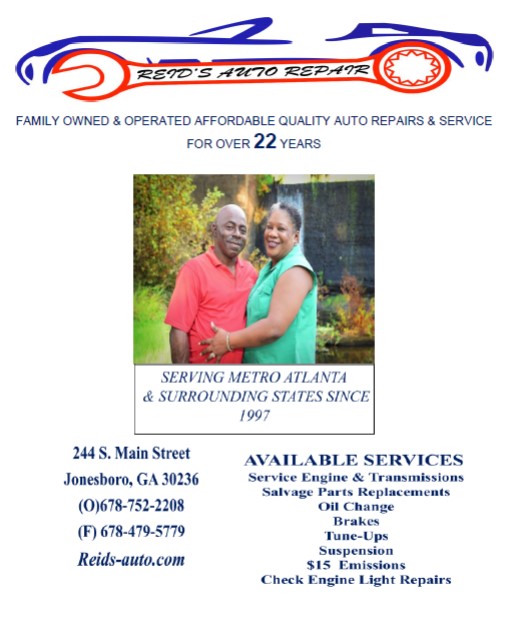 SPONSORSHIP / ADVERTISING OPPORTUNITIES ARE AVAILABLE AT A VARIETY OF LEVELS TO FIT YOUR BUDGET AND ENTHUSIASM FOR OUR CAUSE. Get exposure to over 200 loyal liberals.
Our available sponsorship packages range Titanium (back page ad in the program, table of 8 at the event, recognitionfrom at the event and online and in our media outreach) to Bronze (1 event ticket and 1/4 page ad). Advertising listing runs from 1/4 page ad to business card type ad) Prices from $50 to $1500. Let us find a level that works for you.
Full descriptions of benefits at each level, ad dimensions, sample of last year's program, and submission form can be found at: https://fayettedemocraticwomen.org/events/
Please contact Karen Rands at 470-210-4947 or email to karenrands @ gmail.com with any questions. Or message the organizer from this page.
FAQs
Is there a discount if I purchase a whole table? Yes. You save $25 of the cost of 8 tickets ($400) for a total price of $375 when purchasing a full table. If you do, we will mail you the tickets or have them all at will call and you and your guests can indicate you are part of the table _____
Is there a discount for the ticket price? No
Are there ID or minimum age requirements to enter the event? No
What are my transportation/parking options for getting to and from the event? There is no public transportation to Peachtree City. We are located between Newnan and Fayetteville, south of Atlanta. There is free parking at the venue and a free shuttle servicing within the parking lot.
How can I contact the organizer with any questions? please contact your Fayette Democratic Women through our website contact page (http://fayettedemocraticwomen.org) or our facebook page listed above
What's the refund policy? This is a fund raising event and therefore no refunds are offered. You may give your ticket to someone else to attend, other wise. Your ticket price will be considered a donation. But please let us know so we don't pay for a meal that won't be eaten.
What if I want to advertise or be a Sponsor but I can't use all the tickets in my packet? If you are unable to use all the tickets that are included in your sponsorship/advertiser package, we encourage you to give them to team members at your company or other friends. If we have enough unused, donated tickets, we will subsidize Young Dems who want to attend. If you will not be using your tickets, please let us know so we don't pay for meals that won't be eaten.
For more info and to get pricing on sponsorship and advertising in the program, please visit
https://fayettedemocraticwomen.org/events/
Do I have to bring my printed ticket to the event? Yes, or show us your digital ticket at the door.
Is my registration fee or ticket transferrable? Yes, but a ticket can only be used once.
Is it ok if the name on my ticket or registration doesn't match the person who attends? Yes
Is my donation as an attendee or sponsor deductable? FDW is not a 501c3.
---
#veterans #families #women #democrats #democratic #progressive #political #activist #Social #justice #luncheon #fayette #nonprofit #lunch #fdw #humantrafficking #dobettergeorgia #newnan #fayetteville #peachtreecity #womensrights #brunch #senoia #tyrone #sparksburg #griffin #mcdonough #fundraiser #nonprofit #JonOssoff #JenJordan #ValenciaSeay #BrendaRomero