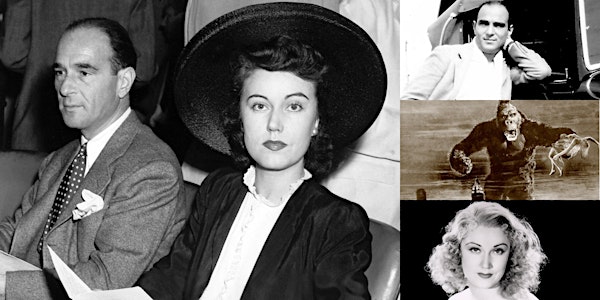 'Fay Wray & Robert Riskin: Golden Age Hollywood's Great Love Story' Webinar
Can't make it live? Register and get access to the full replay for one week! New York Adventure Club | www.AdventureClub.com
About this event
Flash back to1921. An innocent 14-year-old girl from Utah hops aboard a train bound for Hollywood with a small suitcase and dreams of a life in the movies. By age 26, she has starred in dozens of films, including legendary King Kong where she is famously dangled atop of the Empire State Building by the giant ape. Also in that same decade, a talented New York playwright arrives in Hollywood penniless after the 1929 Crash, and by 1934, wins the Academy-Award for Best Screenplay. This is the unlikely story of how two creative people rose to the top of Hollywood's pantheon and fell in love along the way.
Join New York Adventure Club as we follow the rags-to-riches story of Fay Wray and Robert Riskin, two Hollywood stars from the Golden Age of Film who, after navigating significant challenges, find each other and a remarkable love.
Led by their daughter, Victoria Riskin — author of a dual-biography of her parents: Fay Wray and Robert Riskin: A Hollywood Memoir, which was nominated for Best Biography in the Los Angeles Times Book Festival 2019 — our virtual experience surrounding one of the all-time great love stories of Hollywood will include:
An inside view into the remarkable love story of Fay and Robert through their private love letters
The challenges they faced, both personally and professionally, during the Depression, the political and labor wars, and World War II
Rare family photographs and film clips capturing the arc of their careers and dramatic personal lives
A look at Robert's partnership with director Frank Capra and their numerous movies together, including It Happened One Night, Mr. Deeds Goes to Town, Lost Horizon, and Meet John Doe
Victoria's reflections on her father's early death, her mother's resilience, and her parents' influence on her own life and film history
Afterward, we'll have a Q&A with Victoria — any and all questions about her parents' lives, old Hollywood, and her own journey are welcomed and encouraged!
Can't make it live? Don't worry, you'll have access to the full replay for one week!
See you there, virtually!
*Immediately upon registering, you will receive a separate, automated email containing the link to join this webinar
**For the best possible viewing experience, please ensure you're using the latest version of your internet browser — Google Chrome is the most compatible. Exact technical requirements and a webinar user guide will be shared in the automated confirmation email upon registration.
***A full replay of the experience will be available to all registered guests for up to a week
About Victoria
Victoria Riskin is an award-winning writer and producer. She served as President of the Writers Guild of America West, representing screen and television writers through the organization that her father helped create three-quarters of a century earlier. Riskin also served twelve years on the International Board of Human Rights Watch and chaired its Hellman-Hammett Committee that distributed funds to persecuted writers around the world.
Testimonials
"How fascinating to be able to present about one's own family!" -Jacqueline
"A loving tribute to two remarkable people by their daughter, who is herself an impressive talent. I was touched by Victoria's stories and love the variety of programming offered by New York Adventure Club." -Steven
Disclaimer
By attending a New York Adventure Club experience, you accept our terms of service.
Categories: Virtual, Art & Entertainment