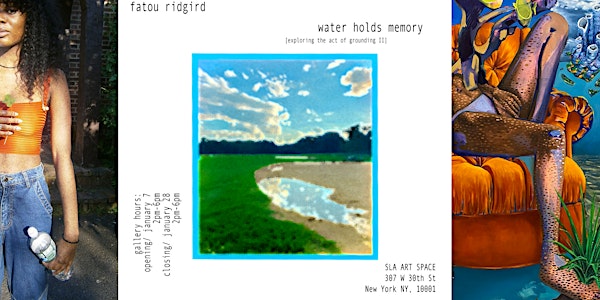 Fatou Ridgird Art Exhibition 2023
WATER HOLDS MEMORY solo exhibition of multidisciplinary artist FA2 [1999-present]
When and where
Location
SLA Art Space 307 West 30th Street New York, NY 10001
About this event
SLA ART SPACE | 307 W 30th street, New York, NY 10001
Gallery Hours: 2pm - 6pm
Opening reception:
JAN 7 [Saturday]
Closing reception:
JAN 28 [Saturday]
Gallery Viewings by Appointment:
Monday - Friday / 2pm - 5pm
If you are interested in a gallery viewing before the closing reception please contact the artist at fatou.ridgird@gmail.com to set up date and time. Thank you!
About Artist:
‧.˚̣̣⁺̣‧.₊̣̇.˚̣̣⁺̣‧.fatou ridgird /fa2/ is an multidisciplinary artist from Newark, NJ, exploring the spiritualistic notion that everything is connected- she challenges herself to make the seemingly mundane tangible. She works across digital art, installation, media and painting. Her current research is deeply invested in the legacies of self-identity through grounding exercises, with a focus on connecting to her inner child, shadow self, and documenting her life experiences which all become the product of her future pieces. Her current exploration involves looking to nature for wisdom and uncovering a greater understanding of life and purpose, sought through channelling messages through meditation, focus and decodation. Solo show titled "Water holds memory" alludes to the anatomy and understanding of waters role within her world view.[view work].*̣̩˚̣̣⁺̣‧.₊̣̇.˚̣̣⁺̣‧.
About SLA Art Space:
Established in 2014 by Lithuanian Alliance of America, (SLA Art Space) is a Lithuanian cultural institution that is dedicated to creating and offering a wide range of cultural events including live performances, film screenings, panel discussions, and gallery exhibitions, While the SLA Art Space mission is focused on the cultivation, presentation, and preservation of Lithuanian culture, it is equally determined to operate in a multicultural and inclusive manner, housing and promoting artists and performance events that fully reflect the cultural diversity of the New York City, inviting audiences of all ages and backgrounds to engage and share culture and art.