Description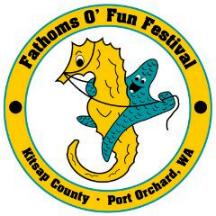 Fathoms O' Fun Festival Presents the 5th Annual 5K Walk/Run (Flat Course) with Age and Gender Division on Saturday, May 25, 2019...COME JOIN THE FUN!!!

Day of Race Registration 7:30 AM, packet pickup at the Port of Bremerton's Marina Waterfront Park - Soroptimist Overlook, Port Orchard, WA
Start of Race: 9:00 AM at the Marina Playground close to the registration area
Note: TEAMS must have a minimum of 5 participants in each team!! Choose your special team name! Team members can sign up individually, but you must register under the team name!

Kids Dash starting at 10:00 AM at Marina Waterfront Park; Award ceremony will be held at approximately 10:15 AM.
Multiple Splat Zones with Washable Colored Splat
A percentage of the proceeds goes towards the Fathoms O' Fun Festival's Royalty Scholarship Program.

Visit our website for more details: www.fathomsofun.org
Thank you to our Sponsor - Kitsap Physical Therapy & Sports Clinic and In-Kind Sponsor - South Kitsap Fire & Rescue